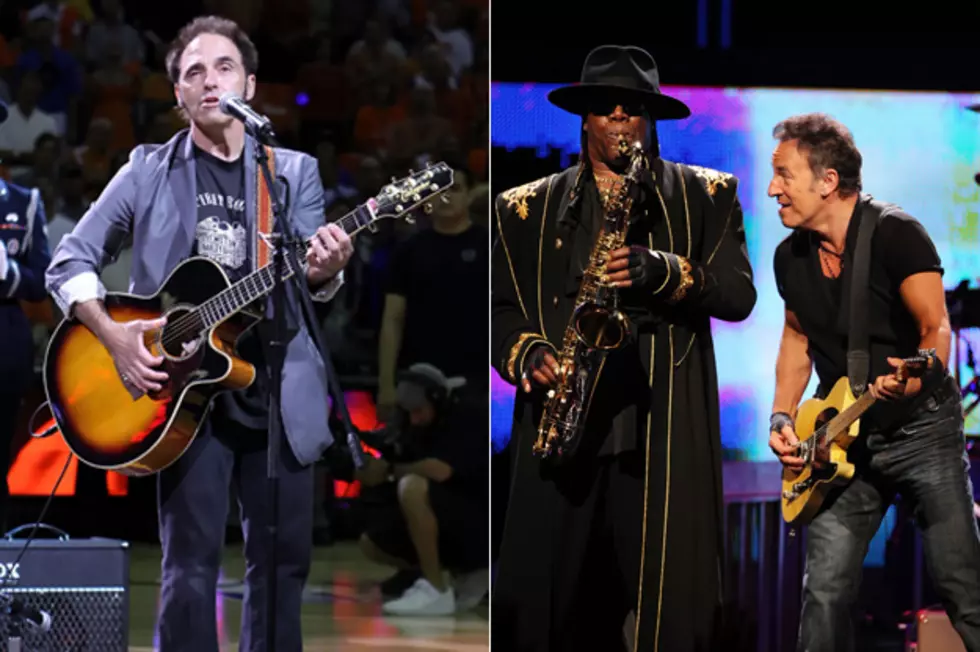 Nils Lofgen Mourns Clarence Clemons on 'Old School'
In Nils Lofgen's eyes, E Street will forever be missing a cherished neighbor. The guitar legend is still mourning the loss of E Street Band saxophonist Clarence Clemons, who died following a stroke six months ago.
Lofgen described Clemons as irreplaceable companion -- and he's said previously that Clemons "haunts" the E Street Band. "I miss Clarence terribly," Lofgen told the Toronto Sun. "I stood next to him for 27 years — and we had a much deeper friendship offstage. Now, I'm never going to stand next to him again. That's painful in my mind and heart; to actually live it is going to be painful too."
However, Clemons' lack of a replacement may be a blessing in disguise for the Jersey boys, who will release a new record and hit the road in Europe this spring on tour and to headline several festivals. "At the same time, I'm thrilled and proud that Bruce has decided to challenge us. Because we can't be the band we were," Lofgen said. "There's no Clarence 2. So we have to find out what kind of band we can be without Clarence, and how great a gift we can share musically with whoever wants to show up."
So who's been keeping Lofgen company? His pets, for one. Lofgen's been occupying himself with solo work and recently released his latest effort, 'Old School,' during his E Street downtime. "I wanted to do them live in the studio so I had an emotional core to work around," Lofgen said of his 'Old School' tracks. "So for weeks, I sang them in the living room to my dogs."
"It's just one of the many reasons I called it 'Old School,'" he continued. "I took the old-school approach like when I grew up, where you had to play and sing live, as opposed to crafting things as a puzzle in the studio. I know people that are masters at that, and have that patience. And I know I'm not one of those people. I've never had patience in the studio. And as I've gotten older, I've got even less patient."
Lofgen's lack of patience is evident on 'Old School' -- he recorded almost everything on his own property in his Arizona home, without his usual E Street companions appearing on the album. "This particular record was just very homegrown. Literally 95% of it was done before I went across town to a studio and got a real engineer to help me mix it," Lofgen said. "I did it all here on the property. But I did want some friends to sing along, so I got Sam Moore and Paul Rodgers and Lou Gramm."
Also evident on the record? Lofgen's mourning of Clemons. "Sam Moore sings on 'Ain't Too Many of Us Left,'" Lofgen said, "which is true."
More From Ultimate Classic Rock