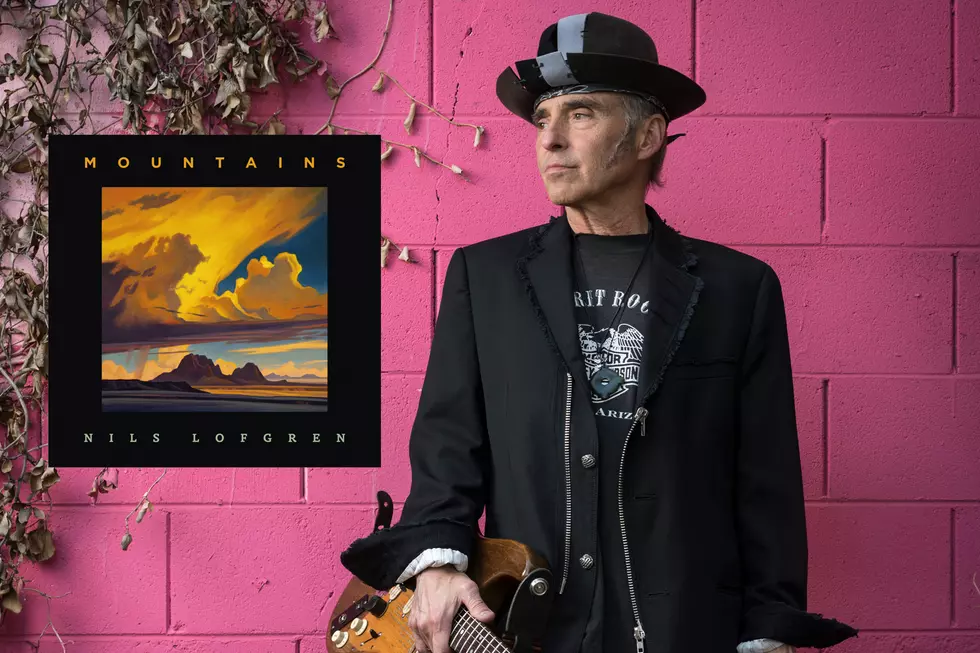 Nils Lofgren Recruits Famous Friends for 'Mountains' Album
Carl Schultz / Cattle Track Road Records
E Street Band and Crazy Horse member Nils Lofgren has announced a July 21 release for his next solo album, Mountains, and he has some big guns along for the climb.
Guest musicians include Ringo Starr, who plays on the first single "Ain't the Truth Enough" and sings on "We Better Find It." (Lofgren was an All-Starr Band member in 1989 and 1992.)
"It's a great charge, and I don't take anything for granted," Lofgren, who's currently on the European leg of Bruce Springsteen's world tour, tells UCR. "With Ringo, I just sent him the song to hear, first. I didn't just assume he'd play on it; I said, 'Tell me what you think. I'd love you to play on it if you're up for it.' And he called me and started singing the chorus and said, 'I love it! I'll play on it. Send it to me.' It's a blessing."
Also joining Lofgren on the 10-song set is Crazy Horse boss Neil Young ("Nothing's Easy," dedicated to Lofgren's wife and co-producer Amy), the late David Crosby ("I Remember Her Name"), jazz bass legend Ron Carter ("Only Your Smile") and the Howard Gospel Choir ("Back in Your Arms). "Won't Cry No More" is dedicated to the late Rolling Stones drummer Charlie Watts. You can see the track listing below.
"It's all over the place," says Lofgren, who wrote and recorded Mountains at his home in Scottsdale, Arizona, with his regular engineer aid Jamison Weddle and players such as bassist Kevin McCormick, drummer Andy Newmark and backing singer Cindy Mizelle.
He refers to the project as "therapy" during the pandemic lockdown, although Lofgren also worked on two Crazy Horse albums - Barn in 2021 and last year's World Record - and the collaborative LP All Roads Lead Home that came out March 31.
"I just started writing," Lofgren says. "I didn't edit myself; whatever I wrote came out - rough, gentle, in between. So long as I was excited about it, inspired, I saw it through. It's got all the different sides you might normally expect from me. It's a very emotional record. It came out better than I hoped."
Lofgren will accompany Mountains with Rockality, a new series of 30-40-minute videos - also debuting July 21 and sold at nilslofgren.com - in which he'll tell stories from throughout his career, each containing some music. Those, he said in a statement, will range from his band Grin opening for Jimi Hendrix on Lofgren's 19th birthday to joining Crazy Horse and beyond.
He's hoping to play some gigs in support of Mountains but acknowledges the challenge of scheduling. Springsteen has dates booked into early December, and Young has made noise about wanting to saddle up Crazy Horse for some touring, too.
"I'm really blessed to be part of two great bands - I never take that for granted," Lofgren says. "My joke is to go to management of both bands and say, 'Guys, I've spent 90 years here - more than 50 with Neil, 50 with Bruce and E Street. I've been a good boy and good musician. Can you just let me make the touring schedule for both of your artists for a couple of years?' And the managers just laugh at me and say, 'Get lost.'"
Mountains will nevertheless benefit from the guitarist's profile on the Springsteen tour, which - despite a case of COVID early in the trek - Lofgren says he's enjoying as much as he ever has. "It's magic, man. It's easy to be honored and excited to be out touring again with Bruce and E Street," he notes. "It's hard not to be excited and have enough adrenalin with what's going on with this band and Bruce after all these years, so it's just a remarkable thing. We're feeling great about it. From my perspective, the band and the audience is as inspiring as ever. It's all great."
Nils Lofgren, 'Mountains' Track Listing
1. "Ain't the Truth Enough" (feat. Ringo Starr)
2. "Only Ticket Out"
3. "Back In Your Arms" (feat. the Howard Gospel Choir)
4. "Won't Cry No More"
5. "Nothing's Easy" (feat. Neil Young)
6. "Dream Killer"
7. "Only Your Smile" (feat. Ron Carter)
8. "I Remember Her Name" (feat. David Crosby)
9. "We Better Find It"
10. "Angel Blues"
Neil Young Albums Ranked
Neil Young is one of rock's most brilliant, confounding, defiant and frustrating artists.
More From Ultimate Classic Rock