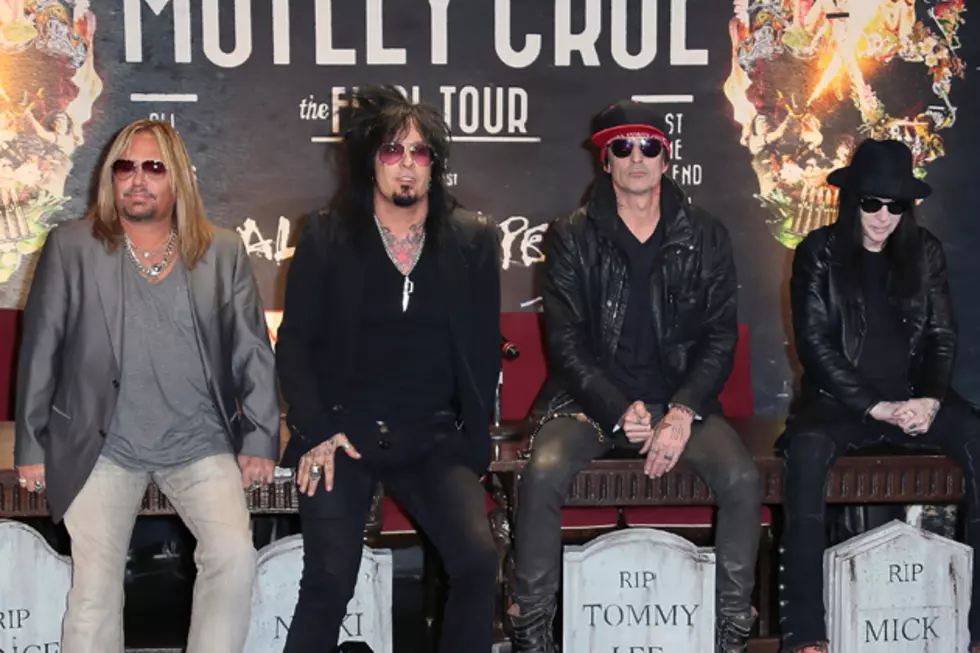 Motley Crue Explains Why They Will Not Make a Final Album
David Livingston, Getty Images
Motley Crue won't be issuing new music before hitting the road for what promises to be their farewell tour. Bassist Nikki Sixx blames a segmented radio environment unsuitable for their brand of rock.
"Radio is so f---in' formatted," he says, If you don't have a banjo and a beard, they're not playing you over here. If you're this kind of band at this stage of your career, you can't be played on Active Rock; if you've been around for more than fifteen years, you're classic rock, but classic rock radio doesn't play new music. You just think, 'f---, man, this sucks.'"
Motley Crue will launch its Final Tour later this year, with 72 shows in North America and then additional stops in 2015 overseas. Sixx and company even signed a "cessation of touring" contract prohibiting the members of the group for playing again under the Motley Crue name.
The sad part is, Sixx says the group has new music -- just no reliable way to get their songs to an audience. "We've written some songs," he says. "But this is difficult to say and probably harder to hear: when you spend nine months working on an album, all the work that goes into it and recording it, mixing it, mastering it, then you release it and it falls on deaf ears."
Sixx says the group is exploring the idea of placing their songs in films, or signing "sponsorships or co-sponsorships through integrated marketing with other types of companies that want to use your song specifically to reach tens of millions of people. I'd rather work on two songs under that plan than do eleven songs that only reach 100,000 people."
The band's most recent new song was 'Sex,' recorded at drummer Tommy Lee's studio in advance of a 2012 co-headlining tour with Kiss. Their last studio effort was 'Saints of Los Angeles' in 2008.
More From Ultimate Classic Rock