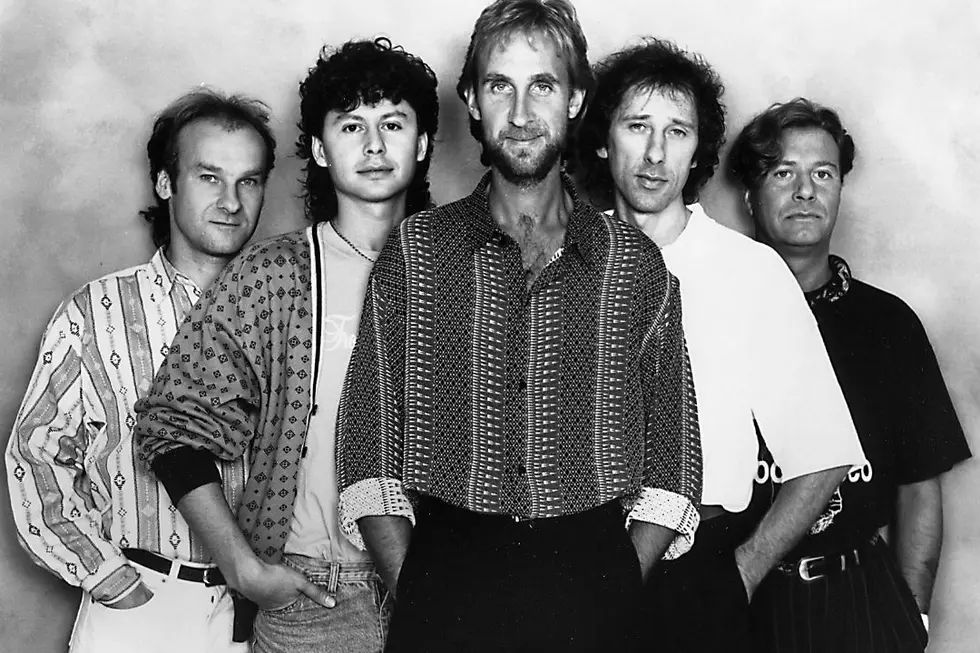 When Genesis' Mike Rutherford Moonlighted With 'Mike and the Mechanics'
Atlantic
The desire to pursue full-time solo careers led to more than one notable departure from the Genesis lineup during the band's early years, but by the '80s, the remaining members — keyboardist Tony Banks, guitarist/bassist Mike Rutherford and drummer/vocalist Phil Collins — were comfortable letting their side projects coexist alongside the group. So when Collins' burgeoning solo career started contributing to longer delays between Genesis records, Rutherford and Banks didn't get mad; instead, they took the opportunity to make albums of their own.
In Rutherford's case, this meant putting together a new band ... of sorts. Though he professed to find solo work "lonely" after recording a couple of records (1980's Smallcreep's Day and 1982's Acting Very Strange) under his own name, he didn't initially set out to put together a group, per se; instead, he started with the songs, which he put together with the aid of co-writers Christopher Neil and B.A. Robertson. Once he had the material he was looking for, he decamped to AIR Studios in Montserrat, enlisting Neil to produce the sessions and hiring drummer Peter Van Hooke and keyboardist Adrian Lee to play on the tracks.
"It was all a bit like try it and see," Rutherford tells Ultimate Classic Rock's Matt Wardlaw. "I wanted to try something away from Genesis. We were enjoying doing solo projects — myself, Phil and Tony — and it was working nicely. We'd do a Genesis record and then tour and then a solo thing. The two sat side by side very comfortably, so I thought, 'You know, I really like co-writing with other guys around.' I'm not a solo artist [necessarily] and I'm not a singer, so you can't really be a solo artist. So I thought, I'll write some songs and see where it takes me."
At this point, with something halfway resembling a record in the can, Rutherford tackled the important question of who exactly was going to sing the songs. "It was completely off the wall," he later told the Morning Call. "I recorded the songs and thought, 'Who the fuck is going to sing it?' It was so last minute, the whole thing."
Not beholden to any particular singer, Rutherford took a plug-and-play approach, reaching out to some of his favorite vocalists and using them where they seemed to fit. Participants included Gene Stashuk, singer for the Rutherford-produced band Red 7, a vocalist named John Kirby and a pair of better-known industry veterans: Paul Young, who'd earlier achieved success with the British band Sad Café, and Paul Carrack, a keyboard player and singer whose distinctive sound had made him an in-demand player for a long list of artists that included Roxy Music, Squeeze, John Hiatt, the Smiths and the Pretenders.
With Carrack in particular, Rutherford was picking up a free agent whose voice was already known on the radio. With his band Ace, he had scored a hit on both sides of the Atlantic with the 1974 single "How Long"; in 1981, as a member of Squeeze, he handled vocals for the hit "Tempted." The following year, he released his second solo effort, Suburban Voodoo, which produced a Top 40 U.S. single with "I Need You." Between record contracts, Carrack jumped at the opportunity to be part of a project that, as he later noted, took him fairly far afield from soulful pub rock.
"Up until then, musically, the stuff that I'd been involved with had been kind of rough and ready," Carrack reflected in a 1989 interview. "Rock and rolly — a garage type of sound. I came out to sing this song, put on the headphones, and there was this lush sort of modern synth sound, and I was really quite excited by that."
The song Carrack was referring to, "Silent Running," ended up being the first recording he tracked for Rutherford, while Young came in on his first day and cut "All I Need Is a Miracle" — both of which ended up becoming Top 10 hits after the album, named after the band-by-accident Rutherford had dubbed Mike + the Mechanics, arrived on Oct. 5, 1985. As Rutherford told UCR, operating under the Mechanics moniker allowed him to start over again as an unknown quantity — and disguised the fact that they weren't yet truly a band in the traditional sense.
"We were never really a band at all until the first album was finished," Rutherford recalls. "Then it was like, 'Oh my God, who is going to do some touring and who is going to be in the band?' Then it kind of happened. I think our lucky strike was putting out 'Silent Running' as the first single and not saying who it was. I had a great chance mid-career to be viewed as something unknown, which it was in those days. For years, people said to me, 'The Mechanics song, 'Silent Running,' was that you?' It was a nice moment in time for me."
Not only were many fans initially unaware of the Genesis connection to Mike + the Mechanics, thanks to the group's multiple-vocalist setup, some listeners may not even have known "Silent Running" and "All I Need Is a Miracle" were by the same band — not that it ended up hurting the Mechanics' first LP, which cracked the U.S. Top 30 on its way to going gold. With a hit record on his hands, Rutherford did the natural thing and cemented the lineup as a five-piece with Carrack, Young, Lee and Van Hooke.
Mike + the Mechanics' success continued a string of hit Genesis-related records that, between Collins' solo LPs and the band's own albums, kept Genesis alumni on the airwaves for the next decade. Collins' hugely popular No Jacket Required preceded the Mechanics LP, which in turn ended its radio run just as the next Genesis release, arrived in the summer of 1986; Carrack had his own successful solo outing, One Good Reason, in 1987, and by 1989, it was time for another hit Mechanics LP (the Grammy-nominated Living Years) and Collins solo effort (... But Seriously).
The Mechanics' U.S. success ultimately proved relatively short-lived, but aside from some short breaks — one brought on by Young's sudden death in 2000 — Rutherford has continued recording and touring with the band, which he now leads as part of a completely overhauled lineup featuring singers Andrew Roachford and Tim Howar. But even after 30 years and all the band changes, the first Mechanics LP remains a source of pride for Rutherford, who looks back on it fondly.
"I suppose what sort of happened on the first album," he says when asked what he was proud of with Mike + the Mechanics. "The mixture of the songwriting and the people and voices and lyricists and the words. We sort of found a sound. Ever since then, there are certain tracks on the album that people will hear it and they'll go, 'Oh, that sounds like a Mechanics song.'"
 
 
Genesis Solo Albums Ranked
More From Ultimate Classic Rock