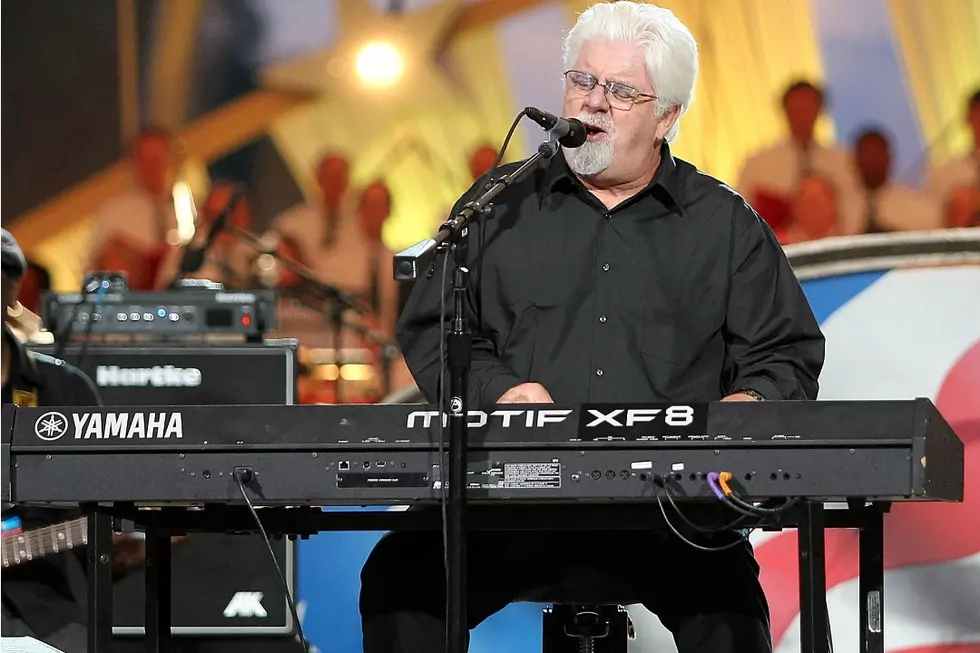 Top 15 Michael McDonald Songs
Paul Morigi, Getty Images
From the moment he stepped up to the mic as a backing vocalist for Steely Dan, Michael McDonald commanded listeners' attention -- and he's continued to earn it over the ensuing decades, first as a member of the Doobie Brothers and then as a solo artist and periodic guest on other people's records.
We've put together a list of his best songs, confining our choices to the ones he either wrote or co-wrote with the Doobies or on his own (which means we left off 'On My Own'). And we decided not to limit ourselves to 10 tracks -- in fact, we added five extra, one for each of his Grammys. What ended up making the cut? Check out our list of the Top 15 Michael McDonald Songs.
15

Keep This Train A-Rollin'

From: 'One Step Closer' (1980)

By the time the Doobie Brothers convened to record 1980's 'One Step Closer,' the band was really limping along -- the result of years of punishing touring and recording schedules -- and you can hear it all over the album, which suffers from early '80s production as well as a general artistic malaise. But the McDonald-penned 'Keep This Train A-Rollin'' is one of the record's highlights. Listening to it now, it's easy to hear a superior version being cut by an earlier, more unified version of the band.

14

'Nothin' But a Heartache'

From: 'Livin' on the Fault Line' (1977)

By his own admission, McDonald was in a pinch for new material when the Doobies returned to the studio shortly after 'Takin' It to the Streets,' and the need for songs was compounded by the departure of guitarist Tom Johnston early in the sessions for what became 'Livin' on the Fault Line.' The record wasn't as big a hit as its predecessor -- or its Grammy-winning follow-up -- but it does contain its share of modest highlights, such as this keyboard-driven mid-tempo number, which is No. 14 on our list of the Top 15 Michael McDonald Songs.

13

'If That's What It Takes'

From: 'If That's What It Takes' (1982)

The popular knock on McDonald as a member of the Doobies is that he dragged the band toward the middle of the road. Unfortunately, quite a bit of his solo career backed up that argument -- partly because he has a real knack for ballads, but also because his brand of polished pop wasn't done many favors by the synth-coated production of the '80s. But with the title track to his 1982 solo debut (co-written with Jackie DeShannon), he offered a reminder that he hadn't forgotten how to goose the tempo a little.

12

'Love Can Break Your Heart'

From: 'Take It to Heart' (1990)

By the time he released his third solo effort, 1990's 'Take It to Heart,' McDonald hadn't put out a new album in five years, and his sales suffered accordingly -- which is unfortunate, because while 'Heart' contains more than its share of slick adult contemporary, it also boasts some of his strongest solo output, including this blue-eyed soul songwriting summit with Squeeze and Mike & the Mechanics vet Paul Carrack.

11

'No Lookin' Back'

From: 'No Lookin' Back' (1985)

Out of all of McDonald's solo LPs, 1985's 'No Lookin' Back' arguably suffers the most from its dated production, which swamps a generally solid set of songs in squawking synths and tinny drums. The album's title track, co-written with McDonald's pal Kenny Loggins, is one of the few cuts that has a modicum of rock 'n' roll oomph. Like many songs of the era, it's tempting to imagine a version cut without all the '80s gloss.

10

'It Keeps You Runnin''

From: 'Takin' It to the Streets' (1976)

One of the odder-sounding songs in this period of the Doobies discography, 'It Keeps You Runnin'' is a loping mid-tempo number that starts out with buzzing synths and a cheap-sounding drum machine before opening up into a gentle admonishment to a distant lover. These definitely weren't the Doobies as McDonald found them, but they had their own substantial appeal.

9

'Obsession Blues'

From: 'Blue Obsession' (2000)

Ending his long association with Warner Bros. after 1993's 'Blink of an Eye' record, McDonald teamed up with his friend Jeff Bridges, who was trying his hand at label ownership (and a recording career of his own) with Ramp Records. The result, 2000's 'Blue Obsession,' catered partly to the smooth jazz stations that were by then his biggest radio target, but it also made room for the stinging title track, which contained one of his grittiest vocal performances in years.

8

'Long Haul'

From: 'Unfinished Business' (2013)

We reach the halfway point in our list of the Top 15 Michael McDonald Songs with the most recent entry. In 2013, McDonald issued 'Unfinished Business,' a collaborative EP with blues guitarist Robben Ford -- and although the indie release didn't make many commercial waves, it brought out the best in both artists, with Ford and McDonald coaxing out some of the most authoritative originals either had offered to the public in years. To those who've long since written McDonald off as a balladeer, the sparks struck by numbers like 'Long Haul' may come as a surprise.

7

'I Can Let Go Now'

From: 'If That's What It Takes' (1982)

We've tried to showcase the non-ballad side of McDonald's output here, but there's no denying the guy knows his way around a heartstrings-tugging number -- and few tug more sensitively than 'I Can Let Go Now,' the piano-and-strings number that closes out Side One of his first solo LP. Sorrowful yet clear-eyed, it looks back on a doomed affair with a disarmingly hopeful grace -- and comes in under three minutes in the bargain.

6

'Blink of an Eye'

From: 'Blink of an Eye' (1993)

By the early '90s, Warner Bros. didn't really seem to know what to do with McDonald -- but in the label's defense, he didn't seem all that sure himself. 'Blink of an Eye,' released in 1993, drifts in lukewarm adult contemporary waters for much of its running time, but there are sparks of life between the drum machines -- chief among them the title track, which boasts a dual-drumming attack from John Robinson and Manu Katche as well as a soaring slide guitar solo from the one and only Warren Haynes.

5

'You Belong to Me'

From: 'Livin' on the Fault Line' (1977)

This Carly Simon co-write was a non-starter for the Doobies, who didn't get a version of their own on the charts until they released a live single in 1983 -- five years after Simon scored a Top 10 hit with her own recording. But the Doobies' studio recording of 'You Belong to Me' is a classic in its own right, buoyed by McDonald's impassioned vocal and lurching Fender Rhodes, as well as a moody brass and strings arrangement.

4

'Takin' It to the Streets'

From: 'Takin' It to the Streets' (1976)

Called in to help shore up the Doobies in the growing absence of co-founder Tom Johnston, McDonald delivered immediately, bringing the band what would become the title track to their sixth studio effort. Socially conscious lyrics, a propulsive piano line, and an instantly memorable chorus -- all with the newest Doobie's distinctive vocals on top -- combined to produce a Top 20 pop hit.

3

'Here to Love You'

From: 'Minute by Minute' (1978)

The Doobie Brothers admitted to Ultimate Classic Rock that neither they nor their label were overly confident in their 'Minute by Minute' album, but it ended up becoming their biggest hit -- and it also contains a trifecta of classics that close out our list of the Top 1 Michael McDonald Songs, starting with the infectious boogie of LP opener 'Here to Love You.'

2

'Minute by Minute'

From: 'Minute by Minute' (1978)

The McDonald-era Doobies were arguably never more effortlessly smooth than on the title track to 'Minute by Minute' -- from the song's burbling intro to the stacked harmonies on the chorus, it fits comfortably into the 'Yacht Rock' stereotype that's dogged McD for the duration of his career. But what makes it work is the darkness beneath that soft arrangement, and the anger in lyrics like "Livin' on my own, somehow that sounds nice / You think I'm your fool, well, you may just be right."

1

'What a Fool Believes'

From: 'Minute by Minute' (1978)

The perfect marriage of McDonald's tightly produced vision and the Doobie Brothers' naturally loose approach, 'What a Fool Believes' was such a monster hit during its initial release that it's become one of those songs people hardly think about, even while it's playing -- perhaps partly because the impressively wordy lyrics are muffled by McDonald's soulful vocal delivery. But this Grammy-hoarding Kenny Loggins co-write tells a story familiar to anyone who's ever suffered through a lengthy unrequited love, and found out the lesson of the chorus the hard way: "What a fool believes he sees / No wise man has the power to reason away." Of all the songs of heartbreak McDonald's ever written, this one does the most complete job of summing up his unique strengths.
More From Ultimate Classic Rock