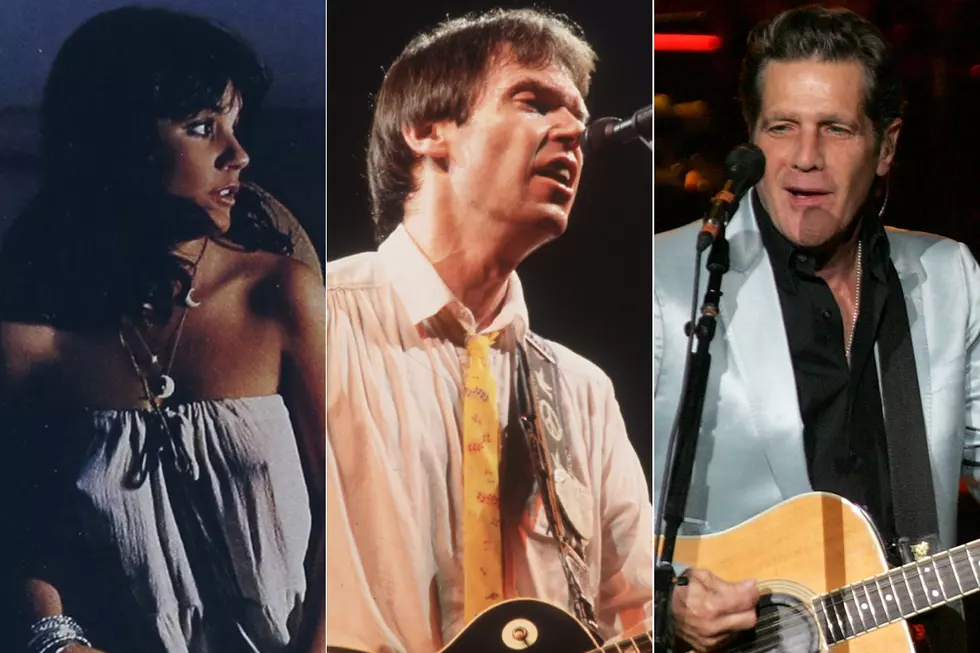 Top 10 Linda Ronstadt Collaborations
Asylum Records / Hulton Archive, Getty Images / Frazer Harrison, Getty Images
Linda Ronstadt retired from music after a Parkinson's Disease diagnosis, but not before becoming known for a string of popular hits in the '70s. Crafty fans can also find her vocal contributions on a number of other classic rock projects as well. In some cases, these career intersections were pure happenstance.
For example, Ronstadt ended up on Neil Young's Harvest because she happened to be Nashville for an appearance on Johnny Cash's TV show. She also put together a band for her solo debut; they ultimately left to form the Eagles. Other times – as with collaborations with James Taylor, Andrew Gold and Warren Zevon – she was working with people who'd been a part of her career from almost the start.
Our list of the Top 10 Linda Ronstadt Classic Rock Collaborations merely skims this terrific catalog.
10

'Lonely Boy'

With Andrew Gold (1977)

Andrew Gold first rose to fame in Ronstadt's '70s band, playing a key role in her chart-topping "You're No Good." She returned the favor, helping launch his solo career in 1977 by singing backup on the second verse of what would become Gold's biggest single, a Top 10 hit about a child's feelings of neglect.

9

'Stay Away'

With Toto (1988)

Toto's seventh album is best known for containing the Joseph Williams-sung "Pamela," a No. 22 hit in 1988. But tucked away inside the album is a reliably anthemic vocal by Ronstadt on the David Paich-Steve Lukather song "Stay Away."

8

'Bartender's Blues'

With James Taylor (1977)

Ronstadt and James Taylor had earlier contributed backing vocals to a pair of Neil Young tracks from 1972's Harvest – including "Heart of Gold" (found elsewhere on our list of the Top 10 Linda Ronstadt Collaborations) – so it's no surprise that their voices intertwine so naturally on this desperately sad country-blues song's second chorus.

7

'One of These Days'

With Neil Young (1992)

"I never tried to burn any bridges," Neil Young sings here. Proof of that: Ronstadt (and James Taylor) returned two decades after Young's signature country-rock triumph Harvest for this underrated sequel – a visit highlighted by the gorgeous "One of These Days."

6

'All That You Dream'

With Little Feat (1981)

Ronstadt had covered Little Feat before, including their signature song "Willin,'" so she was a natural fit to appear at a tribute concert for the band's late founder Lowell George. Her live take on "All That You Dream" from that show later made its way onto an odds-and-ends package released after George's death called Hoy Hoy!

5

'I'm Different'

With Randy Newman (1983)

On the cynically biting song cycle Trouble in Paradise, Randy Newman updates his folk-pop past to fit the glossy '80s aesthetic without losing any of his trenchant wit. Ronstadt was part of the all-star guest list, providing a fun call-and-response element to the winkingly boastful "I'm Different."

4

'Under African Skies'

With Paul Simon (1986)

Paul Simon invited Ronstadt to help out with "Under African Skies" as he explored "the roots of rhythm" on this widely celebrated international-flavored project. Their soaring duet remains one of Graceland's most gorgeous moments, as she doubled his vocals on the verses, then provided the jet fuel for a sun-flecked chant.

3

'Excitable Boy'

With Warren Zevon (1978)

Warren Zevon's best album features a title-track guest performance by Ronstadt, who had long been a champion of his work. In fact, her gender-reversed take on Zevon's "Poor Poor Pitiful Me" was rising into the Top 40 as Zevon's hit album appeared.

2

'Rock Me on the Water'

With the Eagles (1972)

Ronstadt's self-titled debut – highlighted by her early version of Jackson Browne's "Rock Me on the Water," which he would take to the charts later in 1972 – didn't sell much, but its importance in the burgeoning country-rock scene can't be overstated. After all, her backing band on this album includes Glenn Frey, Don Henley, Bernie Leadon and Randy Meisner. They would go on, of course, to become the Eagles.

1

'Heart of Gold'

With Neil Young (1972)

Released just a month or so after Ronstadt's eponymous debut album flopped, "Heart of Gold" nevertheless gave her an early taste of success: It became Neil Young's lone chart-topping single. As he nears the end of this meditation on restlessness, Ronstadt makes a typically dramatic entrance, arriving just in time for the song's soaring conclusion.
More From Ultimate Classic Rock