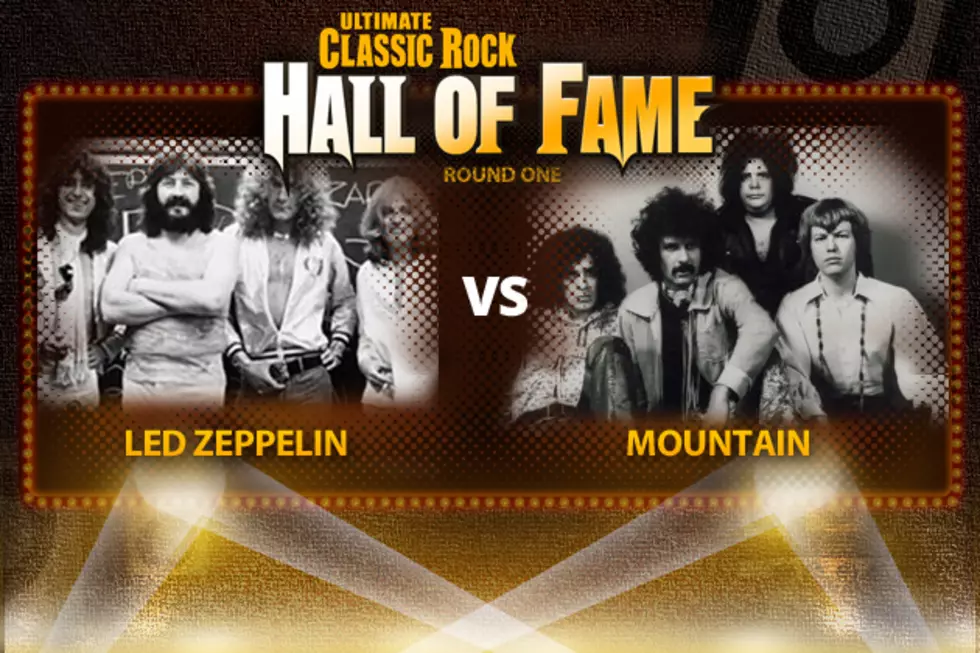 Led Zeppelin Vs. Mountain – Ultimate Classic Rock Hall of Fame Round One
They both played a key role in the early development of hard rock, but only one can emerge victorious as Led Zeppelin face Mountain in the latest Ultimate Classic Rock Hall of Fame balloting.
Led Zeppelin, who formed a year before Mountain in 1968, are best known for Jimmy Page's sawing riffs, although the British group eventually grew to include a number of musical influences beyond the initial blues-rock foundation. Mountain, on the other hand, were a U.S.-bred amalgam that established their nasty-grooved legend at Woodstock behind Leslie West, Felix Pappalardi, Corky Laing and others.
Mountain initially broke up much earlier -- eight years before Robert Plant and band called it quits following drummer John Bonham's death in 1980. But West and Laing would reform Mountain roughly once each decade (in 1973, 1981 and 1992) before re-emerging in 2001 for a run that continues today. (Felix Pappalardi, also a key collaborator with Cream, died in 1983.)
Every two months, the readers of Ultimate Classic Rock will decide which of eight legendary artists or bands will be remembered for their contributions to the genre. It's fair to say this is one of those "contrasting styles" match-ups, huh?
So, fans, which will it be? The U.K. or the good ol' U.S.A.? 'Black Dog' or 'Mississippi Queen'?
Round one of the competition ends Sunday, Nov. 17, at 11:59 PM EST and the winner will be announced Monday, Dec. 2. Be sure to read our official rules here. Get those votes in! We'll be revealing the rest of the November 2013 UCR Hall of Fame nominees and battle pairings in the coming days.
More From Ultimate Classic Rock