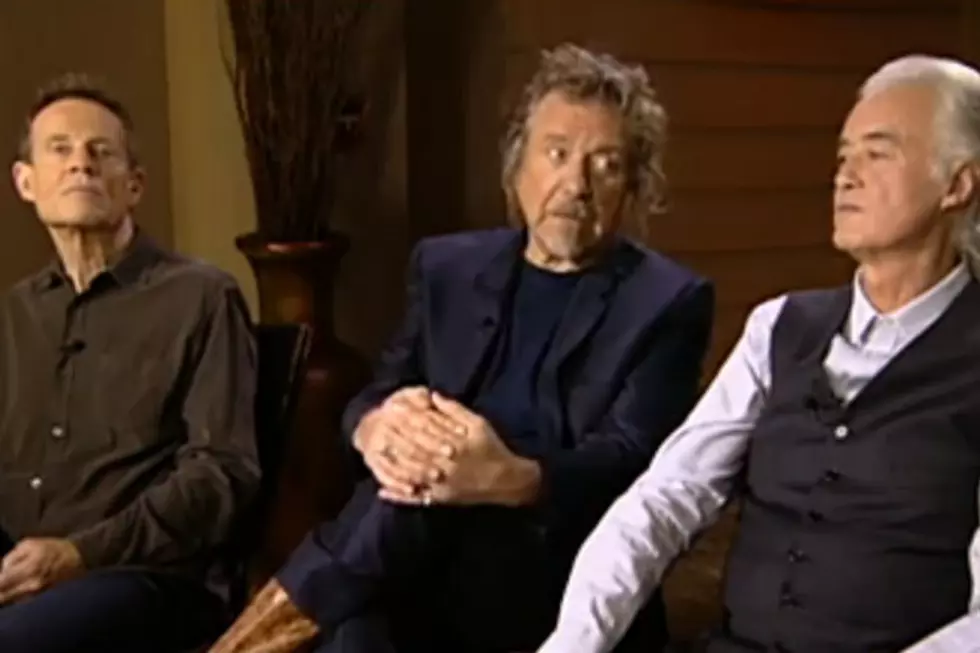 Robert Plant Says Led Zeppelin Members Need to 'Move On'
CBS
Led Zeppelin have had a big 30 days, including the release of 'Celebration Day' and being honored at the Kennedy Center Honors earlier this month. It doesn't seem likely the momentum will carry in 2013, however. During a recent interview with Charlie Rose on CBS singer Robert Plant explains he's looking for different creative endeavors.
"You have to be creative and imaginative and move on," he told Rose with Jimmy Page and John Paul Jones on each side of him. "And I think the great essence of Led Zeppelin is the creativity and imagination that developed with each project. And a project is a project, it's not just going back and revisiting the past, it's moving forward."
"I don't see us being a stadium act … going round and round making everyone feel great playing the hits."
Page and Jones didn't echo the singer's sentiment, but they didn't debate him either. When pressed about why they didn't hit the road after a successful 2007 show at London's O2 arena, Page mostly avoids the question. The bassist and keyboard player nods along for most of the 11-minute clip.
Page, Plant and Jones revisit their career with Rose, admitting -- after some prodding -- that they thought they were the best band alive during their '70s prime. They were never critical darlings -- mostly because critics didn't understand what they were doing, Page says -- but fans came to their shows in record breaking numbers. Jones grew to resent the bigger venues because the subtlety of the band was lost.
When drummer John Bonham died in 1980 they knew they couldn't carry on, eventually splitting up two months later. Two reunion shows in 1985 and 1988 whet appetites, as did the Page/Plant tours of the late '90s. Now five years removed from the O2 Arena show, it seems like fans should resign themselves to settle for another one-off instead of a world tour.
More From Ultimate Classic Rock