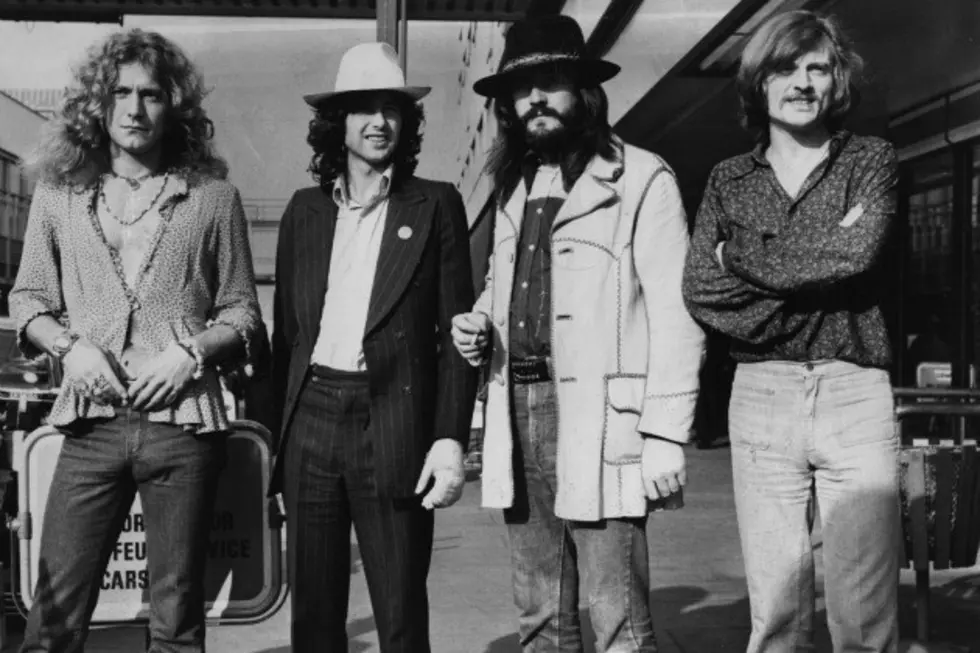 Led Zeppelin Readying Unreleased Material for New Box Sets
Hulton Archive , Evening Standard, Getty Images
Hang onto your wallets, Led Zeppelin fans: 2014 promises to bring a mother lode of newly remastered and previously unreleased material, all spread out over a series of box sets devoted to each of the band's albums.
Jimmy Page has been holed up in the studio poring over Zeppelin's archives, and he recently revealed during an interview with TeamRock Radio (via Blabbermouth) that he's completed the remastering process -- with a twist. "Each of the albums has been remastered but it also has a companion disc with it," he explained. "Let's take, for example, 'Led Zeppelin III' -- that's remastered from analog from the original thing. I know everybody does that, but what they don't do: I revisited all the working mixes that were done at the time."
What that means for fans, Page explained, is that each of the group's original LPs will receive an exhaustively comprehensive upgrade. "There's different versions," he continued. "Say, for example, there's 'Since I've Been Loving You' -- there's an incredible version of that which is totally different, it's really raw in its approach, it's quite dramatic, it's cool. That's one little item of it, but what it gives is a companion disc to 'Led Zeppelin III.' It'll come out in its own box and all the rest of it. Each disc will give a really intimate picture of the group. That's the idea that I've had with it and I think it's successful."
Saying that "the sonic side" of the project is finished, Page promised that each box set would be released separately in 2014. And as for those rumors of unreleased material? "Oh yeah," he nodded, although he was reluctant to provide any information about the songs. "I can't tell you," he demurred when pressed for details. "It's got to be a little bit of a surprise, I can't give all the games away."
More From Ultimate Classic Rock