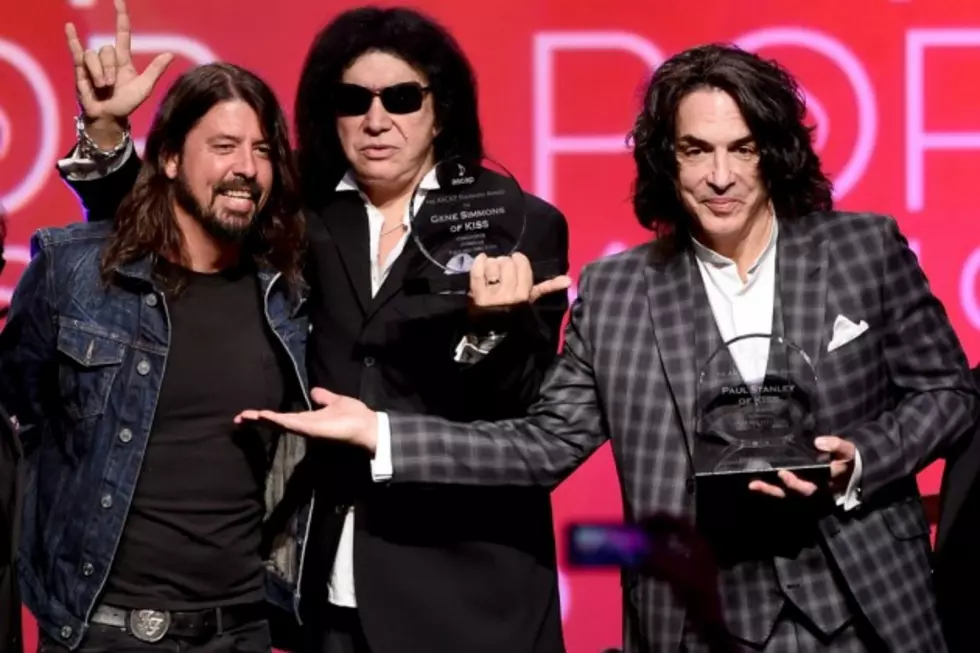 Dave Grohl Credits Kiss With Inspiring Him to Become a Musician
Kevin Winter, Getty Images
Billboard reports that the Foo Fighters frontman was on hand to present the duo with the ASCAP Founders Award, and took to the podium to deliver a speech looking back over his many years as a member of the Kiss Army. As Grohl told the audience, if it hadn't been for Kiss, he might not have ever set foot in a recording studio.
Recalling purchasing his first copy of Destroyer in 1976, Grohl said, "The album cover alone was enough to make me break my old piggy bank into a thousand pieces and scrape up enough lawn-mowing money to give it straight to Paul Stanley and Gene Simmons. With nuclear anticipation, I let the needle drop on that legendary intro to 'Detroit Rock City,' perhaps the greatest introduction to any rock 'n' roll album ever recorded. It filled my speakers and my imagination. Thirty-four minutes and 27 seconds later, Kiss had filled my soul."
Saying that he soon turned his bedroom into a "f---ing shrine" to the band, Grohl continued, "Every morning, I would wake up in my tiny bedroom and take a good look at my superheroes before walking to school. They got me through those years and ultimately inspired me to follow this unreasonable dream of becoming a professional rock 'n' roll musician."
Even some of the band's lesser-loved tracks are worth lauding in Grohl's eyes, as he joked when he brought up their brief foray into disco. "One hundred million albums. One hundred million f---ing albums. Countless hit singles, record-breaking concert attendance. They even made f---in' disco look cool with 'I Was Made for Lovin You.' Raise your hand if you can say the same thing."
And while he couldn't resist taking a shot at the group's passion for merchandising, poking fun at the Kiss AM radio he sent away for as a kid, Grohl remains unabashedly a fan even now that he can count the members of the band among his peers.
"Forty years later, my love of Kiss is still strong. And these days I still spend every morning before school with Paul Stanley… in the parking lot of our kids' f---in' elementary school, chatting about Zeppelin and Electric Lady and touring and school fundraisers," he marveled. "So I'd say that my unreasonable dream definitely came true."
Simmons, unsurprisingly, seemed to enjoy the speech, telling the assembled that "Dave Grohl and the Foo Fighters are carrying the flag that we hope will inspire the next generation of young kids." Stanley, meanwhile, offered a more sober perspective during a separate interview with Billboard, admitting that receiving the ASCAP honor "doesn't suck" but adding a grim note regarding the state of the music industry.
"The only reason to record at this point or write songs is to make a statement about the current band, and that we don't only rely on our old catalog," mused Stanley in response to a question about his current songwriting routine. "I think we're very fortunate to have come out when we did, and to not be relying upon an industry that has basically committed suicide."
See Kiss and Other Rockers in the Top 100 Albums of the '70s
Kiss Albums, Ranked Worst to Best
More From Ultimate Classic Rock