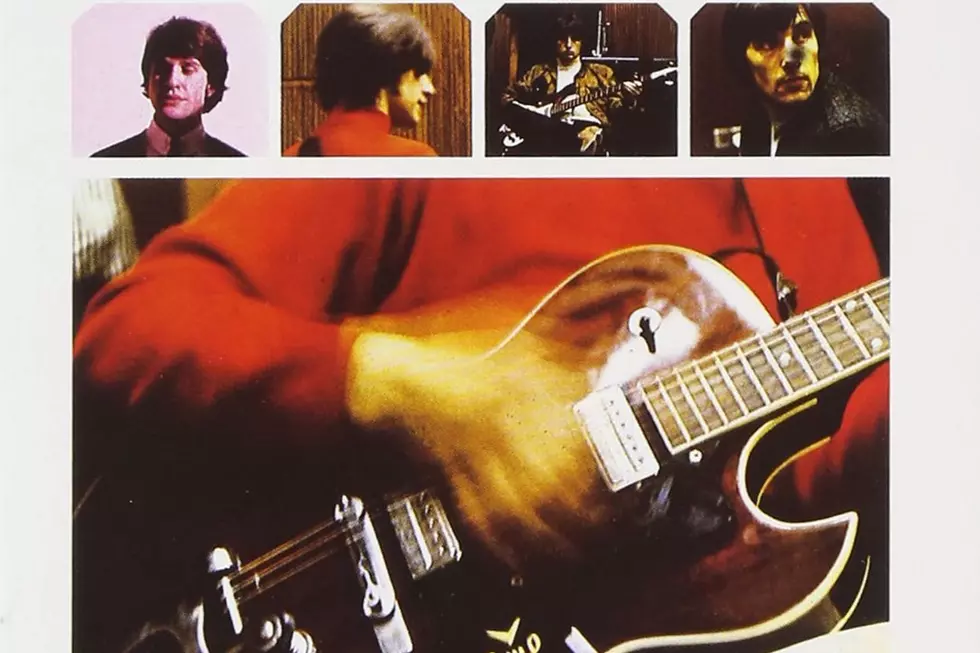 How the Kinks Took Big Steps With 'The Kink Kontroversy'
Pye UK
After releasing a handful of classic singles and two LPs by mid-1965, Ray Davies of the Kinks truly started to come into his own as a songwriter. His next album arrived on Nov. 26, 1965 as a huge step forward: The Kink Kontroversy featured an incredibly solid batch of songs that stayed true to their initial sound while moving ahead in different directions, as well.
The album kicks off with a genuine blues rave-up in their cover of Sleepy John Estes' classic "Milk Cow Blues." With guitarist Dave Davies stepping up on lead vocals, the song is a chaotic blast of pure raunch. Almost immediately, the breaks are slammed on and we find ourselves faced with a beautiful ballad. "Let the Bells Ring" is one of Ray's best early songs that embraces the softer side.
"Gotta Get the First Plane Home" clicks in and we're back to rocking. Some rollicking piano, courtesy of famed session man Nicky Hopkins, and a nice harmonica break from Ray help push this one along. "When I See That Girl of Mine" is pretty standard 1965 pop, but Davies' way with a song makes this more than just paint-by-numbers. The introspective, somewhat country tinged, "I Am Free," written by Ray but sung by Dave, shows signs of things to come in his style of writing.
"'Til the End of the Day" not only stands right alongside Ray's classic riff-driven rockers, but ranks as one of his all time best. Released as a single just prior to the LP, it shot into the U.K. Top 10. "I think "'Til the End of the Day" is one of my best songs," Ray said in Kinks: The Official Biography. "I probably felt a bit imprisoned when I was writing it. It was a bid for freedom."
"The World Keeps Going Round," which kicks off side two of the original LP, may be the buried treasure. Being 1965 and all, it's no surprise there's a slight hint of a Bob Dylan influence woven in. "I'm on an Island" is painted a slight shade of calypso while retaining the garage-band aesthetic. Davies recounts being a recluse. "I'm on an island but there is nowhere else I'd rather be," he sings. "There's quite an ironical sense of humor coming up there for the first time," Davies later noted in the reissue liner notes.
Listen to the Kinks Perform 'Til the End of the Day'
"Where Have All the Good Times Gone" remains one of Davies' finest songs. Wise beyond his years, Davies is already somewhat disillusioned by it all. "Lived my life and never stopped to worry 'bout a thing / Open up and shout it out never tried to sing / Wondering if I done wrong / Will this depression last for long?"
He manages to slip in references to both the Rolling Stones ("Time was on my side and I had everything to gain") and the Beatles ("Yesterday was such an easy game for you to play") while summoning up his inner Dylan once again in one of his best lyrics. "It is a world weary song," admitted Davies. "That line 'Daddy didn't need no toys / Mommy didn't need no boys,' it was a phony young person's attitude towards adults because what I really wanted to say was 'Papa didn't need no boys.'"
"It's Too Late" and "What's in Store for Me" are the album's weakest tracks, mostly because they fail to break any new ground for the Kinks. The record ends with the nasty "You Can't Win," which features some great guitar work from Dave. All in all, The Kink Kontroversy showed the Kinks were no one-trick pony, and Ray's writing had expanded both lyrically and musically.
Though released a few weeks prior to the Beatles' Rubber Soul, the album wouldn't be available in the U.S. until March 1966. In the meantime, Davies and company continued releasing a highly impressive batch of singles – all leading up to their first true masterpiece, Face to Face.
Top 100 Live Albums
Rock's Top 100 Live Albums are more than just concert souvenirs or stage documents from that awesome show you saw last summer.
More From Ultimate Classic Rock