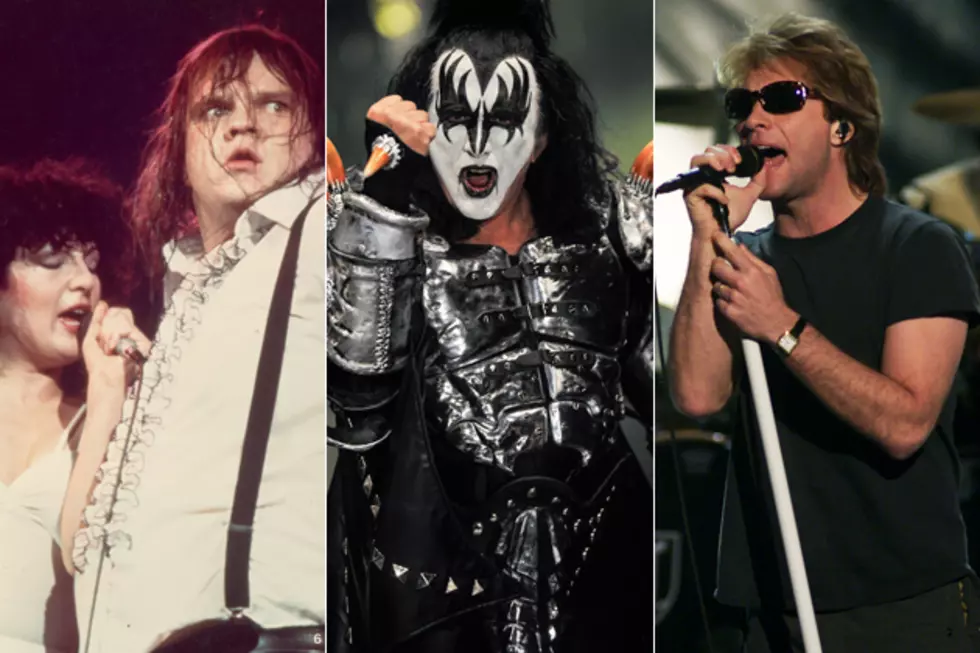 Hulton Archive / Keith Tsuji / Kevin Winter, Getty Images
Let's face it, deep down each and every one of us wants to be a rock star. Thanks to the 1969 invention of the karaoke machine, that dream comes true every night at bars and living rooms all over the world.
So which classic rock songs lend themselves to karaoke best? We spent a few nights at our local tavern arguing, field-testing and yes, drinking to find out. Then we reached out to our readers and gave them the final say. So warm up your vocal pipes and get ready to sing along with our Top 10 Karaoke Songs.
10

'I Want You to Want Me'

Cheap Trick

From: 'In Color' (1977)

Nothing slips off the tongue during a karaoke session quite as easily as the chorus to Cheap Trick's infectious (and yes, slightly desperate) romantic plea 'I Want You to Want Me.' Of course, the song also has some more difficult parts -- like the tongue-twisting "Feeling all alone without a friend, you know you feel like dying" line -- that separate true champions like this guy from mere pretenders.

9

From: '1984' (1984)

Any proper performance of Van Halen's keyboard-driven anthem 'Jump' will quickly also turn into your daily aerobic workout. After all, if you follow the lead of the song's famous video -- essentially a low-budget karaoke session -- you're not going to stay flat on your feet very long!

8

From: 'Full Moon Fever' (1989)

Upbeat party anthems are the most obvious early choices for a Friday night karaoke playlist. But as the hours get late and the empty glasses start to pile up on the tables, more emotionally heavy material -- such as this 1989 breakup anthem from Tom Petty's first solo album -- begins to dominate the proceedings.

7

From: 'A Night at the Opera' (1975)

Karaoke is, of course, a communal activity, and Queen's 'Bohemian Rhapsody' is the perfect song to sing with a whole bunch of friends. And the best part? There's really there's no need to argue about who sings lead -- thanks to the song's famous multi-tracked vocals, you and all your pals can all take on the role of the Freddie Mercury.

6

'Rock and Roll All Nite'

Kiss

From: 'Dressed to Kill' (1975)

Whether you're rock and rolling all night or partying every day, there's no better song to "Keep on shouting / Keep on shouting" along with your friends than this famous number, which Kiss have used to close out every one of their concerts for almost 40 years now. Makeup, leather studs and fire breathing are not required but would certainly liven up the evening.

5

'You Shook Me All Night Long'

AC/DC

From: 'Back in Black' (1980)

About 90 AC/DC songs could be in this spot, but one that's particularly fun to drunkenly shriek through is 1980's 'You Shook Me All Night Long,' from the legendary Australian group's masterful 'Back in Black' album. It's dirty and filled with many double-entendres, which makes it perfect for breaking down social boundaries during a late-night karaoke bar jam.

4

'One Bourbon, One Scotch, One Beer'

George Thorogood

From: 'George Thorogood and the Destroyers' (1977)

Since karaoke and booze go together like peanut butter and jelly, we would be remiss not to include 'One Bourbon, One Scotch, One Beer' in our list, even if the authorities have asked us not to officially endorse this particular drink order. Originally performed by Amos Milburn in 1953, the song was popularized by John Lee Hooker in 1966 and taken one step further by George Thorogood in 1977. Bonus: As this video demonstrates, you don't have to sing all that great to pull this song off.

3

'Livin' on a Prayer'

Bon Jovi

From: 'Slippery When Wet' (1986)

Oh hey, Bon Jovi, you didn't think we'd leave karaoke crowd favorite 'Livin' on a Prayer' off this list, did you? Silly you. This triple-platinum smash is the rare song that can please both the pop and rock crowds. Trust us, whether they're doing so ironically or not, if you put this track on pretty soon everyone from the most jaded hipsters to their mothers will be singing "Whooooooooaaaa.. we're halfway there..." right along with you.

2

'Don't Stop Believin''

Journey

From: 'Escape' (1981)

We know you've heard Journey's 'Don't Stop Believin'' on too many occasions in your lifetime. But there's something magical about the tune that gets people singing at the top of their lungs each and every time. So no pretending like you don't know all the lyrics, get out there and sing like you're Steve Perry. After all, no one can resist the sway of a power ballad.

1

'Paradise by the Dashboard Light'

Meat Loaf

From: 'Bat Out of Hell' (1977)

According to our readers, the karaoke grand champion is none other than Meat Loaf's 'Paradise by the Dashboard Light,' which has the added bonus of being a duet. All you need to do is find your very own Ellen Foley and you're off to the races. Oh, and an extra-large ruffled tuxedo shirt. Oh, and friends who don't mind sitting through an eight-minute song with you.
More From Ultimate Classic Rock