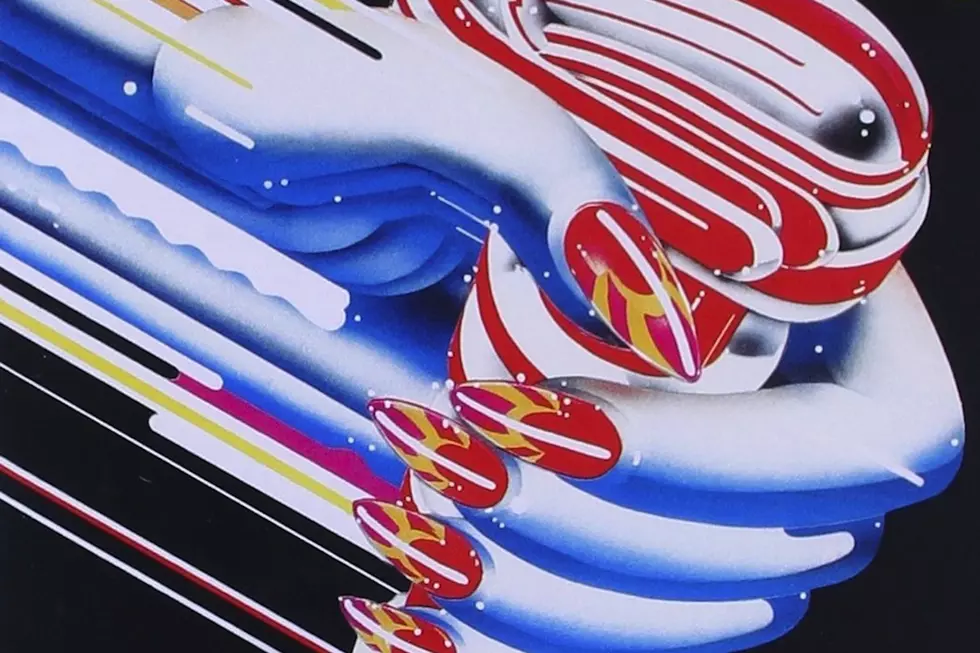 30 Years Ago: Judas Priest Take a Pop-Metal Turn on 'Turbo'
Columbia
Like discovering Santa Claus isn't real or getting dumped by your very first girlfriend, Judas Priest's 1986 album Turbo left many fans questioning what they believed in.
Here were heavy metal's self-proclaimed "defenders of the faith" taking a wholehearted plunge into pop-metal and '80s technology, wielding guitar synths, for what became one of the first digitally recorded albums in history. The entire thing stumped quite a few longtime fans, but the fact was Judas Priest had always shown a willingness to tinker with their sound over the years, albeit cautiously, more often than not.
If that wasn't the case, the Birmingham-bred rockers would never have evolved from the progressive tendencies of their first three albums to the increasingly focused heavy rock of the late '70s, culminating in 1980's British Steel. The group then experienced a creative hiccup with 1981's Point of Entry before delivering two of their most thoroughly metallic LPs: 1982's Screaming for Vengeance and the following year's Defenders of the Faith. So, if anything, Priest had spoiled their fans into a comfort zone, out of which they would now ruthlessly yank them.
But if you stripped away their unfamiliar synthetic veneer and programmed percussion, Turbo singles like "Turbo Lover," "Locked In" and "Parental Guidance" were, at their core, still recognizably Priest material. Other songs like "Private Property," "Hot for Love" and especially "Rock You All Around the World" head-banged with a fury, even if those synth-treated six-strings had their sharper edges softened for mainstream consumption.
And mainstream consumption – to the tune of an estimated two and a half million albums sold worldwide -- was the point. As singer Rob Halford later told Classic Rock magazine, "When you look back at the '80s, living through that decade, it was incredibly decadent. There was a lot of money flying around [and] it was a real pig-out in many ways, everything was larger than life."
So much so that Turbo was originally planned as a double album – tentatively named Twin Turbos after guitarists Glenn Tipton and K.K. Downing both purchased Porsche 911 Turbos. But the two-record concept was eventually nixed, with the session's heavier recordings – including tunes like "Hard as Iron," "Love You to Death," "Monster of Rock" and "Ram It Down" – put on the shelf and later refinished for 1988's partial return to form, Ram It Down. (Several other tracks -- including "Prisoner of Your Eyes," "Red, White & Blue" and "All Fired Up" -- emerged as bonus tracks on Priest's CD catalog reissues years later).
In any case, all evidence of Judas Priest's metal fatigue would be quashed by 1990's positively devastating Painkiller LP, which would reset fan perspectives and make the polarizing Turbo era feel like a distant dream (or nightmare, depending on whom you ask). But even Turbo has its champions and its place within Priest's discography – because embracing the pop music mainstream may have been the gutsiest move these metal legends ever made.
Judas Priest Albums Ranked Worst to Best
More From Ultimate Classic Rock