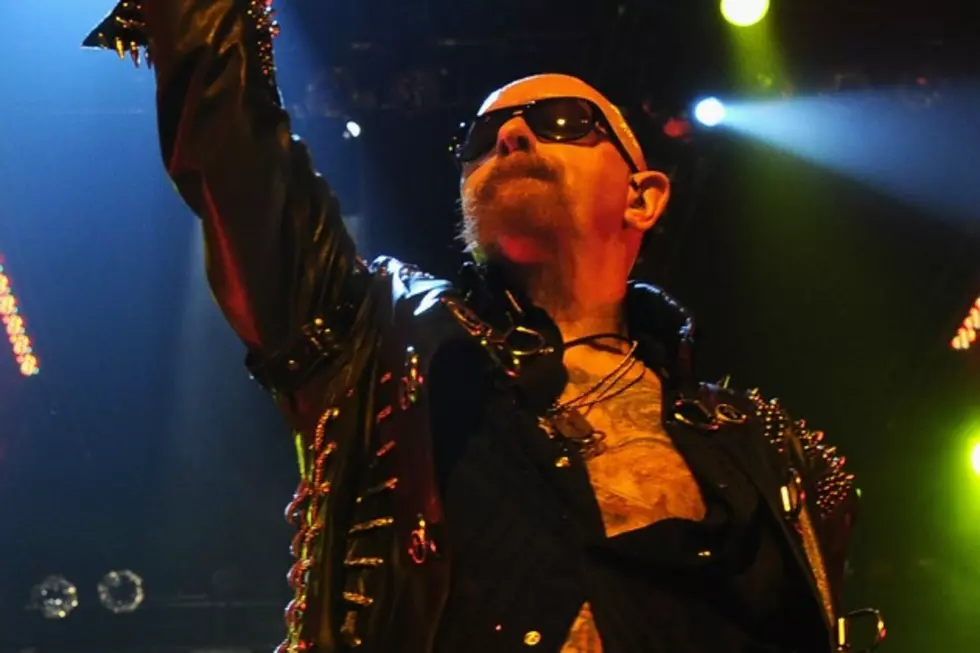 Judas Priest Announce More 2014 U.S. Tour Dates
Theo Wargo, Getty Images
Brace yourselves, North American Judas Priest fans: the band will return to these shores this fall for a series of tour dates in support of their new 'Redeemer of Souls' album.
The fun begins on Oct. 1 in Rochester, N.Y., and current plans call for Priest to continue traveling the U.S. until the middle of the following month, when they close out this leg of the tour with a Nov. 18 date in Salt Lake City, Utah. It all may seem awfully far off for fans who've been pining for a return visit, but they've got new music to tide themselves over in the meantime -- and given that it initially seemed like their 2011 tour might be their last, waiting a few months doesn't seem so bad.
All of Priest's U.S. dates will feature Steel Panther as guests, but perhaps they can work in a show or two with Cynic, who recently earned a public show of support from Priest singer Rob Halford after two of the band members revealed they're gay.
Joking that his initial reaction was to shout "I am the only gay in the village! I ain't having this!," Halford turned serious, adding, "It's s--- that you have to worry about this in 2014, isn't it? It's rubbish. But that just shows you the stupidity that goes on in the world. So God bless them. I know what it's like to come out of the closet. It's the best feeling in the world. Be true to yourself, live your life, don't hide. Nothing's going to hurt you, you can only hurt yourself. The real people that love you will love you regardless."
UPDATE: On July 14, the band announced another 13 tour dates. We have included them in with the others below.
Judas Priest Fall 2014 Tour Dates
10/01 - Rochester, NY
10/03 - Hammond, IN
10/04 - Louisville, KY
10/09 - Brooklyn, NY
10/10 - Atlantic City, NJ
10/11 - Mashantucket, CT
10/14 - Lowell, MA
10/15 - Allentown, PA
10/17 - East Rutherford, NJ
10/18 - Pittsburgh, PA*
10/19 - Detroit, MI
10/21 - Kansas City, MO*
10/22 - Evansville, IN*
10/24 - Baltimore, MD
10/25 - Portsmouth, VA*
10/26 - Simpsonville, SC*
10/28 - Duluth, GA
10/30 - Hollywood, FL.
11/02 - Corpus Christi, TX
11/04 - Laredo, TX
11/06 - Allen, TX
11/07 - Austin, TX
11/08 - El Paso, TX*
11/10 - Los Angeles, CA*
11/12 - Phoenix, AZ
11/13 - Highland, CA
11/14 - Las Vegas, NV
11/16 - San Jose, CA.*
11/18 - Salt Lake City, UT
11/19 - Denver, CO*
11/21 - Boise, ID*
11/22 - Tacoma, WA*
Watch Judas Priest Talk About the Future
More From Ultimate Classic Rock