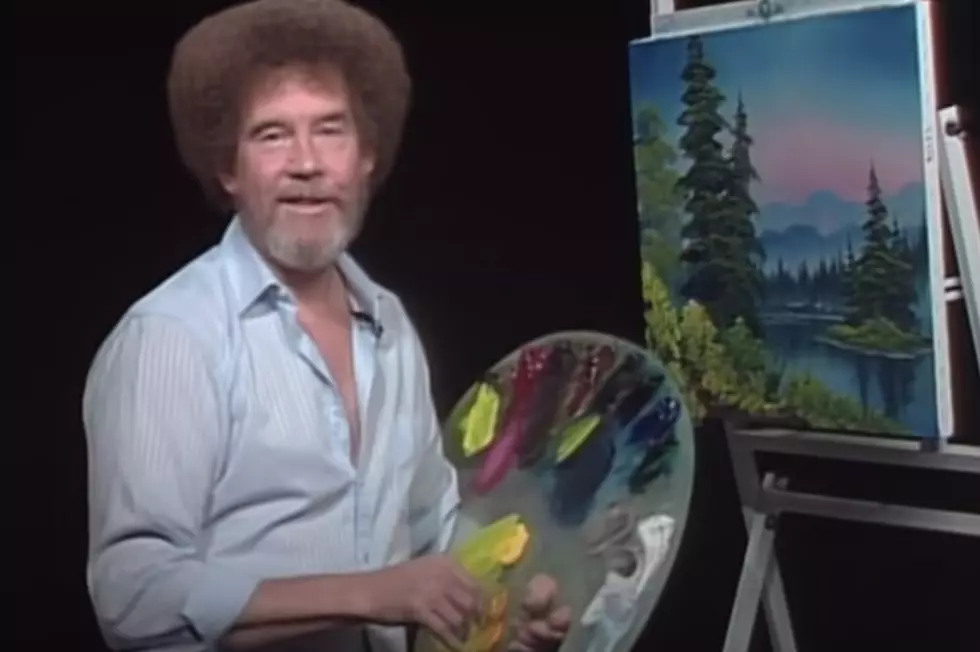 40 Years Ago: 'The Joy of Painting' Flexes Its Magical Fingers
YouTube
There may be no better nostalgia-inducing, made-for-the-internet-before-the-internet-existed show than The Joy of Painting. When it debuted on PBS on Jan. 11, 1983, the series made a folk star out of its host, Bob Ross; turned millions of people onto the idea that painting could be a fun, relaxing pastime; and remains indelibly lodged in the cultural consciousness decades after it first aired.
The conceit of the show is so simple that it seems almost remarkable that anyone watched in the first place: A guy stands there for half an hour and paints a picture. But for anyone who's ever seen it, there's something unforgettable about its rhythms and accomplishments.
In every episode, Ross stands in front of his easel in his trademark button-down shirt and jeans, hair surmounting his head in a nimbus, beard brown in the early episodes and streaked with gray in the later ones, casually tossing paint onto the canvas with a brush or palette knife … and what starts as an incomprehensible mess of smudges rapidly turns into a landscape painting.
While Ross works, he explains what he's doing, talking about artistic techniques and colors and speculating occasionally about the glories of nature. He has a quiet, modulated, almost hypnotic voice, which is one of the most important elements of the show's enduring success.
Watch Bob Ross Paint a Mountain Scene on 'The Joy of Painting'
Like so much television in the '80s, there is a homespun, tender quality to The Joy of Painting. Ross was, by all accounts, a great believer in what he did, but this also glosses over a far more interesting, complicated story. Ross began painting when he enlisted in the Air Force at the age of 18, in 1961, and was stationed in Alaska. During his 20-year military career, he took numerous classes, but he had the bad luck to be trying to get into art during the years when abstract expressionism – an intensely personal style that used everything from blocks of color to splattered paint and was exemplified by Jackson Pollock (whom Ross loved to derogate, by referring to him as "Jackson Pollard") – was dominating the American scene.
This was disappointing to Ross because it meant that he couldn't find anyone to teach him how to do what he wanted to do: paint from real life and do it fast. At that time he was painting mostly during his lunch breaks. "The schools I went to, the professors were mostly into abstract ­– talking all about color theory and composition," he told The New York Times in 1991. "They'd tell you what makes a tree, but they wouldn't tell you how to paint a tree."
Watch Bob Ross Paint a Sunset on 'The Joy of Painting'
Things changed when he saw a show on public television called The Magic of Oil Painting, which was hosted by a German immigrant named Bill Alexander, who painted landscapes from scratch in 30 minutes. Ross immediately signed up to take a seminar from Alexander and eventually went to work for him, first helping to mix paint in Alexander's workshop.
Soon, he was traveling around teaching courses using Alexander's method.
And then Ross, inspired and bankrolled by a student named Annette Kowalski and her husband, Walt, struck out on his own, doing exactly what Alexander was doing. He pitched a show to PBS and started a company teaching painting and selling painting supplies. Even though his show had been off the air for several years, Alexander was incensed at what he saw as his pupil's treachery: "He betrayed me," Alexander said to The New York Times. "I trained him and he is copying me – what bothers me is not just that he betrayed me, but that he thinks he can do it better."
Rip-off or not, the show became one of the biggest hits in PBS' history, and a legend was born. But despite appearances, it wasn't all off the cuff. Instead, it was the result of meticulous preparation. Before each episode, Ross would paint a landscape. This would sit just off-camera while he recreated it in real-time while giving his folksy spiel. Then, after the show, he would paint a third version to make sure he got it right, and this version would appear in one of the numerous instructional books he sold.
Watch Bill Alexander Paint a Wilderness Scene on 'The Magic of Oil Painting'
These books, along with his courses and his line of paints, were the source of a vast business enterprise he eventually built. At its height, Bob Ross Inc. was reportedly worth approximately $15 million, employed more than 300 certified painting instructors and had a line of paints that dominated art supply and hobby stores nationwide. But the main attraction was always his show. All in all, Ross made 403 episodes (for which he did not get paid, as PBS was a nonprofit) over 31 seasons from 1983 to 1994.
He would travel to the local PBS affiliate in Muncie, Ind., to record each season, and in the spirit of his painting, he made these extremely fast. His record was taping eight half-hour episodes in a single day.
These initially aired on public television across the U.S. and eventually hit international TV, in locations as far-flung as the Philippines, Austria and Costa Rica. They have also had a surprisingly long life online, are available on Netflix and have enjoyed frequent surges in popularity over the years. In 2015, more than 5 million people watched an initial 200-hour marathon on the streaming platform Twitch, which has broadcast the shows ever since.
In a 2016 interview with Vice, Bill Moorier, the head of Twitch Creative, explained why he thought Ross has remained so popular: "Out of all TV shows of that era, he was really talking very directly to his audience, just in the same way people do now." But perhaps even more importantly, Moorier noted, "Everybody feels this personal connection with Bob Ross. He is at the same time really relaxing and incredibly motivating."
It was a great combination in the '80s, and it's somehow become the perfect combination for the internet era as well.
28 Classic Films That Were Turned Into (Mostly Failed) TV Shows
Many classic '70s and '80s flicks have spawned TV series - but few have found success.
More From Ultimate Classic Rock