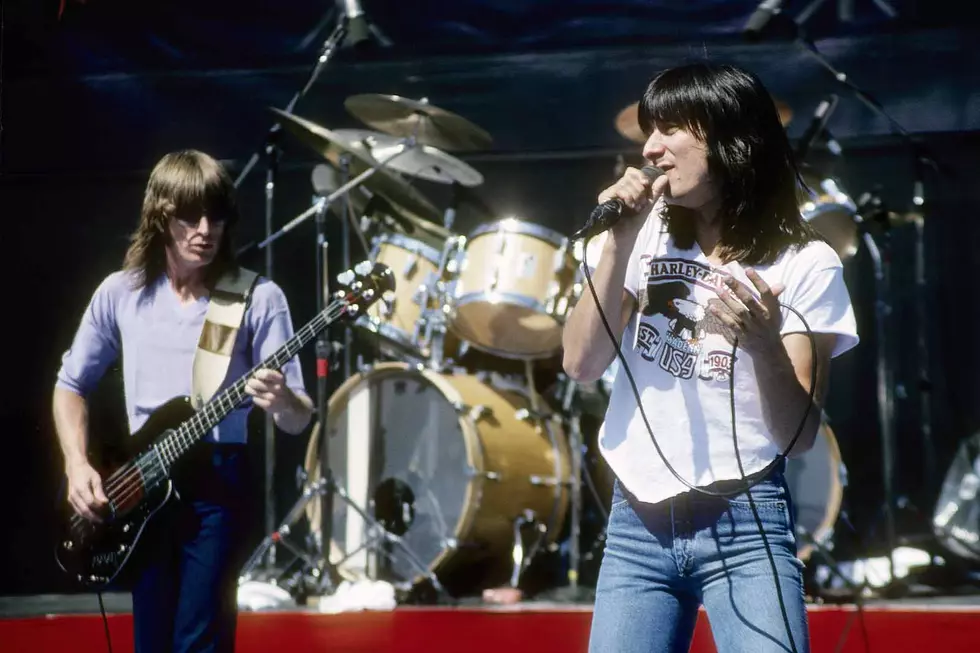 Larry Hulst / Michael Ochs Archives, Getty Images
The top Journey songs demonstrate quite clearly how the band, one of the early progenitors of what rock critics like to dismiss as "arena rock," achieved such popularity in the '70s and '80s.
Journey were undoubtedly ahead of their time in terms of PR, and especially in terms of professionalizing their live shows, pioneering elements of live production that are standard procedure today. But while the group took a great deal of flack for the skill with which they were marketed, it is the music they created – an interesting blend of guitar-driven hard rock and vocal-oriented pop – that has endured across the decades, connecting with several subsequent generations.
The group's earliest musical origins featured an elaborate mix of rock and progressive fusion, but it wasn't until they later shifted in a more commercial direction that they began their long, slow climb to superstardom. Though they were often critically derided, Journey's best work boasted a level of instrumental and vocal ability far beyond that of most of their peers and covered a wide array of styles – as you'll see in our list of the Top 10 Journey Songs.
10

"Lovin,' Touchin,' Squeezin'"

From: 'Evolution' (1979)

Steve Perry reportedly drew inspiration from one of his biggest influences, Sam Cooke, for this track from Journey's fifth album. The singer borrowed from "Nothing Can Change This Love" for the song, which struck a perfect balance between his soulful pop vocals and Neal Schon's heavy rock guitars to become the group's first Top 20 hit, reaching No. 16 and helping Evolution to become a triple-platinum hit.

9

"Stone In Love"

From: 'Escape' (1981)

This hard rock track from Journey's seventh studio album helped introduce the writing talents of newcomer keyboardist Jonathan Cain, who wrote the song with Perry and Schon. The song's infectious marriage of heavy riffing, blazing guitar solos and an alluring melody – all topped off by an undeniable Steve Perry vocal performance – helped it became a rock radio staple, easily earning its spot in our Top 10 Journey Songs.

8

"Lights"

From: 'Infinity' (1978)

Perry wasted no time making himself at home as a writer after he joined for Journey's fourth album. This soulful rock track pairs a Schon riff with a lyric Perry had originally written about Los Angeles, which he changed to fit after joining the San Francisco-based Journey. "Lights" originally charted at just No. 68, but went on to become a rock radio staple and an important part of Journey's live shows.

7

"Separate Ways (Worlds Apart)"

From: 'Frontiers' (1983)

Another in a long string of Journey classics penned by the duo of Cain and Perry, this song came together in a backstage writing session in which the singer was playing bass and the keyboardist was playing guitar. It marries Perry's Motown influence with hard rock for a track that hit No. 8 in the Mainstream Rock chart and has become an all-time classic rock track. The single release was accompanied by a much-lampooned video in which the band members mime to the track without their actual instruments.

6

"Feeling That Way"

From: 'Infinity' (1978)

"Feeling That Way" was initially an instrumental titled "Velvet Curtain," written by keyboardist Gregg Rolie with drummer Aynsley Dunbar before he added words and re-titled it "Please Let Me Stay." It wasn't until Perry joined Journey and wrote some additional material that the band recorded the track. He and Rolie shared the lead vocal duties on this song, which is almost always paired with "Anytime" both on the radio and in concert.

5

"Wheel in the Sky"

From: 'Inifinity' (1978)

One of the earliest Journey songs to find traction at rock radio, "Wheel in the Sky" began as a poem titled "Wheels in My Mind" by Diane Valory, the wife of Journey bassist Ross Valory. When singer Robert Fleischman heard it, he appropriated it for a lyric that was juxtaposed against a hard rock riff from Schon. When Journey brought in Steve Perry to replace Fleischman, he put his signature vocal stamp on the track, undeniably making it one of the Top 10 Journey Songs

4

"Open Arms"

From: 'Escape' (1981)

Cain had originally pitched the melody idea for "Open Arms" when he was a member of the Babys, but singer John Waite reportedly shot it down as too sentimental. Once he and Perry completed the song, their Journey bandmates didn't feel too differently – particularly Schon, who felt the song too light for the group. Despite the opposition, the group recorded and released the track, which held the No. 2 spot in the Billboard chart for six consecutive weeks and has become a cultural touchstone.

3

"Any Way You Want It"

From: 'Departure' (1980)

Co-written by Perry and Schon, this track was heavily influenced by Thin Lizzy front man Phil Lynott, who was sharing in a rhyme scheme exercise with the two backstage while the bands were touring together. Recorded closer to a "live in the studio" environment, Departure featured an edgier sound than previous Journey records, and the track is a perfect example of that, propelled by Schon's fleet-fingered solos and Perry's high-octane vocal performance.

2

"Faithfully"

From: 'Frontiers' (1983)

Cain wrote the wistful piano-based ballad "Faithfully" about the challenges of being on the road while trying to maintain a life with his wife at home. The song's universal sentiment and melodic structure struck such a chord with fans that it landed at No. 12 in the Billboard chart, and it has since gone on to become one of Journey's most recognizable and enduring songs. Ironically, the song has far outlasted the marriage it was written to commemorate, which ended in divorce in 1987.

1

"Don't Stop Believin'"

From: 'Escape' (1981)

"Don't Stop Believin'" not only tops our list of the Top 10 Journey Songs, it came in at No. 13 in our overall poll of the Top 100 Classic Rock Songs, and it is the best-selling catalog track of the digital music era, having sold more than 5 million digital tracks. Written by Cain, Perry and Schon, the song's multi-generational attraction lies partly in its inspirational message and partly in its arrangement, which appeals equally to fans of hard rock and vocal-oriented pop.
More From Ultimate Classic Rock