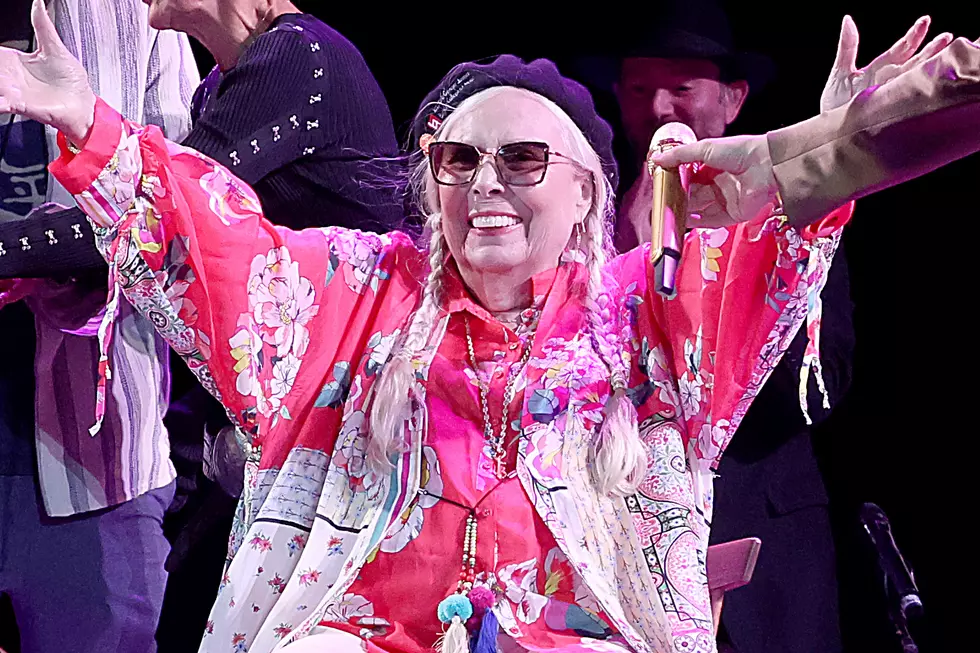 Joni Mitchell Makes Triumphant Stage Return: Review, Set List
Gary Miller, Getty Images
Joni Mitchell returned to the stage last night for an epic, 24 song performance at the Gorge Amphitheater in Quincy, Washington. It was her first headlining, ticketed concert in roughly two decades.
With the assistance of singer-songwriter Brandi Carlile, who herself headlined the venue the previous evening, Mitchell enlightened the audience with both classics ("A Case of You," "The Circle Game") and deep cuts ("Come in From the Cold," "Sex Kills") from her 60-year career.
"There's nothing scarier than playing songs you wrote in front of Joni Mitchell," Carlile said from the stage during her opening set, recalling words that Cameron Crowe had spoken when the trio were recently listening to mixes of Mitchell's upcoming live album At Newport: "This generation's Joni Mitchell is Joni Mitchell."
For several years, Mitchell, 79, was assumed to be finished with live performing, and her very presence on stage was nothing short of a testament to her resilience. In 2015, Mitchell suffered a brain aneurysm that not only robbed her of her ability to play and perform music, but also forced her to re-learn how to walk and talk.
Watch Joni Mitchell Perform 'Both Sides Now'
Once she was healthy enough, Mitchell hosted what were affectionately dubbed as "Joni Jams" at her home – casual gatherings of friends both old and new where Mitchell gradually got more and more comfortable singing and playing music. One of those people was Carlile, who has previously performed the entirety of Mitchell's acclaimed 1971 album, Blue, and also appeared alongside Mitchell at her surprise show at the 2022 Newport Folk Festival. "She said, 'I want to play again,'" Carlille told The Daily Show in October. "Joni Mitchell is going to play. No one's been able to buy a ticket to see Joni Mitchell play in 20 years."
"[I've] watched one of the most miraculous things I've seen in my life," Carlile said at the Gorge, "and now you get to see it."
Mitchell began her show with "Big Yellow Taxi," seated amongst the likes of Carlile, Annie Lennox, Allison Russell, Marcus Mumford, Sarah McLachlan, Lucius, Celisse and others — all musicians who have participated in the jams. The stage, arranged with couches and cushioned seats, was designed to resemble the casual environment of Mitchell's living room back home.
Dressed in red robes, a black beret and her signature braids, Mitchell sipped her favorite Pinot Grigio from a thermos and tapped her cane along to the beat as she sang with a voice deepened with age. "Thank you for coming," she said, "You're a beautiful audience, I'm glad to be here."
Between Mitchell's own singing, the musicians on stage took turns performing her songs. Lennox gave an emotional rendition of 1970's "Ladies of the Canyon," taking a moment to express what Mitchell has meant to her over the years. "Back in the day there were so few of us women doing this that we're doing," she said. "You're such an inspiration to all of us on the stage and every single one of us out there." Later, Celisse handled "Help Me," Wendy Melvoin of Prince and the Revolution sang " A Strange Boy," Mumford took on "California" and McLachlan performed the title track to Blue. (A complete set list is available below.)
Watch Joni Mitchell Perform 'A Case of You'
Today, there are a myriad of storied artists and bands still standing strong after decades on the road. There are also a number who have left us. While it is true that Mitchell will almost certainly never tour again the way she once did, her return to the stage has undoubtedly proven her tenacity as an artist and as a woman who has faced just about every obstacle there is in life, ranging from physical illness to estranged family, marital abuse to drug addiction.
Her performance of "Both Sides, Now" took on particular weight, having quite literally looked at life from both ends of the spectrum, that of a young musician striving to make a name for herself, and now as a seasoned veteran who has accumulated accolades. For an artist who was often criticized for straying too far from her initial folk sound — or worse, constantly compared to her male counterparts — there must be something satisfying about beating the odds once again and performing for tens of thousands. As Mitchell described the audience back to them: "stardust, golden."
Mitchell ended her set by playing a few songs on guitar, an instrumental version of "Just Like This Train" and "If," an activity that even just a few years ago seemed out of reach. Her final selection of the evening was not her own, but one recorded by Frank Sinatra: "Young at Heart."
"I have a tremendous will to live," Mitchell told the CBC in 2013. At the Gorge, this conviction was on full view, with an entire audience present to witness one of this century's most remarkable returns to artistic form. Though her best physical years may be behind her, Mitchell is still walking (and singing) proof that there is always joy to be found in communal music-making. As she put it in "Both Sides, Now:" "Something's lost but something's gained in living every day."
Joni Mitchell, Gorge Ampitheatre, George, Washington, 6/10/23, Set List:
1. "Big Yellow Taxi"
2. "Night Ride Home"
3. "Raised on Robbery"
4. "Come in From the Cold"
5. "Amelia"
6. "Carey"
7. "Sex Kills"
8. "Summertime" (George Gershwin Cover)
9. "Ladies of the Canyon" (Performed by Annie Lennox)
10. "Help Me" (Performed by Celisse)
11. "Where There's a Will, There's a Way" (Performed and Written by Rick Whitfield)
12. "Love Potion No. 9" (The Clovers Cover)
13. "A Case of You"
14. "A Strange Boy" (Performed by Wendy Melvoin)
15. "Cactus Tree" (Performed by Lucius)
16. "California" (Performed by Marcus Mumford)
17. "Blue" (Performed by Sarah McLachlan)
18. "Why Do Fools Fall in Love" (Frankie Lymon and the Teenagers Cover)
19. "Shine"
20. "Both Sides, Now"
21. "The Circle Game"
22. "Just Like This Train" (Instrumental)
23. "If"
24. "Young at Heart" (Frank Sinatra Cover)
Joni Mitchell Year-by-Year Photos 1965-2023
Nearly six decades-worth of images from Mitchell's pioneering career.
More From Ultimate Classic Rock