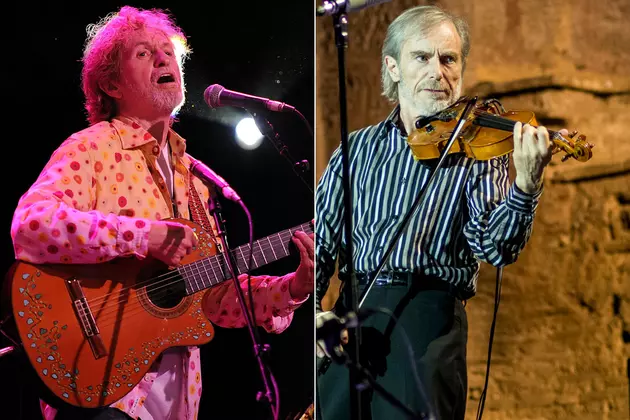 Jon Anderson Announces Spring 2016 Tour With Jean-Luc Ponty, Album With Roine Stolt
Matt Roberts / Monique Jaques, Getty Images
As Yes figure out how to proceed following the death of original member Chris Squire, their former singer appears to be as busy as ever. Today (March 17), Jon Anderson announced two projects, a new North American tour with electric violinist Jean-Luc Ponty and a new album, Invention of Knowledge, with Swedish progressive rock guitarist Roine Stolt.
The dates with Ponty, which are listed below, is a continuation of their 2014 collaboration that resulted in last year's CD/DVD Better Late Than Never. The disc was mostly recorded live in Aspen, Colo., and was comprised of the duo and four other musicians performing Yes and some of Ponty's tunes with lyrics by Anderson.
On this tour, they will begin in Tuscon, Ariz, on April 28 and conclud on May 28 in Quebec City, Quebec, Canada. For complete ticket information, visit the AndersonPonty Band's website.
Almost a month after Anderson gets off the road, on June 24, he and Stolt will release Invention of Knowledge. Anderson saw Stolt, known for his work in the Flower Kings and Transatlantic, perform during the 2014 Progressive Nation at Sea Cruise and the two started writing together shortly thereafter.
The four songs on Invention of Knowledge clock in at approximately 65 minutes (including the 23-minute title track), which will naturally call to mind the epics of Anderson's former band. But in a press release, Stolt said that this shouldn't be considered a sequel to Tales From Topographic Oceans.
"It is not aiming at being new Yes music; just new music, modern and classical, rock and ethno, tribal and orchestrated, grooving and floating. Hopefully in the true spirit of "progressive" - leaning forward, surprising and also comforting with familiar run-arounds."
AndersonPonty Band Spring 2016 Tour Dates
4/28 -- Tucson, Ariz.
4/30 -- Agoura Hills, Calif
5/01 -- Anaheim, Calif.
5/04 -- Boulder, Colo.
5/06 -- Dallas, Texas
5/07 -- Austin, Texas
5/10 -– Burnsville, Minn.
5/11 -- St. Charles, Ill.
5/13 -- St. Louis, Mo.
5/14 -- Madison, Wisc.
5/17 -- N. Tonawanda, N.Y.
5/18 -- Tarrytown, N.Y.
5/20 -- Beverly, Mass.
5/21 -- Northampton, Mass.
5/23 -- Ridgefield, Ct.
5/25 –– Albany, N.Y.
5/26 –– Montreal, Quebec, Canada
5/27 –– Quebec City, Quebec, Canada
See Yes and Other Rockers in the Top 100 Albums of the '70s
More From Ultimate Classic Rock