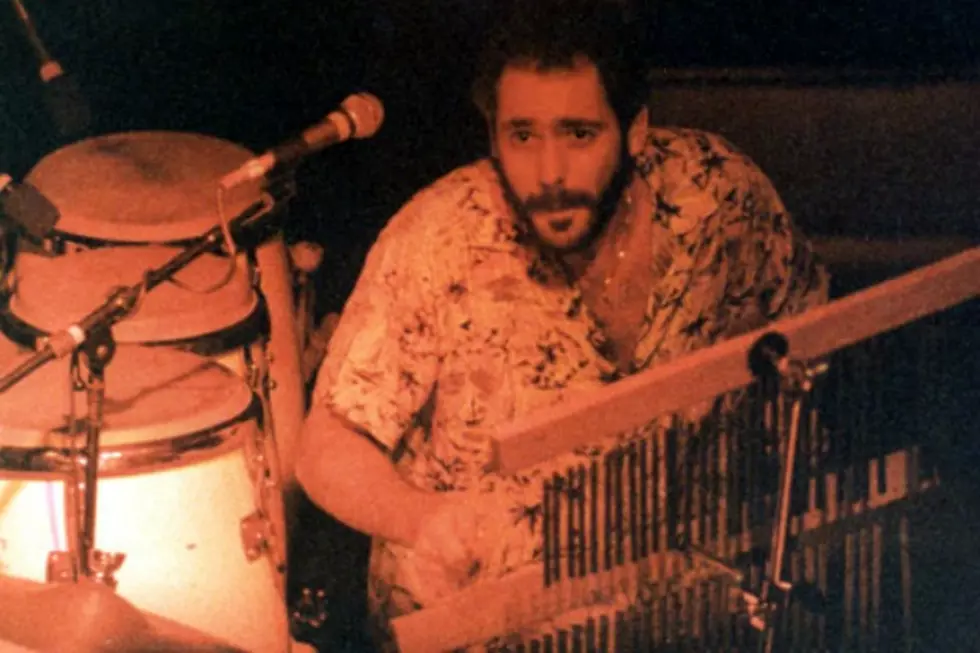 Drummer Joe Lala Dead at 66
joelala.com
Joe Lala, a prolific session drummer and actor who played on albums for a long list of renowned rock stars, has passed away following a struggle with lung cancer at the age of 66.
The Tampa Tribune notes that Lala, a native of the area, rose to prominence as a member of the band Blues Image, whose 1970 single 'Ride Captain Ride' was a No. 4 national hit. Following the band's split, he embarked on a career as a session player, compiling an impressive list of credits with artists such as Crosby, Stills, Nash and Young, the Allman Brothers Band, the Eagles, the Bee Gees, the Byrds, Eric Clapton, Chicago, and John Mellencamp.
Renowned bassist Leland Sklar shared his grief over Lala's passing on Facebook, where he posted a note calling himself "beyond brokenhearted" and credited Lala with "always [bringing] great feel to everything he touched." Added Sklar, "From his parrot sitting on his shoulder pooping down his back (you had to be there) to the sauces he made (what a cook) he was the man. Could get you up and out of your chair with a cow bell. 'Could use more cowbell' was not a phrase you used on Joey. He always had plenty. I will miss you and you will always be in my heart and my groove. You set the bar high. RIP dear friend..."
Lala also enjoyed a busy life as an actor, scoring roles in a long list of shows that included 'Seinfeld,' 'Miami Vice,' and 'Melrose Place,' as well as doing voice work for animated series. He focused on that side of his career after problems with carpal tunnel forced him to abandon the drums in the '80s, ultimately walking away from the entertainment business entirely 10 years ago in order to care for his mother.
Lala's death closes a particularly turbulent chapter in his life, during which he received his cancer diagnosis and said goodbye to his mother, who passed away earlier this year at the age of 98. But he remained positive in spite of it all, quipping in a 2013 interview, "It's about attitude. Attitude is the most important thing. If you accept that big 'C' diagnosis as a death sentence, you are dead in the water. And like I say, I have too many people I would like to make mad yet."
"He is undoubtedly one of the all-time great musicians in the history of this city," Tampa DJ Tedd Webb told the Tribune. "Take a look at his discography and all the people he played with. To play with so many legends, you have to be a legend."
More From Ultimate Classic Rock