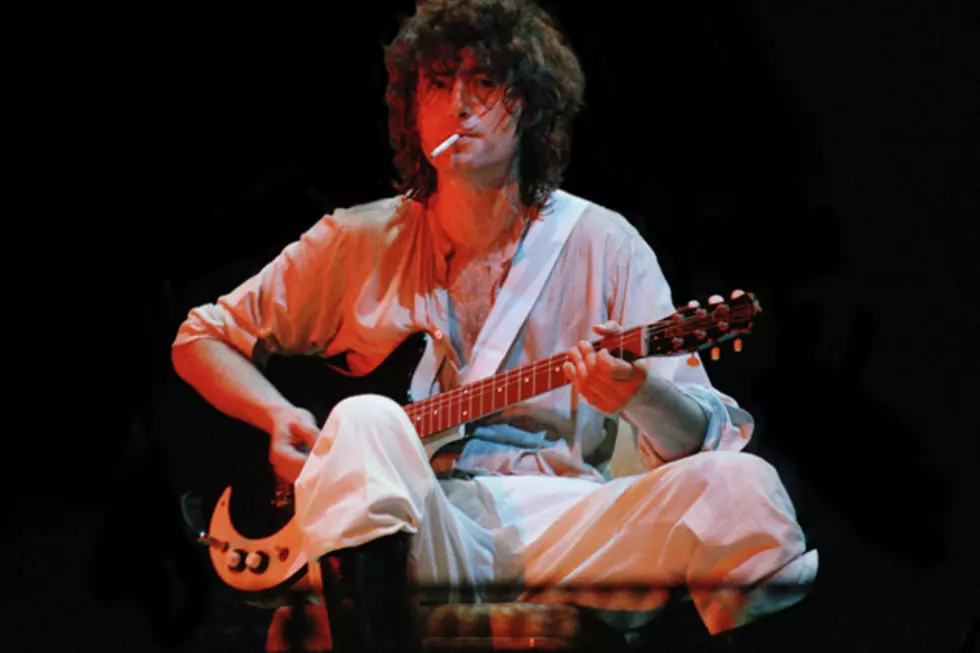 Top 10 Post-Led Zeppelin Jimmy Page Songs
Marc S. Canter, Getty Images
As this list of the Top 10 Post-Led Zeppelin Jimmy Page songs makes clear, the guitar legend has struggled a bit to find a new musical home capable of matching the magic of his former group. Then again, who wouldn't struggle? The chemistry and combined talents of Page, Robert Plant, John Paul Jones and John Bonham – whose tragic death ended Led Zeppelin's reign atop the rock kingdom – was a once-in-a-lifetime event that would be impossible for just about anyone to live up to. But you're wrong if you think Page hasn't created new music that's worth your time. Hopefully, these songs will change your mind.
10

'Radioactive'

From: 'The Firm' (1985)

Partially because he recorded the Death Wish II soundtrack and assembled the 1982 Led Zeppelin odds-and-ends collection Coda, it took five years after the breakup of his old group for Page to emerge with a new band and a full-fledged rock album. The Firm found him teaming up with Bad Company singer Paul Rodgers, and if this first single was a bit too clean, slick and poppy for some hardcore fans, it was also undeniably catchy – and showed that there was indeed life after Zeppelin for their guitar hero.

9

'Easy Does It'

From: 'Coverdale and Page' (1993)

Some people (including Page's former bandmate Robert Plant) cracked wise when the guitarist teamed up with Whitesnake singer David Coverdale for this 1993 album. And occasionally the record does get a bit too slavishly faithful to the Led Zeppelin sound without capturing the same magic or majesty. But there are also several tracks – most notably this swirling, effortlessly hypnotic little scorcher – that bring something exciting and new to the table.

8

'The Only One'

From: 'Outrider' (1988)

In retrospect, it may have been a mistake for Page to invite Plant to sing on one track for the guitarist's first (and, ahem, so far only) solo album. While his six-string work remains nearly as impressive as ever on tracks like "Prison Blues," the instrumental "Liquid Mercury" and "Blues Anthem," no other song leaps off the record in such an exciting, energetic manner as this collaboration with his former battery mate.

7

'Someone to Love'

From: 'The Firm' (1985)

The chemistry between Jimmy Page and Paul Rodgers is clearly evident on this joyously upbeat number, which features a fantastically ragged-but-right guitar riff and darting, complementary fretless bass work by Tony Franklin. One note: To really get the full effect, be sure to listen to it together with "Make or Break," the song that precedes it on The Firm.

6

'Blue Train'

From: Page and Plant, 'Walking Into Clarksdale' (1998)

After reuniting (without fellow Zep survivor John Paul Jones) for the 'No Quarter' MTV special and an extensive tour, Page and Plant recorded a brand-new studio album together. It's a more subdued and mature affair than some were hoping for, with Page adding texture and tasteful accents as often as he just stood front and center riffing away. Still, his extensive soloing on this sultry, slow-burning number deserves much more attention than it got when it first came out.

5

'Midnight Moonlight'

From: 'The Firm' (1985)

Although he took pains not to play Led Zeppelin songs live with the Firm, Page did invite comparisons to his former group by employing one of the band's most legendary unfinished tracks, "Swan Song," as the basis for the epic closing number of his new outfit's debut album. From the gorgeous acoustic opening to the dramatic wall of distorted guitars and soulful backing vocals of the ending raveup, "Midnight Moonlight" does its heritage proud.

4

'Pride and Joy'

From: 'Coverdale and Page' (1993)

It's always nice when artists push themselves in new directions, but if you're charismatic enough, you don't have to reinvent the wheel every time out, especially when introducing a new partnership like Page and Coverdale were doing here. Even if longtime fans could anticipate just about every chord change and dramatic flourish on this metallic delta blues hybrid, it didn't make it any less fun for those willing to drop their guard a little bit.

3

'The Truth Explodes' (a.k.a. 'Yallah')

From: Page and Plant, 'No Quarter' (1994)

It's the track so nice they named it twice – "Yallah" on the original 1994 version of the largely Zep-revisiting live album No Quarter, and "The Truth Explodes" on the 10th-anniversary reissue. There are four new songs here: "Wonderful One," "Wah Wah" and especially "City Don't Cry" are lovely, exotic and experimental, but they're also rather gentle, offering Page little to do but strum an acoustic guitar. But don't worry, he gets his rocks off on this one, spitting out rough, fuzzy riffs before going full mad scientist with an effects box that looks like it was built by Albert Einstein himself.

2

'Satisfaction Guaranteed'

From: 'The Firm' (1985)

Only a madman would want Page to abandon the things that made his work in Led Zeppelin so great, but sometimes by treading too closely on that same holy ground – particularly in the choice of singers – his new music seems to come up short of his amazing past. But not here. Even though Page breaks out his famous violin bow and the kind of soaring guitar orchestrations that made "Kashmir" and the like so great, "Satisfaction Guaranteed" earns its high spot on this list of Top 10 Post-Led Zeppelin Jimmy Page Songs because of how well he plays off of Paul Rodgers' complete lack of Robert Plant-like histrionics to create something familiar, relaxed, confident and new.

1

'Please Read the Letter'

From: Page and Plant, 'Walking Into Clarksdale' (1998)

"One more song just before we go / Remember baby / All the things we used to know ... " It's both right and wrong to quote Robert Plant lyrics on a list of the Top 10 Post-Led Zeppelin Jimmy Page Songs. After all, as the singer's appearance on four of these 10 tracks suggests, Page clearly (and quite understandably, for a guitarist) does his best work not truly solo, but when teamed with a talent such as Plant or Paul Rodgers. (Page's excellent tour and live album with the Black Crowes is further testament to this notion.) On this track, the reunited Zeppelin heroes temper the still-apparent sonic fury of their younger days with thoughts of regret and loss – and Page's guitar tells the tale just as well as Plant's words.
More From Ultimate Classic Rock