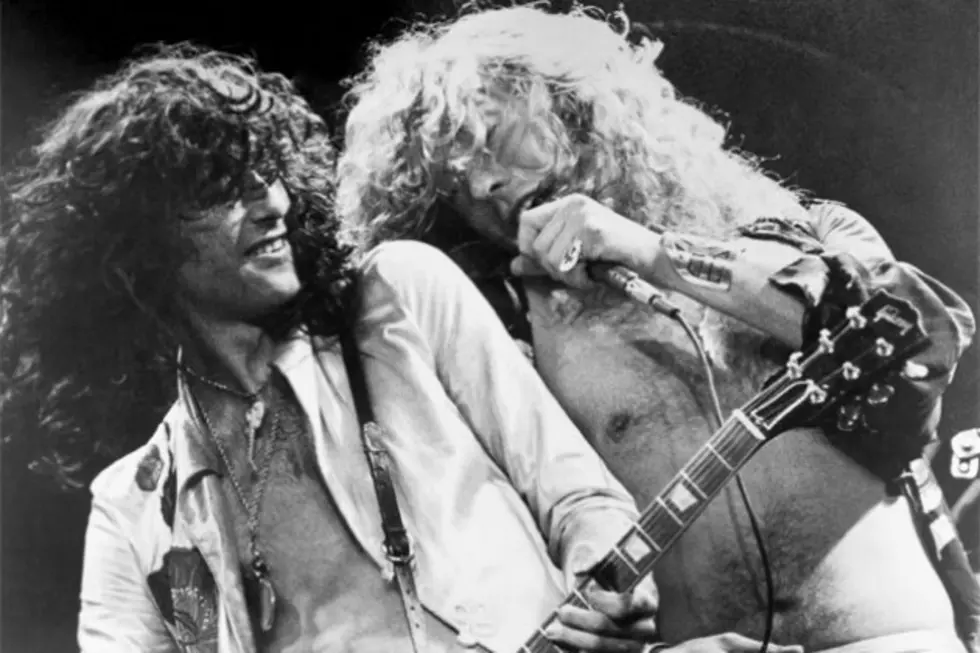 Jimmy Page Says He's Fed Up With Robert Plant's Led Zeppelin Reunion 'Games'
Michael Ochs Archives, Getty Images
In a new interview, Led Zeppelin guitarist Jimmy Page says he's tired of singer Robert Plant "playing games" regarding a reunion tour for the surviving members of the legendary group.
When asked by the New York Times if he was eager to hit the road after spending three years locked up in a studio remastering and expanding Led Zeppelin's nine studio albums for the massive re-release campaign which kicks off next month, Page emphatically answered, "Absolutely, absolutely. I definitely want to play live."
Which brought up the next logical question -- would Plant and bassist John Paul Jones be a part of those plans? And that's where the guitar hero let out a little steam. Page began by bringing up a February 2013 interview where the singer indicated he might be willing to take a break from his successful solo career for a 2014 Zeppelin reunion.
That offer would seem to be off the table now, with Plant about to release another solo album, scheduling a summer-long tour with his new band the Sensational Space Shifters -- and most damningly, declaring himself not "bored" or willing to be "part of a jukebox."
This clearly doesn't sit well with Page. "I was told last year that Robert Plant said he is doing nothing in 2014," he told the Times, "and what do the other two guys think? Well, he knows what the other guys think. Everyone would love to play more concerts for the band. He's just playing games, and I'm fed up with it, to be honest with you. I don't sing, so I can't do much about it. It just looks so unlikely, doesn't it?"
But don't worry, it looks like Page will simply hit the stage with somebody else. "I've still got a twinkle in my eye. I can still play... I'm not devoid of ideas. So let's hope that sometime in the next year, I'm seen to be playing out there. Because that's the only thing that's been missing."
More From Ultimate Classic Rock