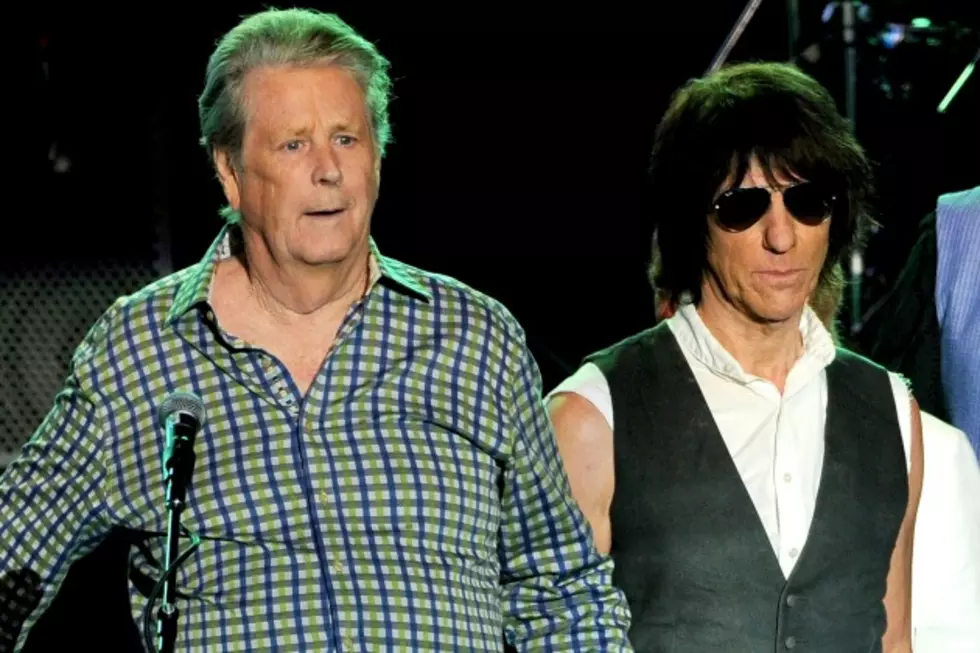 Jeff Beck Calls His Tour with Brian Wilson 'A Bit of a Nightmare'
Kevin Winter, Getty Images
Jeff Beck and Brian Wilson's musical partnership seems to have been much more exciting in theory than it was in reality -- at least according to Beck, anyway.
The duo's highly anticipated 2013 tour went hand-in-hand with some studio sessions for a new Wilson album (or albums), but it sounds like all that musical activity failed to generate much in the way of a personal connection. According to Beck, he "had fallen in love with the idea of playing with Brian Wilson," to the point that he even kept going after undergoing an endoscopy during the tour's stop in Chicago. Unfortunately, he says he ultimately found himself unable to establish a friendship with his tourmate. Describing the experience as "a bit of a nightmare," Beck continued, "He doesn't speak. He's clearly in need of attention. But that's just my opinion."
The writing was on the wall as early as the sessions that preceded the tour, Beck told Classic Rock Magazine. "For four days I sat there and didn't even know Brian was in the room. He was so quiet, he never uttered a syllable. And yet they gave me these parts that allegedly he'd written. Then we were offered some shows together: 'Jeff, this is gonna be the tour of the year!' They should've got the bloody record done first, but they got excited and we ended up doing the Jeff Beck-Brian Wilson tour prematurely."
Presumably, Beck will have a better time during his upcoming run of dates with ZZ Top -- and then there's always his new album to look forward to, which he described by saying, "It's almost like if you went to Turkey and came across a rabid bar band, but it's more sophisticated."
More From Ultimate Classic Rock