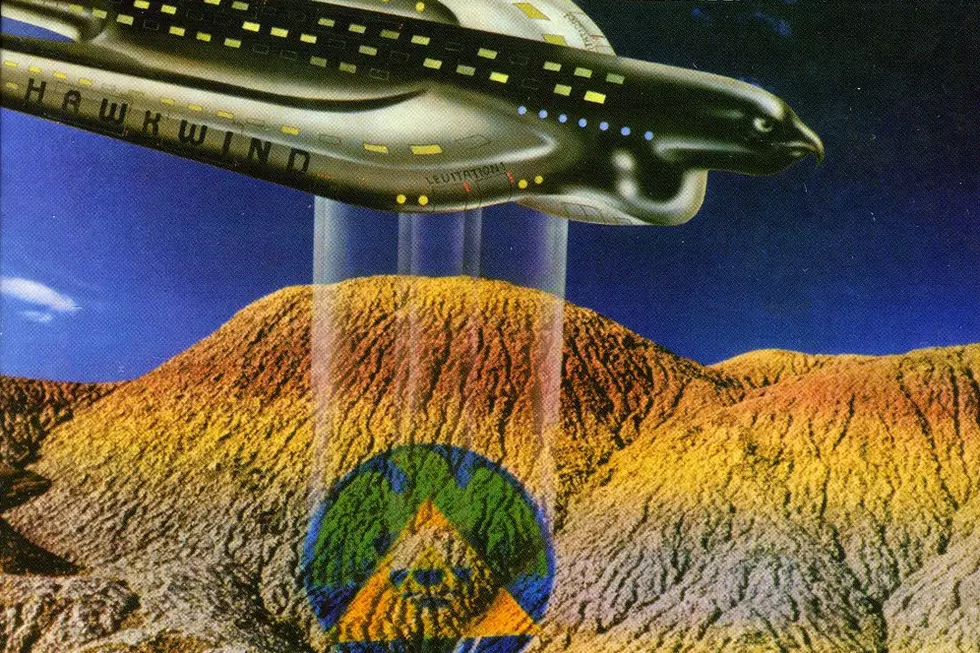 When Ginger Baker Joined Hawkwind For 'Levitation'
Bronze Records
Hawkwind had already been through a long list of band members, trials, tribulations, drugs and general disarray by the end of the '70s. With nine studio LPs and one definitive double live album behind them, Hawkwind had become a different creature from the one that first roamed the earth back in 1969.
They'd already seen future Motorhead leader Lemmy Kilmister – one of the band's most famous ex-contributors – come and go. He became just one of some 10 total Hawkwind bassists. They've also had nearly a dozen drummers, one of whom is none other than Ginger Baker, a member from 1980-81.
Leader Dave Brock was the sole co-founder left by this time – and remains the only constant to this day. As such, he'd oversee shifts from spacey to heavy and back again, before Hawkwind adopted elements of new wave for 1977's Quark, Strangeness and Charm. Hawkwind then welcomed back Huw Lloyd-Langton, guitarist from their debut album, as sessions began for an official follow up. But issues remained.
Brock had grown increasingly dissatisfied with drummer Simon King, then one of the group's longer-tenured members. A chance suggestion by Lloyd-Langton's wife led to the former Cream and Blind Faith legend. "Ginger fitted the band like a glove," the late Lloyd-Langton said in the 2004 band bio The Sage of Hawkwind. "His style was just right for it."
Originally, Baker was set to join a new version of Atomic Rooster but, after working on these new sessions for 1980's Levitation, he changed his mind. "The Hawkwind lads had invited me to help them in the studio with re-recording the new LP," Baker told a Dutch journalist at the time. "I found the atmosphere during the sessions so fantastic that I immediately decided to stay with Hawkwind."
The project indeed captured Hawkwind in fine form. Levitation, released on October 27, 1980, kicks off with the title song, a straight-forward rocker with patented Hawkwind riffing. The sound is sharp, clean and direct while maintaining their classic vibe. "Motorway City" is a punk-fueled rocker in line with Hawkwind's late '70s work, while "Who's Gonna Win the War?" and "The Fifth Second of Forever" harken back somewhat to the Hall of the Mountain Grill era.
For Brock, the vibe went even further into their storied past. "With Levitation, we've come full circle back to the style of our album In Search of Space," he told Joopie in 1980, "and that was the record which totally expressed our ideals and what we stood for."
There are elements of jazz, symphonic rock and even a taste of Giorgio Morodor-like grooves on the instrumental "Space Chase." Grand contributions from relative newcomers bassist Harvey Bainbridge and keyboardist Tim Blake rounded out a sonic attack that found new power ahead of Baker's playing.
"For me, it's not just my umpteenth group," Baker said at the time. "I'm determined to give it everything I've got. Hawkwind always have made timeless music, but you can definitely still hear the '80s in it. Hawkwind now stand stronger than ever."
Not quite. By the end of the ensuing tour, Ginger Baker was gone, leaving his tenure as an odd footnote. Hawkwind went through a succession of replacements before settling on Danny Thompson Jr. for The Chronicle of the Black Sword and The Xenon Codex in the late '80s. Lloyd-Langton would then depart once more, leaving Brock solely in command.
 
20 B-Sides That Became Big Hits
More From Ultimate Classic Rock