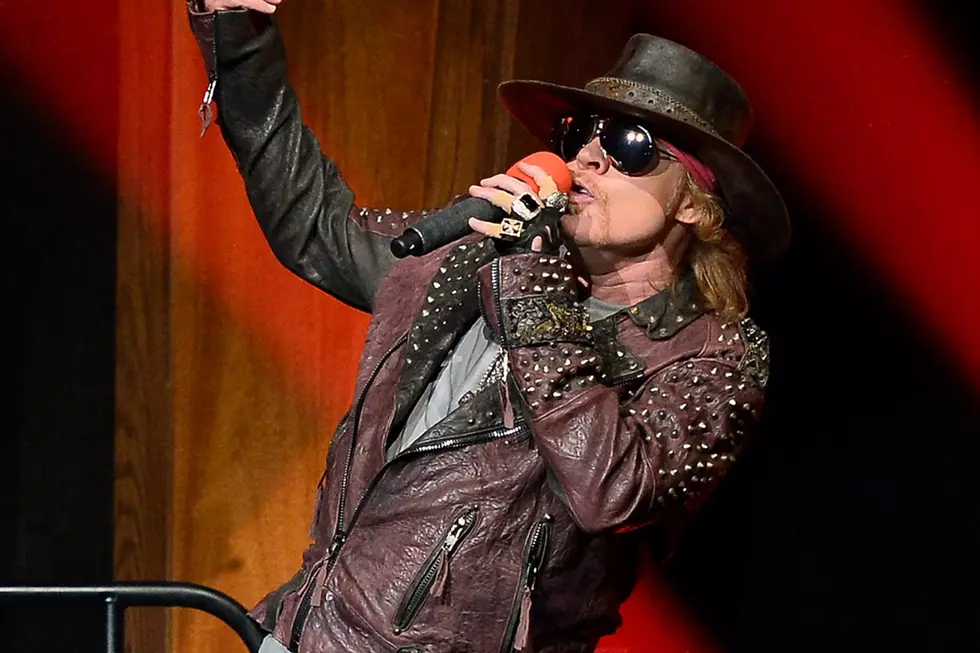 Guns N' Roses Reportedly Asking $3 Million Per Show
Ethan Miller, Getty Images
As of now, the reunited Guns N' Roses are confirmed only to perform two concerts at the Coachella Music & Arts Festival on April 16 and April 23. According to a new report, if the tour extends beyond that depends on whether the band is able to secure a guaranteed $3 million per show.
That figure comes from Billboard, which repeats a rumor from last month about the band looking to hit as many as 25 stadiums in North America this summer, with tickets having a top price of around $250. Negotiations are ongoing with various promoters.
While promoters undoubtedly would be thrilled with the prospect of a band this big mounting a reunion tour, Guns N' Roses' famously tumultuous history, which is littered with abandoned shows and delays in taking the stage, precedes them. Even though Axl Rose has apparently been more disciplined since rebooting the band in 2001, there's some concern that reuniting with Slash and Duff McKagan could resurrect some bad habits from the old days.
"It's incumbent on the artist to convey the message to the fan base," one promoter said. "'We're back, we're taking this seriously, we're in shape, I can sing these songs, and we're going to create the magic we once had.' ... As the promoter, you've got what you're buying. You just hope they take it as seriously as you do."
Billboard also notes that Guns N' Roses are looking to be one of the first acts to play the new T-Mobile Arena in Las Vegas. The venue is scheduled to open on April 6 with a concert by hometown heroes the Killers. In a throwback to the city's heyday of the '60s and '70s, "Mr. Las Vegas" himself, Wayne Newton, will serve as one of the opening acts.
Every Guns N' Roses Song Ranked
More From Ultimate Classic Rock