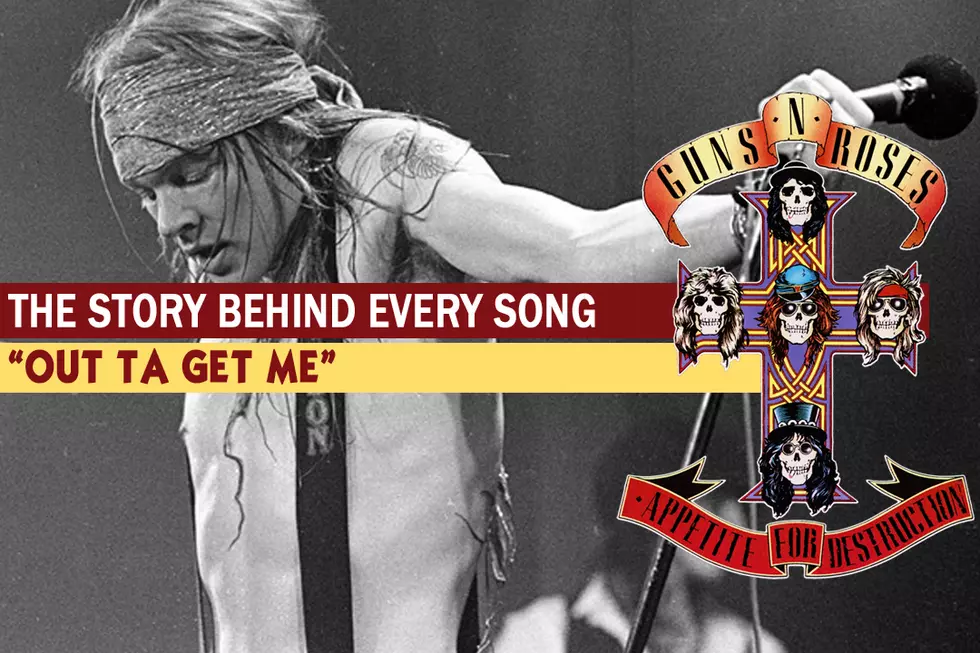 Axl Rose Lets Paranoia Run Wild on 'Out Ta Get Me': The Story Behind Every 'Appetite for Destruction' Song
Larry Busacca, Getty Images
It's a chilly night in early February 1988, a Tuesday in New York City. Guns N' Roses are a couple songs into their set, which is being filmed by MTV for the channel's new series Live From the Ritz. The gig at the East Village rock club will be broadcast on a future Saturday night. Singer Axl Rose removes his snakeskin jacket, revealing a sleeveless Harley Davidson T-shirt and begins to introduce the band's next song.
"We wanna dedicate this song to the people that try to hold you back, the people that tell you how to live, people that tell you how to dress, people that tell you how to talk, people that tell you what you can say and what you can't say," he says. "I personally don't need that, I don't need that s--- in my life. Those are the kind of people that have been getting me down. They make me feel like somebody, somebody out there is out to get me!"
His somewhat paranoid intro to "Out Ta Get Me" – similar to what he had been saying onstage two years when the band debuted the song – railed against the unwarranted harassment from authorities GNR members often faced. At some point, somewhere, someone was out to get the whole band, but mainly Rose. But there were a few problems though for those who had their sights on the singer: He couldn't be caught, he was innocent and he couldn't be broken.
"The lyrics are saying I've always been in trouble, but I'm still handling it," Rose noted in a 1987 Geffen Records press kit. "Like, every time you turn around, someone is trying to screw you over financially, or the cops are banging on your door and you didn't do anything. It's just being railroaded into something and trying to get out from underneath it. You know – parents, teachers, preachers ... everybody."
He explained that the song's last verse -- "Some people got a chip on their shoulder / And some would say it was me / But I didn't buy that fifth of whiskey that you gave me / So I'd be quick to disagree" -- was inspired by how he and Slash used to "get in fights sometimes, and how some people get pissed off that you're drunk. But they're the ones that bought the bottle of whiskey to get you drunk on. Some people say I got a chip on my shoulder."
From the outset, "Out Ta Get Me" was the quintessential Guns N' Roses song, one that encapsulated the band of Sunset Strip miscreants that was unfairly persecuted by the powers that be. They looked different, acted different and didn't sing about insignificant things like their contemporaries. The record companies took notice. So did the law.
"We had ['Out Ta Get Me'] as one of our opening numbers for a while 'cause we were headed to a Roxy show and got pulled over by four cops," Rose said in that early press kit. "They picked up a bag off the street; said we threw it out the window and there were drugs in it. There were no drugs in it. And they were just trying to hassle us, saying our advance money in our pockets was drug money. They searched everything, pushed us around and we were late for a show."
The police weren't the worst of it. As Guns N' Roses' profile rose, so did those looking for a piece of the action. Bassist Duff McKagan detailed in his 2011 memoir, It's So Easy: And Other Lies, how a false allegation led to "Out Ta Get Me." "The cops busted down our door one night looking for Axl," he wrote. "They wanted him to answer what turned out to be a bogus rape charge.
"Axl didn't do the crime (or time), but the incident inspired a great song, 'Out to Get Me,' which we quickly added to our sets in early 1986. You can hear the depth of our collective anguish in that song, s---ting ourselves that the record labels might get wind of the situation and break off their courtship: 'You can't catch me, I'm f---in' innocent!' Axl avoided the [band's rehearsal space for weeks] – eluding capture until the charges were dropped – and the news didn't get out that our singer was looking at jail time."
Musically, it's the unaccompanied dual guitar interplay between Slash and Izzy Stradlin before the former slides up the neck that makes the track stand out. McKagan and drummer Steven Adler join in with an almost militaristic bottom-end beat that gets overtaken by Slash's solo. All of that happens in the first 28 seconds, before Rose even sings a note.
"It started with that intro like, which was Izzy's, and I remember hearing it and going, "That's awesome!," Slash told Guitar Edge years later. "The way the song sounds on record is exactly how it sounded in my head from the second I heard that riff. Izzy's stuff was always easy to expand upon. He would always have a classic line that you could make into some humongous riff. We just ripped into that lead line."
"A lot of our earliest songs came to us almost too easy," Slash noted in his 2007 eponymous autobiography. "'Out Ta Get Me' came to be in an afternoon, even faster than '[Welcome to the] Jungle.' Izzy showed up with the riff and the basic idea for the song, and the second he played it, the notes hit my ear and inspired me. That one happened so quickly, I think that even the most complicated section – the dual guitar parts – were written in under 20 minutes."
Slash had an even more chaotic view of "Out Ta Get Me" after Appetite for Destruction was released. His description of the song's origin and intent make it unsurprising that it almost instantly became an anthem for teens across the country who felt that they too were being hounded by the people in charge -- Mom and Dad, other adults, whoever -- with no valid explanations.
"'Out Ta Get Me' is Guns N' Roses' big anarchy statement," Slash said in an 1988 interview with Hit Parader. "We were one of the most opposed bands. … We had opposition from everywhere, the whole f---ing time. Still do. It's not as bad now 'cause we're signed and some people like the s--- we do. But we started out with so many people from so many different directions trying to lash out at us. And trying to say don't let them in here, and don't let them do this and don't let them do that, and watch them, and this and that and the other."
20 Most Historic Guns N' Roses Concerts
More From Ultimate Classic Rock