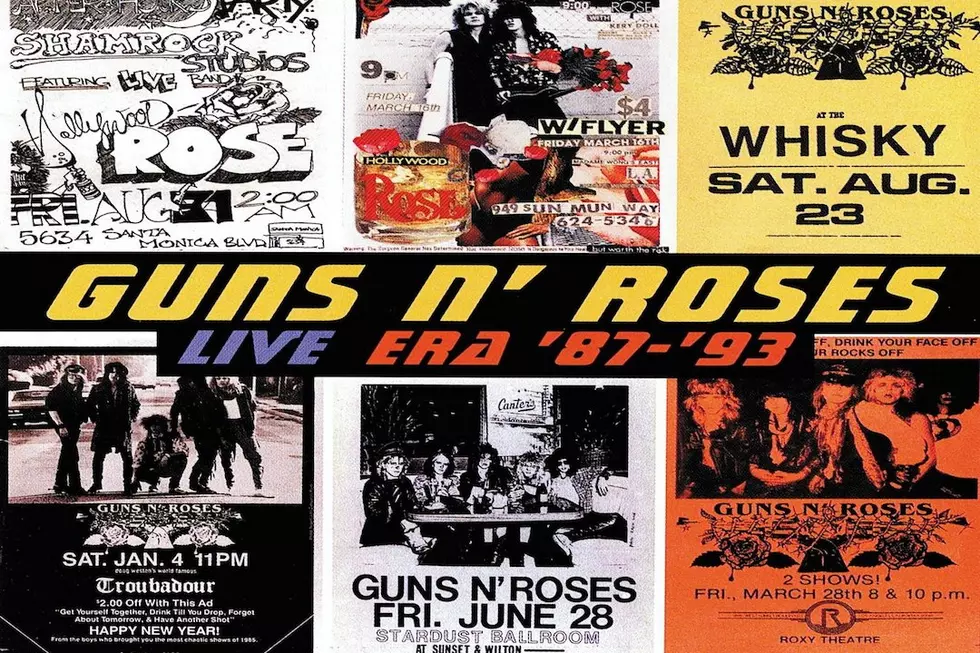 When Guns N' Roses Looked Back With 'Live Era '87-'93'
Geffen Records
Geffen Records unveiled the first official Guns N' Roses release in six years with the two-CD Live Era '87-'93.
Unfortunately, fans would actually have to wait another eight years for Chinese Democracy, but on the upside, Live Era '87-'93 arrived on Nov. 23, 1999 with a generous survey of 22 GNR concert classics.
These included virtually every song recorded for 1987's watershed Appetite for Destruction (10 out of 12), another eight from the twin Use Your Illusion albums and a smattering of GnR Lies favorites. There was also at least one major surprise in a cover of Black Sabbath's obscure "It's Alright."
But there was little information given about where the tracks originated – they were later revealed to date mostly from 1992's Use Your Illusion tour – and band relations remained so strained while the track selection was being made that Axl Rose, Slash and Duff McKagan allegedly communicated through third parties.
Listen to Guns N' Roses' Live 'Rocket Queen'
Still, the performances still put across much of the excitement that had made Guns N' Roses the most dangerous band in the world.
Fans partial to those early days took issue with some of the songs presented here by GNR's "big band" lineup (complete with horns and backing vocalists), but there was nothing really embarrassing – unless you count Rose's plea for the band to "give him some reggae" during "Knocking on Heaven's Door."
And maybe the healthy sales of Live Era '87-'93 had something to do with Rose's decision to return a new version of Guns N' Roses to the concert trail in 2001.
Guns N' Roses Lineup Changes: A Complete Guide (We Think)
Few bands have impacted rock 'n' roll the way they have, and even fewer have weathered as many changes.
Dizzy Reed's Real-Life 'Spinal Tap' Moment
More From Ultimate Classic Rock