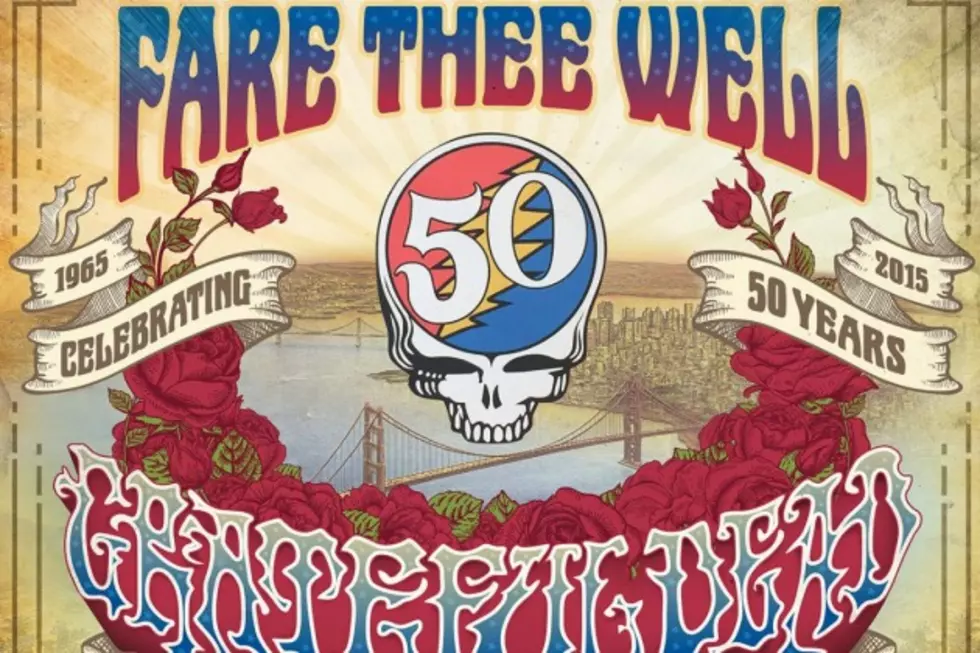 Grateful Dead Reveal Track Listing and Complete Details for 'Fare Thee Well' Release
Dead.net
The Grateful Dead will bring their wildly successful 50th anniversary "Fare Thee Well" concerts home to fans this fall.
The commemorative collection, titled Fare Thee Well: Celebrating 50 Years of Grateful Dead, is scheduled to arrive in stores on Nov. 20, and will be available in a variety of configurations running the gamut from a double-disc "best of" collection that skims the highlights of the shows to an exhaustively complete box that gathers "every single note heard" during the band's three-night stand at Soldier Field in Chicago on July 3, 4 and 5.
The retail version of Fare Thee Well, which is available for pre-order now, offers full audio and video from the July 5 concert, while the "best of" set bundles performances from all three nights. Digital downloads will also be available for both editions.
For completists, meanwhile, there's the exclusive box being offered at the band's website, Dead.net. Produced in a limited and individually numbered run, this box — available as a 12-CD/7-Blu-ray or 12-CD/7-DVD collection, with both versions limited to 20,000 copies — includes full audio and video from all three nights at Soldier Field, as well as an assortment of behind-the-scenes bonus material such as backstage footage and featurettes focusing on the "parking lot scene" and the insane demand for tickets.
Fare Thee Well marks the second major live release from the Dead in 2015, following an 80-disc box that gathered live performances from across the band's 50-year career. A trio of the surviving "core four" Dead vets, meanwhile, are returning to the road together later this month, adding guitarist John Mayer for a combo they're calling Dead and Company. Check out the complete track listing for Fare Thee Well below.
Grateful Dead, 'Fare Thee Well' Track Listing (Dead.net exclusive version)
Disc One: 7/3/15
"Box of Rain"
"Jack Straw"
"Bertha"
"Passenger"
"The Wheel>"
"Crazy Fingers"
"The Music Never Stopped"
Disc Two: 7/3/15
"Mason's Children"
"Scarlet Begonias>"
"Fire on the Mountain>"
"Drums>"
"Space>"
Disc Three: 7/3/15
"New Potato Caboose>"
"Playing in the Band>"
"Jam>"
"Let It Grow>"
"Help on the Way>"
"Slipknot!>"
"Franklin's Tower"
"Ripple"
Disc Four: 7/3/15
Intermission Music by Circles Around the Sun
"Space Wheel"
"Mountains of the Moon"
"Praying for the Band"
"Tripple"
"Deal Breaker"
"Deadometer"
"Borrow from a Friend"
"Grimes Surf Story"
Disc Five: 7/4/15
"Shakedown Street"
"Liberty"
"Standing on the Moon"
"Me and My Uncle"
"Tennessee Jed"
"Cumberland Blues"
"Little Red Rooster"
"Friend of the Devil"
"Deal"
Disc Six: 7/4/15
"Bird Song"
"The Golden Road (To Unlimited Devotion)"
"Lost Sailor>"
"Saint of Circumstance>"
"West L.A. Fadeaway"
Disc Seven: 7/14/15
"Foolish Heart>"
"Drums>"
"Space>"
"Stella Blue>"
"One More Saturday Night"
"U.S. Blues"
Disc Eight: 7/4/15
Intermission Music by Circles Around the Sun
"Hallucinate a Solution"
"Ginger Says"
"Saturday's Children"
"Eartha"
"Split Pea Shell"
Disc Nine: 7/5/15
"China Cat Sunflower>"
"I Know You Rider"
"Estimated Prophet"
"Built to Last"
"Samson and Delilah"
"Mountains of the Moon>"
"Throwing Stones"
Disc 10: 7/5/15
"Truckin'"
"Cassidy"
"Althea"
"Terrapin Station>"
"Drums>"
Disc 11: 7/5/15
"Space>"
"Unbroken Chain>"
"Days Between>"
"Not Fade Away"
"Touch of Grey"
"Attics of My Life"
Disc 12: 7/5/15
Intermission Music by Circles Around the Sun
"Gilbert's Groove"
"Farewell Franklins"
"Hat and Cane"
"Never Too Late"
"Scarlotta's Magnolias"
Grateful Dead Albums Ranked Worst to Best
This Day in Rock History for October 15
More From Ultimate Classic Rock