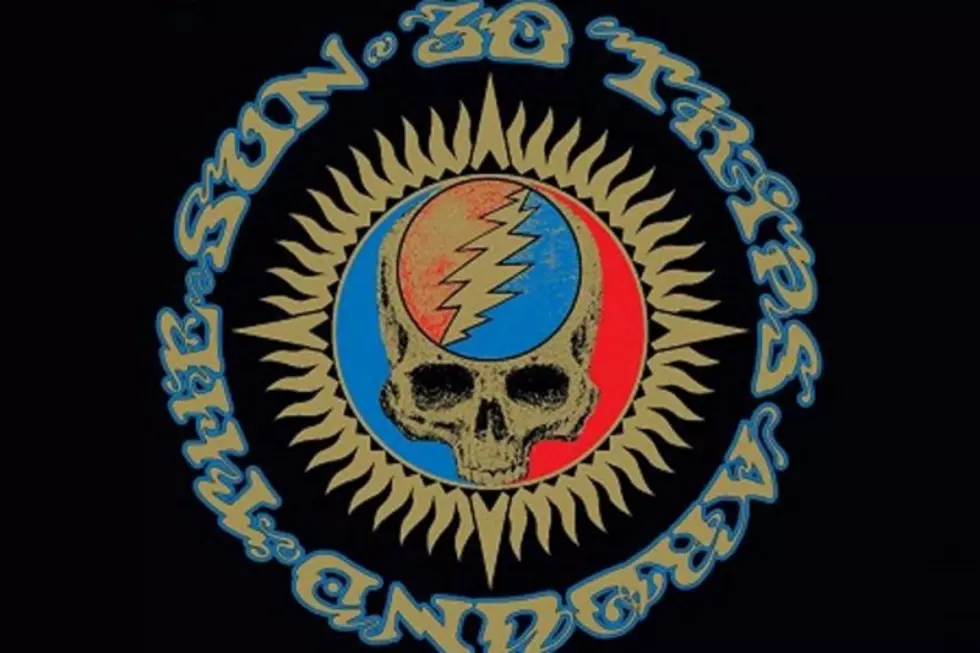 Grateful Dead to Release 80-Disc Live Box for 50th Anniversary
Rhino
What a very long trip this will be. The Grateful Dead, who'll soon play what they swear are their last shows ever, will release a box set consisting of 80 (yes, 80) CDs culled from various live performances during three decades with the late Jerry Garcia.
The set, 30 Trips Around the Sun, also commemorates the band's 50th anniversary. Thirty complete shows from the Dead archives will be included on the box, which will be released on Sept. 18.
According to the press release announcing the album, "the Grateful Dead played 2,318 live shows, more than any other band in the history of music. For 30 years, the band's live performances were constantly morphing and evolving, making every show a unique experience." That apparently explains the necessity for an 80-disc box, which, we figure, would take you more than three uninterrupted days to listen to.
All 30 of the shows collected here are previously unreleased and span the Dead's Garcia-era live career from 1966-95. Only 6,500 copies are being produced, and each is individually numbered. Each set also includes a gold 7" vinyl single of "Caution [Do Not Stop on Tracks]" (which the band recorded at one of its earliest sessions in 1965) and "Box of Rain" (the last song the original group ever played onstage).
30 Trips Around the Sun sells for $699.98, which is considerably less than the Jerry Garcia finger that someone recently posted online to raise funds for concert tickets. Those farewell shows, by the way, have long sold out. The four surviving members of the core group will perform five concerts in the coming weeks: on June 27 and 28 in Santa Clara, Calif., and on July 3, 4 and 5 at Chicago's Soldier Field – the last place they ever performed with Garcia, who died a month after that show from July 1995. This summer's concerts will also be simulcast, if you can't be there in person.
Track listing for the upcoming box is being unveiled a little at a time at the Dead's official site. So far only four of the shows have been announced, including a 1967 Los Angeles concert and a 1987 New York date. The set will also be available on a limited-edition USB drive that's shaped like a gold lightning bolt. And for those without deep pockets, or the time to sit through 73 hours of live Dead music, a four-disc sampler will also be released that includes one song from each of the shows.
See the Grateful Dead and Other Rockers in the Top 100 Albums of the '70s
Watch Bob Weir Play 'Me and My Uncle' with RatDog at Mountain Jam
More From Ultimate Classic Rock