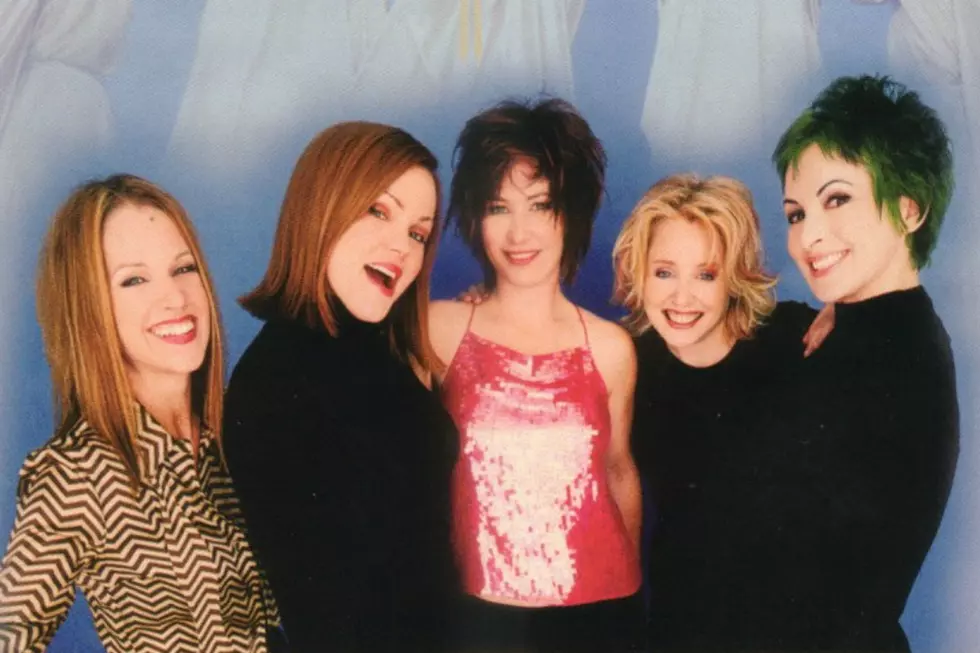 15 Years Ago: The Go-Go's Reunite for 'God Bless the Go-Go's'
Beyond Music
It took them one messy breakup, a couple of unsuccessful reunion attempts and 17 years, but on May 15, 2001, the Go-Go's released their fourth LP.
The band's rise to stardom in the early '80s ended almost as quickly as it began. After scoring a double-platinum hit with their 1981 debut, Beauty and the Beat, the group worked hard to maintain that momentum, releasing Vacation in 1982 and Talk Show two years later. But after several years of constant touring and recording, the Go-Go's were worn out and consumed by creative conflicts — the first signs of which were manifested in the 1984 departure of guitarist/vocalist Jane Wiedlin.
After Wiedlin's exit, the wheels fell off fairly quickly for the group, and the Go-Go's announced their split the following year. Yet despite their short-lived success — and the adult contemporary sound favored by vocalist Belinda Carlisle as she pursued a chart-topping solo career following their breakup — the band grew in stature even as they faded from the mainstream memory. For a younger generation of bands, the group's trajectory proved timelessly inspiring: initially a fairly ragtag punk/power pop outfit, they worked hard and gigged incessantly until their talent caught up with their attitude.
Sunny Go-Go's hits like "We Got the Beat" and "Vacation" only told half the story of a band that rose up out of grimy clubs — and had a turbulent behind-the-scenes history to match. A pair of reunion efforts, in 1990 and 1994, yielded little more than a handful of new recordings and some concert dates before collapsing, and in 1997, drummer Gina Schock sued the other members of the band for unpaid royalties, seemingly wiping out any chances of a full-fledged comeback.
Yet by the end of the decade, with the lawsuit settled, the Go-Go's surprisingly found themselves drawn back together — and able, for the first time in years, to work consistently on new material. Collaborating with an array of peers and disciples that included Susanna Hoffs of the Bangles and Green Day's Billie Joe Armstrong, they gradually assembled enough songs to fill an album, and on May 15, 2001, they unveiled the result: God Bless the Go-Go's.
Understandably, much of the narrative surrounding the band's return had to do with the infighting that drove them apart in the first place — and the squabbling that had contributed to their long hiatus — particularly since God Bless the Go-Go's arrived after they sat for an episode of Behind the Music. Although their dynamic remained occasionally contentious, they maintained it was simply a case of getting older and wiser.
"I know I'm a different person. I try to be as gracious as I can about things I may not agree with, whereas before, nobody cared. It was 'f--- you' and all the fighting," Schock told Indy Weekly. "It was not polite. If an issue comes up that's really difficult, now everybody is very conscious about what comes out of their mouths."
"I think that if someone was a fly on the wall right now with the Go-Go's, they would think that we are just as horrible and hateful and bad to each other as always, but there's this weird shift that happened, and it's like a very healthy, grown-up thing. Now, when we start hating each other and getting mad at each other, instead of stabbing each other in the back and talking about each other, we immediately address it," added Wiedlin. "But there's still tons of weird energy between the Go-Go's. It's like a five-headed monster, and it can be really awesome or just be really awful."
But after all the fighting, what really mattered was the music — and as the personnel they assembled for God Bless the Go-Go's proved, they'd exerted an impact larger than the handful of records they'd left behind might indicate. For bassist Kathy Valentine, the reunion underscored what the band brought to mainstream rock, and the void they'd left when they dissolved.
"I think we hold up because there's no one like us," Valentine told Goldmine. "There's never been anyone like us, and there isn't anyone like us. I mean, if you try to say, 'Oh, the Go-Go's, they're a lot like…' — what would you say? Who are we a lot like? I don't think there's anyone like this band. We're just a very different breed; there's something unique and special about the Go-Go's."
God Bless the Go-Go's arrived too late to make much of a commercial splash. Released on an indie imprint years after the band members' solo careers had cooled, it nudged its way up to No. 57 on the Billboard chart and sent one single, "Unforgiven," midway up the Adult Top 40. Although it added an unexpected postscript to a discography that had been cut short in the '80s, it wasn't enough to jump-start further studio activity; accustomed to calling the shots in their solo careers and geographically split, the group focused on touring in the years after its release — and personality conflicts reared up yet again in 2013, when Valentine was dismissed and subsequently filed her own lawsuit against her former bandmates.
"We want this record to do well," guitarist Charlotte Caffey told The Pitch after God Bless the Go-Go's was released. "But four years ago, we weren't even speaking. Having made the album was a huge hurdle. Now we have fun every day, and no matter what, this proves we're not just a band of the '80s."
See the Go-Go's and Other Women Who Should Be in the Rock and Roll Hall of Fame
More From Ultimate Classic Rock