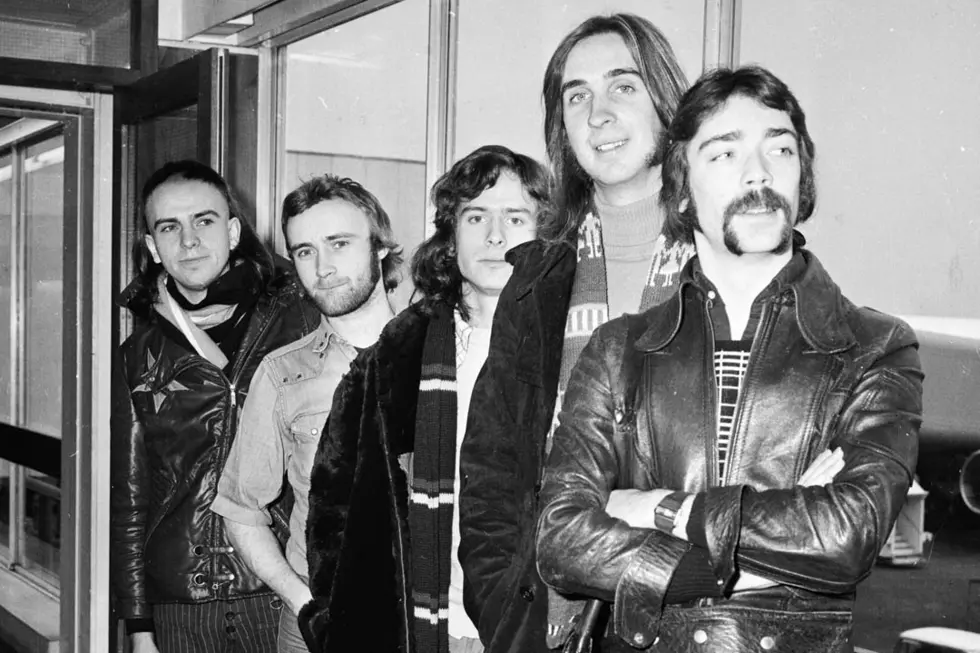 How Genesis' 'Drummer Wanted' Ad Landed Phil Collins
Dennis Stone, Getty Images
In 1970, Genesis were in the middle of some changes. Founding guitarist Anthony Phillips decided to leave the band. The other members – Peter Gabriel, Tony Banks and Mike Rutherford – figured it would be a good time to get a new drummer, too.
Even though Genesis were still a relatively new band, they had already gone through three drummers. Chris Stewart was there at their inception, soon to be replaced by John Silver, who left shortly after recording the band's debut album, From Genesis to Revelation. John Mayhew played on the second LP, Trespass, before being ousted. "I thought it was important that we ought to try and get a drummer who was of equal stature," Tony Banks said in the documentary Genesis: A History.
The band held auditions for his replacement in September 1970. "I saw the name constantly in the back pages of Melody Maker," Phil Collins noted in the Making of Nursery Cryme documentary. "They always seemed to be working. I wasn't aware of their music at all."
The future of Collins and Genesis would change one fateful day after the drummer noticed an ad in the music paper. "I used to scour the back pages for jobs, and there was one advert with a box around it – Tony Straton-Smith, who I knew very, very well, and I knew where to find him," he recalled. "I went to the Marquee Club bar." Collins inquired about the ad, posted by a band looking for a drummer. But there was no mention in the ad about which band. "He said it was for Genesis," Collins said. "And I thought, 'Oh, at last I will get to find out what the music is like.'"
Collins arrived at the home of Gabriel's parents, where the band would sometimes rehearse, and quickly noticed this wasn't going to be a typical audition. "I thought, 'This is not what I'm used to,'" Collins said. "There was a grand piano out on the patio. There was a sunshade to put your drums underneath. There was a swimming pool, and I was early, as usual. One of the guys said, 'We've got 10 guys ahead of you, so why don't you go have a swim?' So I went and had a swim, and meanwhile, I was listening to all the other guys audition, because it was open air, in the backyard. So by the time I came out to do my bit, I knew all the pieces, the audition pieces, and I waltzed through it."
Gabriel was impressed. "The way he sat down at the kit, I knew he was a good drummer before he even played a note," he said. Banks added: "I think there was little doubt at the end of that session that Phil was the best. Certainly Peter and I felt that." Gabriel noted that "they say a band is only as good as its drummer – and Phil is a great drummer."
Top 50 Progressive Rock Albums
From 'The Lamb' to 'Octopus' to 'The Snow Goose' — the best LPs that dream beyond 4/4.
Steve Hackett Released One of Rock's Most Hated Albums
More From Ultimate Classic Rock