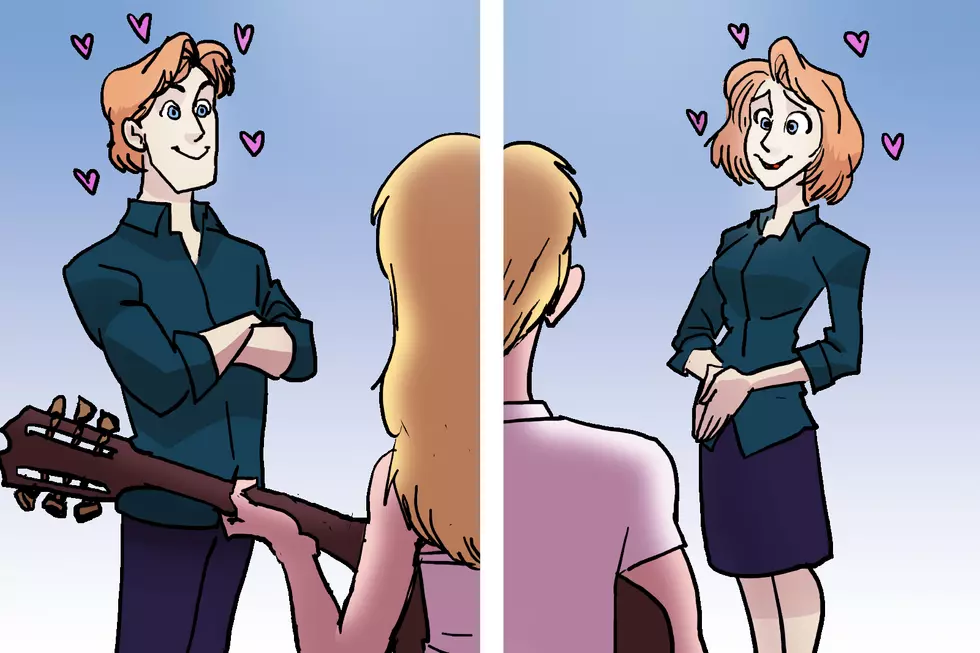 30 of the Best Gender-Bending Songs
Adrian Borromeo, UCR
The best thing about rock 'n' roll is its ability to become one's own.
Musicians have always built on whatever came before. Even when traditional songs were passed down from generation to generation without the assistance of tape recorders and other such devices, artists have always sought to reimagine the work of others. The trend only heightened during the rise of Top 40 radio in the '50s, and reinterpretation has since cemented itself at the heart of popular songwriting and recording.
This includes songs written from male and female perspectives. A simple shift in pronouns can suddenly transform a song, making it suitable for another gender to sing. At the same time, some acts often choose to leave gendered lyrics intact, creating a new sense of meaning in the song even when the words are the same.
We're taking a look at 30 tracks that have had their original lyrics adjusted — from male to female, or vice versa – to better fit the perspective of a singer.
1. "King of Pain," Alanis Morissette
Original artist: The Police
"King of Pain" was first released by the Police as the fourth single from 1983's Synchronicity, and peaked at No. 3 on the Billboard Hot 100 chart. Alanis Morissette covered it nearly two decades later on Sept. 18, 1999, for release on her MTV Unplugged album, switching a couple – though not all – of the gendered "king of pain" lyrics to "queen of pain."
2. "House of the Rising Sun," Bob Dylan and the Animals
Original artist: Traditional
This folk number about a down-and-out person in New Orleans dates back decades and has been recorded by a variety of musicians, including Woody Guthrie, Joan Baez, Nina Simone and Pete Seeger, among others. Interestingly, "House of the Rising Sun" has always gone back and forth between genders. The Animals' chart-topping 1964 version found Eric Burdon memorably lamenting that the house was "the ruin of many a poor boy – and God I know I'm one," just a couple of years after Dylan had used the words "poor girl."
3. "Respect," Aretha Franklin
Original artist: Otis Redding
Most listeners associate "Respect" with the Queen of Soul, who released it in 1967. But the song was written and recorded two years earlier by Otis Redding, whose original lyrics included the lines "hey, little girl, you're sweeter than honey – and I wanna give you all of my money." He recorded an admirable version, but Franklin took the song to a new level, changing the aforementioned lines to better suit a loving woman who is nevertheless in charge of her destiny: "Your kiss is sweeter than honey – and guess what? So is my money."
4. "Then I Kissed Her," The Beach Boys
Original artist: The Crystals
This track was known as "Then He Kissed Me" before the Beach Boys recorded their version with Al Jardine singing lead vocals. Written by Phil Spector, Ellie Greenwich and Jeff Barry, "Then He Kissed Me" was released by the Crystals in 1963 and featured both the Wrecking Crew and Jack Nitzsche's famous Wall of Sound approach to arranging. The Crystals reached No. 6 in the U.S., while the Beach Boys' "Then I Kissed Her" shot to No. 4 in the U.K. in 1967.
5. "Boys," The Beatles
Original artist: The Shirelles
Ringo Starr's first recorded lead vocal was a single-take update of "Boys," recorded roughly two years after the song was released by the Shirelles. The Beatles' 1963 version switched a few lyrics: "Mama says when you kiss my lips / I'll get a thrill through my fingertips" became "My girl says when I kiss her lips / Gets a thrill through her fingertips." But they opted to keep the title. "We never thought we should call it 'Girls,' just because Ringo was a boy," Paul McCartney later said in 2002's Anthology. "We just sang it the way they'd sung it and never considered any implications."
6. "To Know Her Is to Love Her," The Beatles
Original artist: The Teddy Bears
"To Know Her Is to Love Her" was one of the first songs the Beatles practiced and performed in their earliest days as a band. It had been written by Phil Spector as "To Know Him Is to Love Him" in tribute to his father and then recorded in 1958 by Spector's vocal group, the Teddy Bears. Their version spent three weeks at No. 1 on the Billboard Hot 100 chart. The Beatles shifted the lyrics in 1963 for the BBC radio program, Pop Go the Beatles. Then Dolly Parton, Linda Ronstadt and Emmylou Harris changed them back in 1987 and scored a No. 1 country hit.
7. "The Tide Is High," Blondie
Original artist: The Paragons
Blondie was well known for experimenting with different styles of music, pulling elements from rap, hip hop, rock, punk, new wave and – as shown with "The Tide Is High" – reggae. The track was written by Jamaican singer John Holt, who recorded it with his group the Paragons in 1970. A decade later, Blondie added more strings and horns to their version, switching the lyrics from "man" to "girl" for Debbie Harry to sing.
8. "Big Yellow Taxi," Bob Dylan / Counting Crows
Original artist: Joni Mitchell
"Bob [Dylan] is not authentic at all," Joni Mitchell memorably argued in 2010. "He's a plagiarist, and his name and voice are fake. Everything about Bob is a deception. We are like night and day, he and I." But his version of Mitchell's "Big Yellow Taxi" from 1973's Dylan is mostly faithful to her 1970 original – other than changing "a big yellow taxi took away my old man" to "a big yellow bulldozer took away the house and land." Almost 30 years later, the Counting Crows released an update that changed the lyric to "took my girl away."
9. "Pride and Joy," Bonnie Raitt
Original artist: Stevie Ray Vaughan
If there is anyone who could give Stevie Ray Vaughan a run for his money on a guitar, it might be Bonnie Raitt. Case in point: She took the searing 1983 favorite "Pride and Joy" and made it her own at 1995's Tribute to Stevie Ray Vaughan concert. Raitt made some adjustments – tweaking "She's my sweet little baby / I'm her little lover boy" to "I'm his sweet little baby / he's my little lover boy" — and then simply turned up the heat.
10. "Ticket to Ride," The Carpenters
Original artist: The Beatles
The Beatles were on top of the world in 1965, as "Ticket to Ride" became their seventh consecutive No. 1 hit in the U.K., and their third in the U.S. The Carpenters gave the song new life four years later. "I happened to hear the Beatles' 'Ticket to Ride' being played as an oldie one day in early 1969," Richard Carpenter later explained, "and upon hearing it this particular time, decided the tune would make a nice ballad." The Carpenters' more contemplative rendition saw Karen Carpenter switching out the "girl that's driving me mad" for a "boy."
11. "Walking in Memphis," Cher
Original artist: Marc Cohn
The main character in Marc Cohn's 1991 hit song goes down to see a pianist named Muriel one Friday night at the Hollywood in Memphis, while the pianist becomes a guy called Gabriel in Cher's 1995 update for the fittingly titled It's a Man's World. Cher's version didn't match Cohn's success on the pop charts, but that didn't stop her from regularly performing "Walking in Memphis" on tour.
12. "Sweetheart Like You," Chrissie Hynde
Original artist: Bob Dylan
Chrissie Hynde and Pretenders guitarist James Walbourne began casually revisiting some of their favorite Dylan tracks during the COVID-19 quarantine. Pretty soon, they had an entire album of covers – but not before Hynde reworked a few lines, particularly in 1983's "Sweetheart Like You." "There was one second verse that said 'She used to call me sweet daddy when I was only a child,'" Hynde said, "and I thought, 'That's gonna be really awkward.' I couldn't figure out how to make that mine. So I went through the archives of different versions he's done and found a Spanish translation that had a different verse, so I just used that one."
13. "Girls Just Wanna Have Fun," Cyndi Lauper
Original artist: Robert Hazard
It's difficult to imagine anyone other than Cyndi Lauper singing "Girls Just Wanna Have Fun," let alone someone of another gender. Yet Lauper's famous 1983 hit started as a 1979 recording by Robert Hazard in which he sang from the male perspective: "The phone rings in the middle of the night / My father says, 'My boy, what do you want from your life?'" "It was originally about how fortunate he was," Lauper later told Rolling Stone, "'cause he was a guy around these girls that wanted to have 'fun' — with him — down there, which we do not speak lest we go blind."
14. "I'll Never Fall in Love Again," Elvis Costello
Original artist: Dionne Warwick
Famed duo Burt Bacharach and Hal David wrote "I'll Never Fall in Love Again" for the 1968 musical Promises, Promises, which was based on Billy Wilder and I.A.L. Diamond's 1960 film The Apartment. The best-known version was a 1969 single by Dionne Warwick that went to No. 6 on the Hot 100. "I'll Never Fall in Love Again" originally found Warwick singing about kissing a guy and catching pneumonia, only to have him never phone her. Elvis Costello's 1999 update with gender-swapped lyrics appeared on the soundtrack to Austin Powers: The Spy Who Shagged Me.
15. "Here, There and Everywhere," Emmylou Harris
Original artist: The Beatles
Emmylou Harris didn't need to do much to this exquisitely sweet love song, apart from changing a few words — "her" to "his," "she" to "he." She included "Here, There and Everywhere" on her third album, 1975's Elite Hotel. At the time, Harris was still trying to establish herself in the music industry. "I wanted to be a country artist," she later told Uncut, "but I was being true to who I was – greatly influenced by the Beatles and Dylan. ... So the eclecticism of those early records was very real for me, as I was finding my voice."
16. "Black Dog," Heart
Original artist: Led Zeppelin
Of course, no vocal performance compares to the one Robert Plant gave on Led Zeppelin's 1971 song "Black Dog," but Ann Wilson of Heart does a mean version herself. Sung from a woman's perspective, "Black Dog" now begins with "hey hey, mama" rather than "hey hey, baby." Wilson later emphasizes that the song's subject should look elsewhere for love: "you need a woman gonna hold your hand / tell you no lies, make you a happy man."
17. "I Love Rock 'n' Roll," Joan Jett and the Blackhearts
Original artist: The Arrows
Joan Jett reportedly first heard "I Love Rock 'n' Roll" in 1976, a year after the song was recorded by an all-male British band called the Arrows. It would be another three years before Jett could convince anyone to record the track with her. She initially enlisted the help of Steve Jones and Paul Cook of the Sex Pistols, switched the pronouns and released it as a B-side single. "I Love Rock 'n' Roll" didn't become a hit, however, until Jett recorded it again with the Blackhearts in 1981.
18. "Me and My Uncle," Joni Mitchell
Original artist: John Phillips
You might not think of Joni Mitchell as a rough-riding cowboy but she nevertheless did a 1965 rendition of a song about a couple of outlaws traveling to Texas. Written and recorded by John Phillips of the Mamas and the Papas in 1963, "Me and My Uncle" become a staple of the Grateful Dead's set lists and was also covered by the likes of Judy Collins, John Denver and others. In Mitchell's version, she neatly changed "I'm as honest as a Denver man can be" to "Denver gal."
19. "Then She Kissed Me," Kiss
Original artist: The Crystals
Kiss put their spin on the Crystals' "Then He Kissed Me," more than a decade after the Beach Boys. "Then She Kissed Me" found its place at the end of 1977's Love Gun – their last album with co-founding drummer Peter Criss on every song but also the band's first to reach the Top 5 on the Billboard 200.
20. "I Heard It Through the Grapevine," Marvin Gaye
Original artist: Gladys Knight and the Pips
The Miracles recorded this song in 1966, but their rendition wasn't released until 1968. That opened the door for Gladys Knight and the Pips, as she confronted a cheating partner in 1967: "Between the two of us girls, you know I love you more." Marvin Gaye's male version of Norman Whitfield and Barrett Strong's Motown classic became the best-known after topping the charts in 1968. Creedence Clearwater Revival's epic 11-minute update followed in 1970.
21. "Run for Your Life," Nancy Sinatra
Original artist: The Beatles
There is an undeniably threatening vibe to "Run for Your Life," a Beatles song that appears to advocate for the death of a woman as opposed to her departure from a relationship. Nancy Sinatra decided to flip the script for her 1966 album Boots, simply changing the pronouns to create a sort of "see how you like it" tone: "I'd rather see you dead, little boy than to see you with another girl."
22. "Gloria," Patti Smith
Original artist: Them
"Gloria" was a garage rock staple many years before Patti Smith included a revamped version on her 1975 debut album Horses. Penned by Van Morrison when he was in the Irish band Them, the song originally began: "Like to tell ya about my baby / You know she comes around. She about five feet four / From her head to the ground." Smith kept the name "Gloria" at the heart of her version, but instead of being about a female partner, the song became more like an ode to Smith's power: "My sins my own," she sings, "they belong to me."
23. "(You Make Me Feel Like) A Natural Man," Rod Stewart
Original artist: Aretha Franklin
It might seem impossible to shift the gender of a song titled "(You Make Me Feel Like) A Natural Woman" — or at the very least, it might make the rhythm of the chorus clunkier sounding. Rod Stewart nevertheless took on the challenge. Co-written by Gerry Goffin, Carole King and Jerry Wexler, the song was specifically meant for Aretha Franklin, whose original recording went to No. 8 and became one of her signature songs. King also recorded her version for 1971's Tapestry, before Stewart's cover appeared on 1974's Smiler.
24. "I'd Much Rather Be With the Girls," Ronnie Spector
Original artist: The Rolling Stones
Ronnie Spector confessed to the BBC in 2015 that she didn't know "I'd Much Rather Be With the Boys" was an often-covered '60s-era rarity by the Rolling Stones, a band she'd known well back then. She simply shifted the gender for 2016's English Heart and kept on moving. When asked why she selected this track, Spector offered a veiled reference to her late ex-husband Phil Spector, whom she consistently accused of abusing her during their marriage. "You know my past life. I think everybody knows who I am singing about," Ronnie Spector told the BBC. "There is a line in the song, 'I don't need you anymore.' By listening to the lyrics, I think you'll understand why I'd much rather be with the girls."
25. "Piece of My Heart," Sammy Hagar
Original artist: Erma Franklin
Sammy Hagar only had to switch a few lines in the first verse of "Piece of My Heart" to make it work for him: "Didn't I make you feel like you were the only man?" and "Didn't I give you nearly everything that a woman possibly can?" became "Didn't I make you feel like you were the only one?" and "Didn't I give you everything I could?" respectively. "Piece of My Heart" was first released in 1967 by Erma Franklin, the older sister of Aretha Franklin, before Janis Joplin's 1968 recording took it to new heights. Hagar's cover earned a spot on 1982's Standing Hampton.
26. "Sweet Child O' Mine," Sheryl Crow
Original artist: Guns N' Roses
Sheryl Crow's gender-swapped 1999 rendition of "Sweet Child O' Mine" was recorded for the soundtrack to the Adam Sandler vehicle Big Daddy, and isn't often cited as one of her best musical offerings. Still, the Rick Rubin-produced track won her a Grammy Award for Best Female Rock Vocal Performance.
27. "Nothing Compares 2 U," Sinead O'Connor
Original artist: Prince
Nothing compares to Sinead O'Connor's interpretation of this Prince track, which appeared on her 1990 album I Do Not Want What I Haven't Got. Her powerful version swaps genders during a verse about a visit to the doctor: "He said, "Girl you better try to have fun, no matter what you do." Prince didn't often take kindly to people covering his songs and reportedly wasn't a fan of O'Connor's recording. She was unmoved, telling The New York Times in 2021: "As far as I'm concerned, it's my song."
28. "Under My Thumb," Tina Turner 
Original artist: The Rolling Stones
The Rolling Stones were not the first rock 'n' roll band to write and release an objectifying song about women, nor were they the last. Still, "Under My Thumb" stands out in their catalog as one of their most aggressive, rejoicing in a partner that "does just what she's told." Several artists have issued their renditions, including Tina Turner for 1975's Acid Queen. A year later, Turner left her husband Ike Turner then accused him of being abusive. But she'd already spoken her freedom into existence with the Stones cover: "It's down to me, the change has come / He's under my thumb."
29. "Leader of the Pack," Twisted Sister
Original artist: The Shangri-Las
"Leader of the Pack" was first recorded by the Shangri-Las in 1964, and focuses on a girl named Betty as she describes meeting her motorcycle beau. Their first encounter happens, innocently enough, at the candy store – but they later split at her father's insistence. Then the boy meets his end in a rainy motorcycle crash. Fast forward to 1985, and the girl becomes the leader of the pack in Twisted Sister's update, meeting her demise in a car accident as depicted in the accompanying music video.
30. "Somebody to Love," W.A.S.P.
Original artist: Jefferson Airplane
"Somebody to Love" was penned in 1965 by Grace Slick's brother-in-law Darby Slick, when they were members of a San Francisco group called the Great Society with his brother Jerry Slick. They recorded the song as a single in 1966, but it did not become a hit until Grace brought it with her to Jefferson Airplane. W.A.S.P. included "Somebody to Love" on 1995's Still Not Black Enough, changing "your eyes, I say your eyes may look like his" to "hers."
44 Famous Records You Probably Didn't Realize Were Covers
Bet you didn't know somebody else recorded these songs before they got popular.
You Think You Know the Rolling Stones?
More From Ultimate Classic Rock