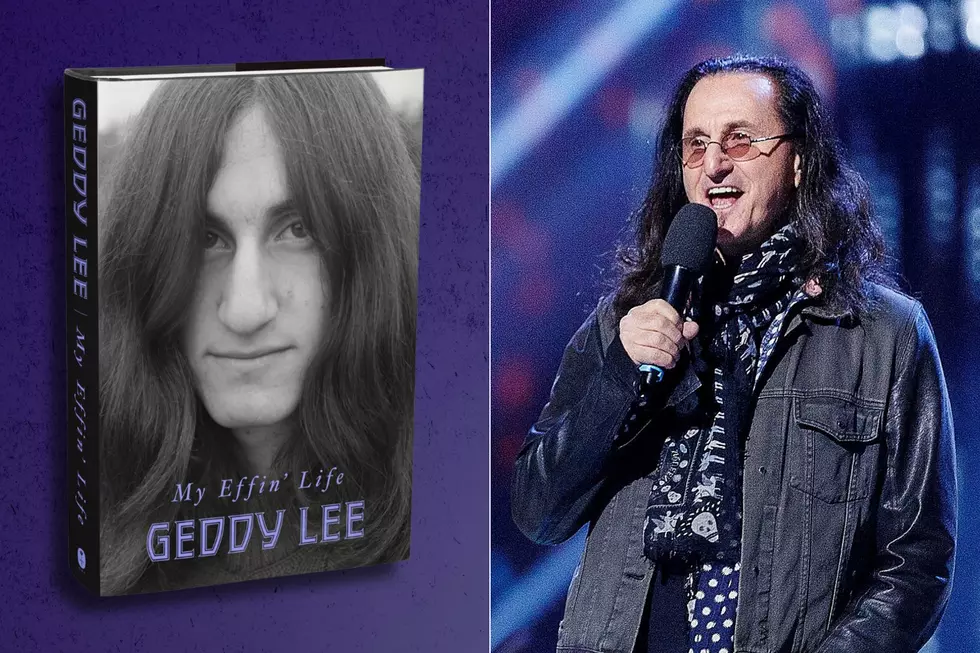 Geddy Lee Announces Title and Release Date of Upcoming Memoir
Twitter / Andrew Chin, Getty Images
Rush's Geddy Lee has announced an official title and release date for his previously teased memoir.
My Effin' Life is due out on Nov. 14. The band tweeted a picture of the book's front cover — a vintage photo of the prog-rock legend — and added, "More soon…"
Lee informally announced his then-untitled autobiography in a September 2021 Instagram post, calling it an "epic-length account" of his life "on and off the stage." In that note, he detailed how the idea germinated during a stretch at home amid the early COVID-19 pandemic.
"Little did I know that as of March 2020 I'd be locked down for over a year and a half — the longest time I'd spent in Toronto since I was 19 and hit the Northern Ontario bar circuit with Rush," Lee explained.
He noted that Daniel Richler, his co-writer on the 2018 book Geddy Lee's Big Beautiful Book of Bass, helped push him to take stock of his life and career: "[He] saw how I was struggling in the aftermath of [former bandmate Neil Peart's 2020] passing, and tried coaxing me out of my blues with some funny tales from his youth, daring me to share my own in return."
According to Lee's 2021 post, My Effin' Life was originally scheduled for a fall 2022 release via HarperCollins. The band's latest tweet didn't offer any additional details, though a sparse U.S. Amazon preorder page lists the publisher as "Harper" at the time of this writing.
Although Rush has been dormant as a live band since Peart's death, Lee and guitarist Alex Lifeson did reunite in September 2022 for a pair of mini-reunion sets during the Taylor Hawkins tribute concerts.
Rush Live Albums Ranked
A list of Rush live albums, ranked from worst to best.
More From Ultimate Classic Rock