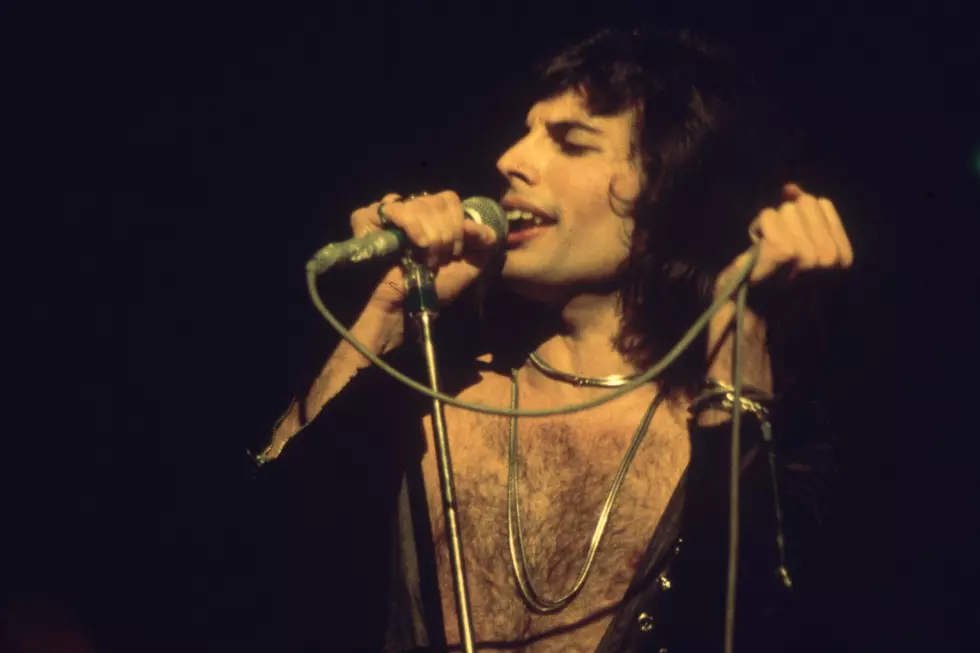 Top 10 Freddie Mercury Queen Songs
Keystone, Getty Images
Queen are one of the few classic-rock bands in which all four members individually participated in the songwriting process. But none contributed more songs or more hits than Freddie Mercury, whose singular voice and inimitable command of stage and crowd earned him an icon's status long before AIDS robbed the world of his talent. Moreover, as you'll see on our list of the Top 10 Freddie Mercury Queen Songs, the music he crafted with Queen retains its stadium-filling appeal and glamorous luster decades later.
10

"Mustapha"

From: 'Jazz' (1978)

The opening volley from 1978's Jazz album, "Mustapha" is a brilliant showcase for Freddie Mercury's vocal acrobatics backed by all of Queen's well-known heavy-rock power and a rare glimpse into his typically played-down Parsi heritage. The track's head-scratching lyrics are partly tongue-in-cheek gibberish and partly a blend of English, Persian and Arabic words spun into Mercury's own musical Esperanto – otherwise known as the universal language of rock.

9

"My Fairy King"

From: 'Queen' (1973)

A highlight of Queen's first LP, "My Fairy King" represents one of the first full-scale flowerings of Mercury's boundless imagination, genre-bending eclecticism and one-of-a-kind talent. In addition to displaying the vast range of both his voice and piano skills, the song's rococo glories and fanciful storytelling foreshadow some of Freddie Mercury's grandest, wildest and most ambitious creations for the band in the years ahead.

8

"My Melancholy Blues"

From: 'News of the World' (1977)

Another sterling showcase for Mercury's sublime piano playing, "My Melancholy Blues" is one of the most distinct songs in Queen's canon. There's its unusually low-key, jazz-like approach and spartan instrumentation (just Mercury on piano, John Deacon on fretless bass, Roger Taylor on brushes and no sign at all of guitarist Brian May), of course. But it also finds Mercury in a subdued, confessional mindset totally at odds with his larger-then-life rock-god persona.

7

"Death on Two Legs (Dedicated to ... )"

From: 'A Night at the Opera' (1975)

Hope you never crossed Freddie Mercury. You might just have found your villainy immortalized in song. Such was the fate of former Queen manager Norman Sheffield on the withering opener of A Night at the Opera. "Death on Two Legs" garnishes Mercury's blistering insults with Brian May's Jaws-like power chords. Perhaps unsurprisingly, Sheffield sued Queen for libel after first hearing the song, then went a step further, writing an entire book to dispute this legend.

6

"Somebody to Love"

From: 'A Day at the Races' (1976)

Even though it was made to follow in the chart-topping footsteps of the incomparable "Bohemian Rhapsody," the climatic centerpiece of A Day at the Races is anything but a half-baked sequel. In fact, "Somebody to Love" shares little with its predecessor beyond multiple sections and lofty ambitions. Freddie Mercury and Queen essentially took their trademarked choir vocals from the opera house to the church pulpit in a sanctified display of earthly devotion inspired by American gospel music.

5

"Crazy Little Thing Called Love"

From: 'The Game' (1980)

Queen's first U.S. No. 1 single (and a Top 10 smash in a dozen other countries), the playful, irresistibly catchy "Crazy Little Thing Called Love" stripped away the dense arrangements found in most Queen songs. And "stripped" is the key word, since Mercury allegedly composed his tribute to Elvis Presley and '50s rock 'n' roll while lounging in a bubble bath. The singer would later perform the song's acoustic rhythm guitar parts himself – in the studio and at Queen concerts, to the delight of fans.

4

"Love of My Life"

From: 'A Night at the Opera' (1975)

It pains us to omit the exquisite "You Take My Breath Away" from our list of the Top 10 Freddie Mercury Queen Songs, but we needed room for Queen's signature ballad "Love of My Life." Written by Mercury for Mary Austin, his girlfriend at the time, it originally appeared on 1975's A Night at the Opera with an excessively florid, harp-laden arrangement that proves almost too saccharine to swallow. "Love of My Life" found a second life, however, when performed onstage as a duet between Mercury and Brian May – even becoming something of an anthem in South America.

3

"Killer Queen"

From: 'Sheer Heart Attack' (1974)

Queen's breakthrough single amazingly condenses all of their novel sonic trademarks (Brian May's harmonized guitars, those layered vocals, etc.) into three near-perfect minutes of orgiastic heavy glam rock. No wonder the song took Top of the Pops by storm in the fall of 1974, with its lyrics citing everything from Moet Chandon to Marie Antoinette, caviar to etiquette, guillotines to laser beams – all of them meant to evoke both luxury and absurdity.

2

"We Are the Champions"

From: 'News of the World' (1977)

It's only natural that the frontman for one of history's greatest stadium rock bands would come up with one of the greatest anthems in sports. With a little help from Brian May's complementary "We Will Rock You," this track soon raised audiences to their feet the world over – no matter how large the arena in which Queen increasingly found themselves performing as their global fanbase swelled. It's not much of a surprise that a scientific research team later identified "We Are the Champions" as the catchiest song in the history of popular music.

1

"Bohemian Rhapsody"

From 'A Night at the Opera' (1975)

What's left to say that hasn't already been said – in duplicate, triplicate and four- or five-part harmony – about the inevitable crowning achievement on our list of the Top 10 Freddie Mercury Queen Songs? "Bohemian Rhapsody" sounds just as ambitious, revolutionary and preposterous (but in the best possible way) today as it did nearly decades ago when Queen first unveiled it, leaving ears ringing, eyes bulging and jaws gaping. Simply put, nothing else compares with Mercury's magnum opus; it's his – and Queen's – definitive song.
More From Ultimate Classic Rock