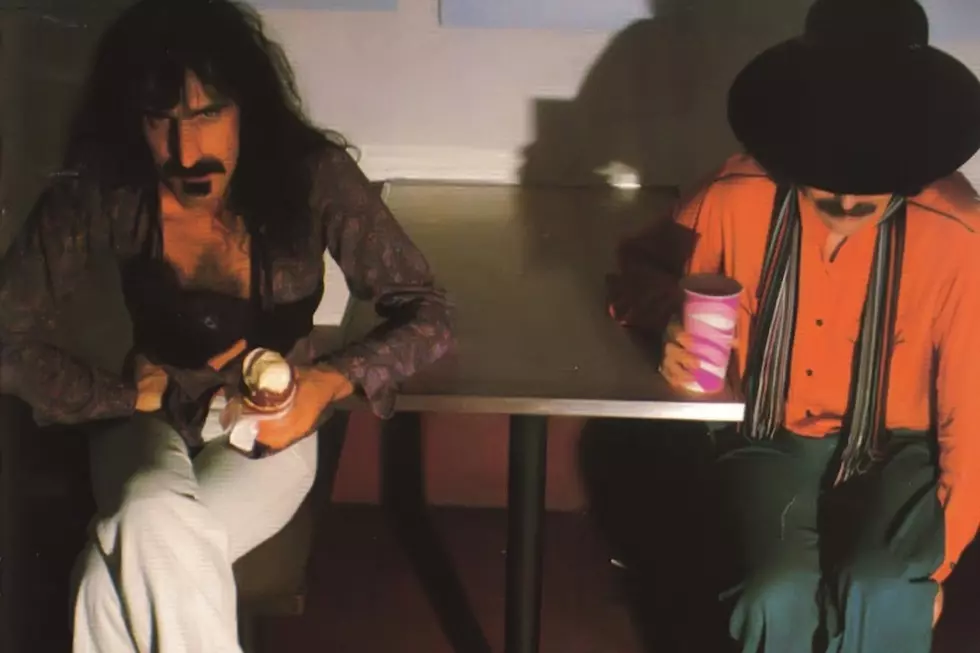 When Frank Zappa and Captain Beefheart Joined for 'Bongo Fury'
DiscReet
Frank Zappa and Captain Beefheart – two of the rock era's most original and idiosyncratic geniuses – regaled their fans on Oct. 2, 1975 with the amusingly titled (mostly) live album. Bongo Fury signaled a historic ceasefire in their otherwise turbulent relationship that would sadly prove all-too fleeting.
Though they'd started out as teenage friends, bonding over a shared musical obsession and sheer alienation in Mojave Desert outposts like Lancaster and Cucamonga, Zappa and the once-and-future Don Van Vliet had grown from friendly to not-so-friendly rivals as the '60s gave way to the '70s.
Specifically, it was the trying recording process of the Captain and his Magic Band's avant-garde masterpiece, 1969's Trout Mask Replica, which Zappa agreed to produce and release through his Bizarre label, that drove a significant wedge between the two men.
They slowly discovered that their creative processes and work habits – Zappa was disciplined and exacting, while Beefheart preferred to be spontaneous and freeform – couldn't have been more at odds. The resulting fallout indicated that their paths would never cross again, not least because both men appeared to be marching down their self-determined trajectories towards critical, and possibly even commercial, acclaim.
Indeed, only a serious obstacle along the way was liable to convince either party to call for a truce and, as fate would have it, Beefheart blinked first after a few too many Magic Band defections, weak-selling LPs and conflicting contracts tied up his solo prospects into knots. So Don called on Frank for help.
As Zappa told writer Nigel Leigh, "Don had the inclination to sign any piece of contractual paper shoved under his nose, without understanding what these papers said or how they interacted with each other [until] he was in a position where he couldn't tour and he couldn't record."
On another occasion, Zappa bluntly told Barry Miles that "[Beefheart] apologized and asked for a job." As for Van Vliet, his view of events, as relayed to the same Miles, was that "I just called [Zappa] up and told him [I wasn't] going to be in the music business anymore. So Frank said, 'Well, come down and hear some records and, you know, we'll go on a tour!'"
Whoever's account one chooses to believe, the fact is that, after a token "audition," Zappa recruited Beefheart as a salaried member of the latest iteration of his Mothers of Invention, in which he joined another Cucamonga escapee in guitarist Denny Walley, keyboardist/vocalist George Duke, vocalist/saxophonist Napoleon Murphy Brock, bassist Tom Fowler, trumpeter Bruce Fowler, and a flashy young drummer named Terry Bozzio.
Listen to Frank Zappa and Captain Beefheart's 'Advanced Romance'
Then, over the course of an intensive, 30-date U.S. tour running from April through May 1975, Beefheart contributed harmonica, occasional sax, and numerous displays of his eccentric poetry and one-of-a-kind vocals to the ensemble's repertoire, culminating in a two-night stand at Austin, Texas' famed Armadillo World Headquarters, which became the basis for Bongo Fury.
The resulting album was a true collaboration between these two giants of rock's cutting edge, particularly on hard-charging opener "Debra Kadabra," the expansively titled "Poofter's Froth Wyoming Plans Ahead" (a critique of the jingoistic fervor building up ahead of America's bicentennial), and the 13-minute mutant blues of "Advanced Romance," where Don's harp is thoroughly unleashed.
The Captain was also foisted front-of-stage for the purpose of two, all-too-brief, but wonderfully oblique howling poetry recitals in "Sam With the Showing Scalp Flat Top" (one of whose lines gave Bongo Fury its title) and "Man with the Woman Head" — hastily scrawled paper scarps for which he carried in a brown sack throughout the tour, later being credit for "Harp, vocals, shopping bags" on the LP's rear sleeve.
But Beefheart was conspicuously absent (often sitting on stage, drawing in his sketch books, according to Bruce Fowler) from select songs like "Carolina Hard-Core Ecstasy" (a typical '70s Zappa fusion of base humor, exquisite virtuosity, and inside jokes from life on the road), the autobiographical "Cucamonga" and the half-studio/half-live finale of "Muffin Man," which would go down as one of Frank's most popular "hits."
Ultimately, the only downside of Bongo Fury, which peaked at an impressive No. 66 on the Billboard album chart, was that the fragile peace accord between its two principal talents simply wasn't built to last, and had in fact run its course long before the album's release. Even before the Mothers started making their way home, from Texas to L.A., eyewitnesses claim that Zappa was literally refusing to speak or even acknowledge Don's presence, their long and complicated friendship at loggerheads, once again.
Zappa biographer Barry Miles, who spoke extensively to both men individually could only offer these impressions: "They always had this ego problem between them, which was ridiculous. [Frank] had very few friends because he turned everything into a business relationship [but] I think they both had tremendous nostalgia for the days when they used to cruise around Lancaster and listen to R&B records together. Theirs was a very, very deep friendship [but] I think that the business and Los Angeles got in the way."
All opinions, well informed or not, aside, what's certain is that on Bongo Fury, Frank Zappa and Don Van Vliet found common ground long enough to combine their formidable talents like never before, or after, leaving a musical testament to their visionary careers, and the magic that took place whenever they managed, even briefly, to intersect.
Top 100 Rock Albums of the '60s
More From Ultimate Classic Rock