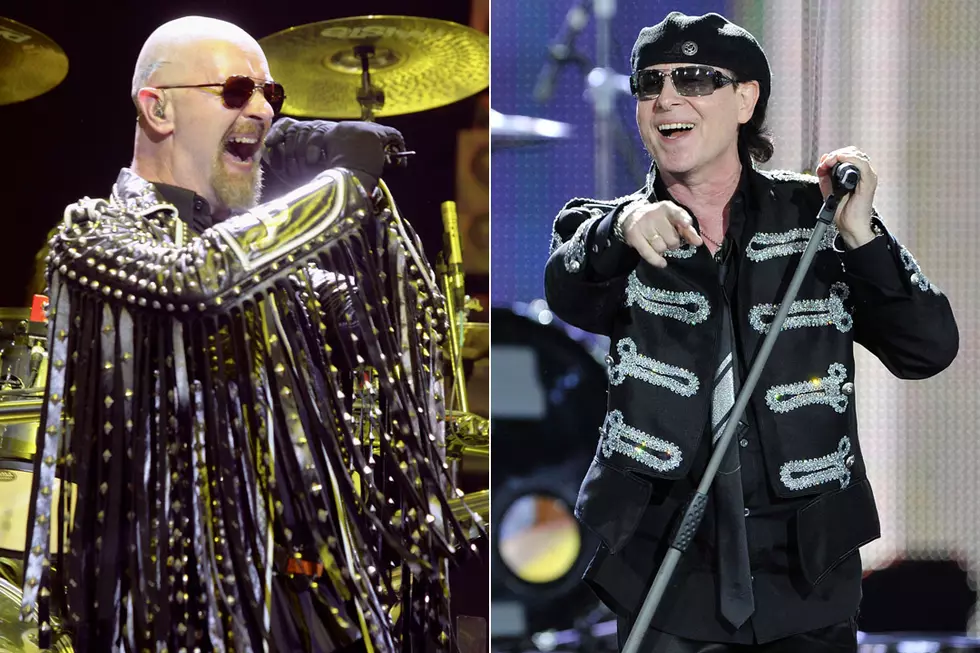 50 Years Ago: Judas Priest, Scorpions and More Play First Monsters of Rock
Jo Hale / Pascal Le Segretain, Getty Images
For years and years, particularly during the '80s, the Donington Monsters of Rock brand was synonymous with the biggest hard rock and heavy metal festivals in the world. It all began on Aug. 16, 1980, when the very first event to bear this name took place on the grounds of a Leicestershire race track.
That site had been strategically chosen because it was located almost exactly halfway between London and Sheffield, and not even one hour's drive from Birmingham, so as to attract the largest possible number of headbangers. An estimated 35,000 to 60,000 FANS decided to make the trek on that late-summer day.
Not by coincidence, the Monster of Rock festival had been conceived by the promoters responsible for Rainbow's tour. They had noticed the increasingly positive response accorded to heavy rock acts performing at the yearly Reading Festival, and decided to take a bite out of that pie.
As luck would have it, though torrential downpours in the days before the festival had ensured a muddy footing for the many, ill-advisedly denim-and-leather-clad youths descending upon the Donington grounds that day, the sun was shining brightly as the little known Touch took to the stage. They tried in vain to stoke up the crowd, but received no help from the bee that was swallowed mid-set by their lead singer.
Next up, Riot fared only slightly better, what with their career-defining album, Fire Down Under, still one year in their future. This opened the door for Saxon to properly set the crowd alight with songs from their then blockbuster Wheels of Steel album. In fact, the positive audience response left such a mark on the group that they later chronicled their experience in a song called "...And the Bands Played on."
Canada's April Wine had no such luck, when their catchy melodic rock failed to connect with the steaming masses. They were quickly overshadowed as Scorpions invaded the Monsters of Rock stage, flying high on their recent Animal Magnetism and Lovedrive albums, as singer Klaus Meine shrieked "Hello Donning Castle!"
Next in line, special guests Judas Priest could do simply no wrong. They mounted the stage with authority behind Rob Halford and his Harley Davidson, and proceeded to slay the loyal metal hordes with their full metal assault, only recently revitalized by the career-defining British Steel LP, released just months earlier.
By comparison, Rainbow's subsequent headline set proved something of an anticlimax for many fans who were still coming to grips with Ronnie James Dio's replacement, Graham Bonnett. It fell flat due to the Bonnett's vain attempts to do justice to Dio-era favorites like "Man on the Silver Mountain" and "Stargazer" and a setlist that leaned heavily on the polarizing Down to Earth LP.
As a result, it seems that the most memorable occurrence in Rainbow's show that night was drummer Cozy Powell's solo, which, this being his final performance with the group, was accompanied by a large pyrotechnic display that had nearly blown the entire P.A. to smithereens during rehearsals the previous day. Fortunately, no drummers, roadies or innocent bystanders were harmed during the actual concert.
All in all, as the punters filed out of the muddy field and into the night, there was no disguising the overall success of that inaugural Donington Monsters of Rock festival as a roaring success. So much so that, even though they'd lost money at the end of the day, promoters immediately started planning the following year's second edition, where AC/DC would headline a stunning lineup completed by Whitesnake, Blue Oyster Cult, Slade and Blackfoot.
In other words, the Monsters of Rock franchise was off and running. It received added backing from a commemorative LP collecting eight performances from the night, including a song each from Saxon, April Wine, Touch and Riot, plus a couple from the Scorpions and Rainbow (but no Priest).
The franchise would continue growing from strength to strength in years to come, eventually jumping over the gates of Castle Donington to rove across Europe and America -- only losing steam after a pair of tragic fatalities during Guns N' Roses' performance at the 1988 edition.
In the '90s, as heavy metal's commercial fortunes took a turn for the worse, so too would the Monsters of Rock brand, which was almost retired except for an ongoing series of festivals across South America.
But it goes without saying that the legacy of that first Donington Monsters of Rock festival in 1980 will live on, both in the memories of those who were there, and in every heavy metal festival (Wacken, Dynamo, even Ozzfest) found across the globe unto the present day.
Top 50 Metal Albums of All Time
More From Ultimate Classic Rock