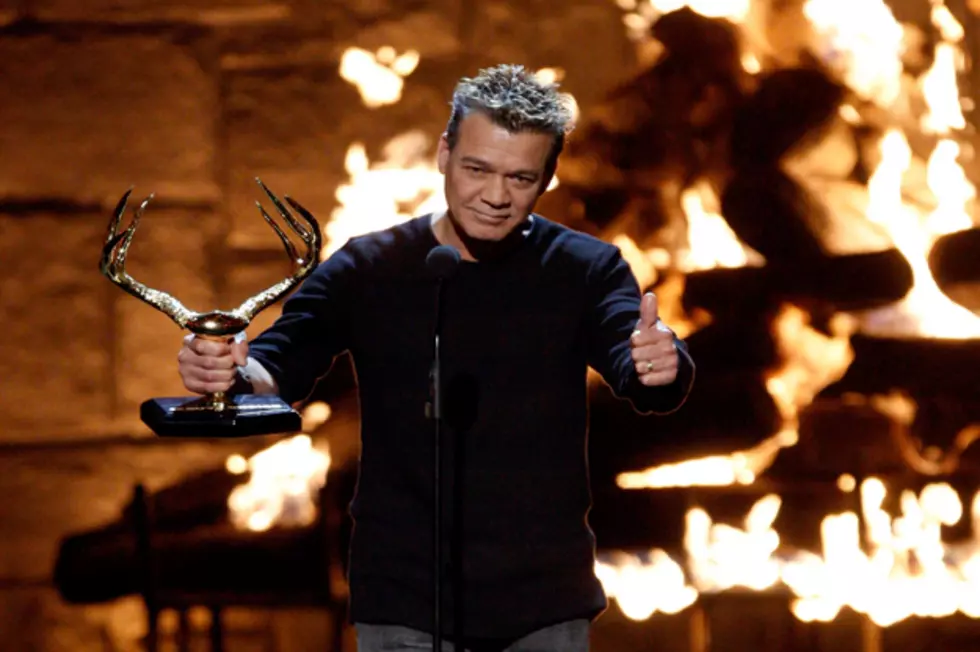 Eddie Van Halen Says Michael Jackson's 'Beat It' Was His Favorite Collaboration
A new interview with Eddie Van Halen, a rare occurrence these days, just popped up in Smithsonian magazine, which for some reason makes us feel very old. Although the conversation primarily deals with a guitar Eddie donated to the famous museum, he states that working with Michael Jackson was one of the highlights of his career.

Eddie recently gave his legendary red and white striped 'Frankenstein 2' axe to the institute, and took some time away from putting the finishing touches on the new Van Halen album to answer questions for their publication.
The conversation with Van Halen is amazingly lucid in comparison to the Eddie that has sometimes been on display over the past few years, but this is the Smithsonian we're dealing with here, so we'll assume they actually talked to the real deal.
Considering the game-changing impact the song had on popular culture, it's no surprise when Eddie says that his favorite collaboration ever was working on the guitar solo from Jackson's massive 1983 hit 'Beat It.'
Recalling the session for 'Beat It,' Van Halen remembers "when I got there it took me 15 minutes to rearrange the song, and I played 2 solos and told them they could pick the one they liked best. Then Michael walked in and said 'wow! I really like that high fast stuff you do.' It was a lot of fun to do. It's crazy that something could take such a short amount of time and can grow into something beyond anything you could ever imagine."
The brief interview finds Eddie revealing some interesting things about his craft and methodology, including some inventions he's pioneered to help musicians play better on stage. Sadly, there is no dirt about his band's new album.  Still, if you're nuts about Van Halen like we are, you'll definitely want to read the whole thing.
Watch Eddie's Famous Solo in Michael Jackson's 'Beat It'
More From Ultimate Classic Rock