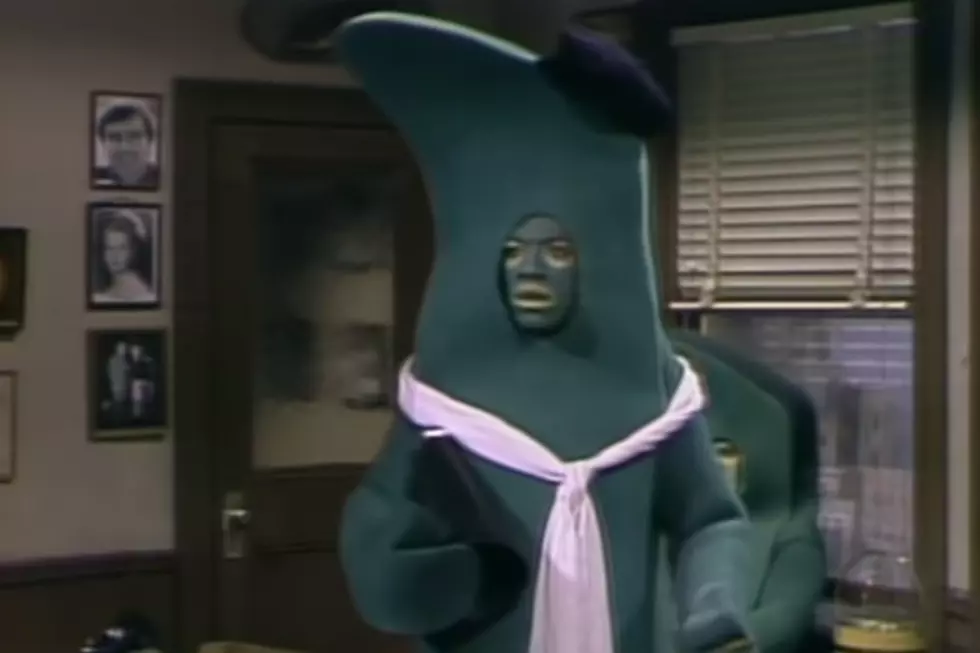 When Eddie Murphy Debuted Gumby on 'Saturday Night Live,' Dammit
NBC
Unlike Murphy's subversively upbeat take on Mr. Rogers,his Gumby took on the persona of a cranky, embittered, washed-up ex-star, being rude to everyone around him while chomping a cigar. The first sketch, which was given a post-Weekend Update slot late in the show, saw Gumby being interviewed by Tom Snyder (Joe Piscopo) about his tell-all book, I'm Gumby, Dammit, at one point calling Wilma Flintstone a "slut."
It was the first of seven appearances Murphy made as Gumby during his time in the cast, with an eighth coming in the December 1984 episode he hosted. "I'm Gumby, dammit" became one of the show's most popular catchphrases, and the sketches even helped turn around the fortunes of Gumby's creator, Art Cloakey.
As detailed in Gumby Imagined: The Story of Art Clokey and His Creations by Joan Rock Clokey and Joe Clokey, the public had largely forgotten about Gumby after The Gumby Show left the airwaves. But then Douglas Brian Martin of Landmark Theaters staged a screening of Gumby episodes that included a Q&A session with Clokey. On the day of the event, Martin was visited by an SNL writer, and Martin invited him to the show. While he didn't see him in the sold-out crowd that night, a few weeks later, Murphy debuted the character.
The popularity of Murphy's sketches led to a revival of Gumby in pop culture, with increased merchandise sales and the release of the original series on home video. By 1987, the first of 99 episodes of a new syndicated cartoon, Gumby Adventures, arrived, as did a comic book. A tribute record, The Green Album, which featured contributions from Dweezil and Moon Unit Zappa, Jonathan Richman and reggae legends Sly and Robbie, was released in 1989. Gumby, The Movie came out six years later.
And even though Murphy's portrayal ran contrary to Gumby's gentle good nature, Clokey, as Fred Rogers had also done with Mr. Robinson, liked what Murphy was doing. He even gave SNL permission to use bits of a few episodes ("The Small Planets" and "Ricochet Pete") with dialogue overdubbed by Murphy in a later sketch.
Rock's 60 Biggest 'Saturday Night Live' Moments
More From Ultimate Classic Rock