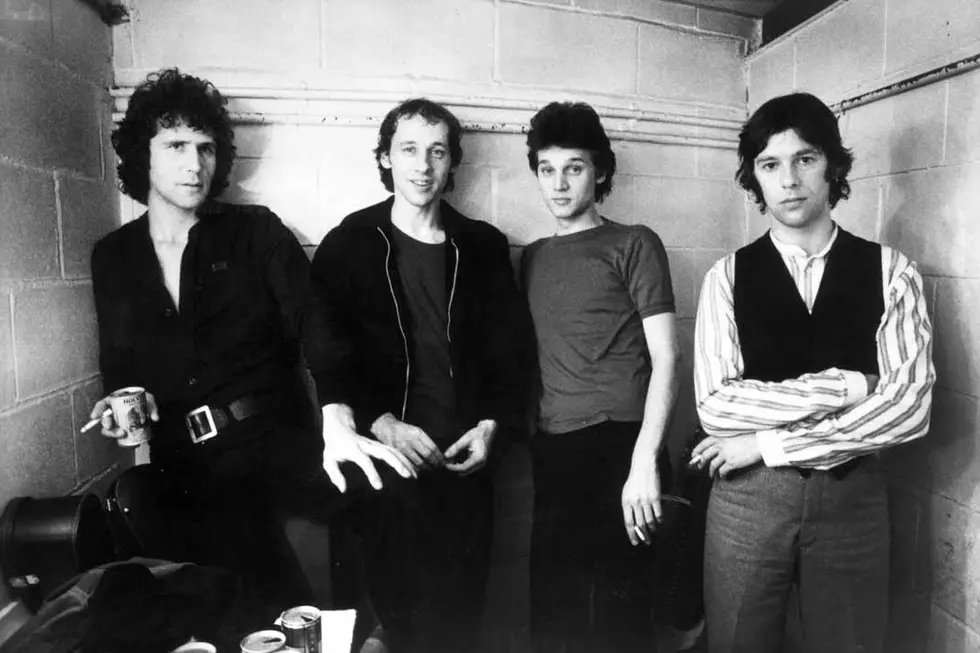 Top 10 Dire Straits Songs
Photo courtesy of the Rock & Roll Hall of Fame
Dire Straits came out of nowhere when their debut album was released in 1978. Really. They had formed only the year before and hadn't gigged much before they recorded a demo tape that caught the attention of record-company execs. They were an immediate hit, especially with rock radio, which embraced their clean, guitar-based sound. After a few stumbles – a boring second album, a great but unheralded third one – frontman Mark Knopfler led them to the top of the charts in 1985 with Brothers in Arms, one of the decade's biggest sellers. They made only one more album after that before calling it quits in 1995. This list of Top 10 Dire Straits Songs celebrate their best.
10

'Industrial Disease'

From: 'Love Over Gold' (1982)

In the early '80s, things weren't going so well for British industry. On top of, and in addition to, everything else, workers' strikes, anxiety and physical and mental illnesses were fall-out symptoms of the decline of British manufacturing during the era. Knopfler rolls through a bunch of aftershocks – some real, some made up – on this musically springy cut from the band's fourth album.

9

'Twisting by the Pool'

From: 'Twisting by the Pool' EP (1983)

In between Love Over Gold (their most difficult album) and Brothers in Arms (which made them global stars), Dire Straits released a four-song EP of retro-leaning rock and swing cuts. They're mostly throwaway numbers, but the record's anchor song is loads of fun, a Chuck Berry-style rocker that presages the more popular Walk of Life (see No. 5 on our list of the Top 10 Dire Straits Songs).

8

'So Far Away'

From: 'Brothers in Arms' (1985)

Before Brothers in Arms became a monster-selling album and the band's only No. 1 LP in the U.S., "So Far Away" was issued as the record's first U.K. single. In America, meanwhile, it was released as the third single, long after Brothers in Arms was on its way to multi-platinum glory, reaching the Top 20. Either way, it opens the album and is one of its most scaled-down cuts. Nothing too fancy – just straight-up, laid-back rock at its cleanest.

7

'Skateaway'

From: 'Making Movies' (1980)

Following the commercial and critical bomb of their second album, 1979's Communiqué, Dire Straits returned the next year – tighter, more focused and armed with their best set of songs. Making Movies keeps those songs at the center of the picture, pushing aside the wayward habits of the group's first two albums. "Skateaway" sticks closer to a traditional rock-radio format than any other song on the album.

6

'Walk of Life'

From: 'Brothers in Arms' (1985)

Dire Straits' biggest album is filled with several drawn-out set pieces that rely on the slow build to set their mood (two songs clock in at more than eight minutes; another three are more than six). But one of its best songs – which almost didn't make the album – barely pushes past the four-minute mark. "Walk of Life" was originally released as the B-side to the U.K. "So Far Away" single (see No. 8 on our list of the Top 10 Dire Straits Songs) that came out before Brothers in Arms. It eventually made it to the A-side, hitting the Top 10 all over the world.

5

'Private Investigations'

From: 'Love Over Gold' (1982)

Running almost seven minutes, the sprawling "Private Investigations" feels like an epic from its very first droning notes. Knopfler spins a film noir-style tale of diaries, whiskey bottles and shuttered blinds as classical acoustic guitar picks away ominously in the background. This is Dire Straits at their most literary-minded and atmospheric.

4

'Tunnel of Love'

From: 'Making Movies' (1980)

A companion piece of sorts to the same album's "Romeo and Juliet" (see No. 3 on our list of the Top 10 Dire Straits Songs), "Tunnel of Love" is the sprawling set piece of the band's third album, an eight-minute epic that ends with Knopfler's all-time greatest guitar solo. Following the dismal Communiqué, Making Movies marked a creative, if not exactly, commercial comeback. They'd have to wait another five years for that.

3

'Romeo and Juliet'

From: 'Making Movies' (1980)

One of Knopfler's loveliest songs, and maybe his all-around greatest composition, "Romeo and Juliet" bridges Shakespeare, West Side Story and a modern rock 'n' roll love story where fame, not family, is keeping the young lovers apart. The single didn't chart in the U.S. – a shame, because it's one of Knopfler's most timeless songs.

2

'Money for Nothing'

From: 'Brothers in Arms' (1985)

Ironically, Dire Straits' biggest hit (and only No. 1) – a take-down of MTV and its building up of disposable pop stars – was a massive hit on the music-video network and made the band temporary pop stars. With a hook sung by fellow British serious-artist-turned-radio-star Sting, "Money for Nothing" wants it both ways. No matter: It's a pivotal '80s track.

1

'Sultans of Swing'

From: 'Dire Straits' (1978)

Dire Straits had little more than a demo and a few gigs behind them when they released their self-titled debut album in 1978. And for the most part, that record shows their relative inexperience. Besides a few cuts, it's filled mostly with forgettable guitar-based jams and the skeletal frames of half-thought-out songs. But "Sultans of Swing," their debut single, is a masterwork of precisely pointed guitar, a ringing rhythm section and late-night cool. It earned Knopfler a gig with Bob Dylan and put the band in the history books.
More From Ultimate Classic Rock