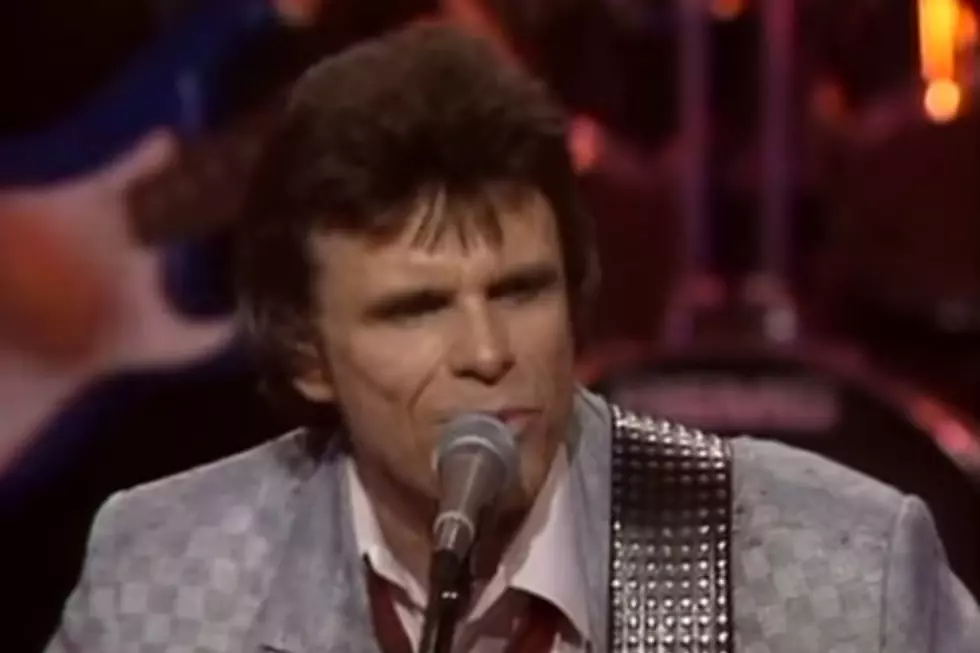 The Life and Death of Del Shannon
YouTube
"Trees flew by / Me and Del were singin' little 'Runaway' / I was flyin.'"
In that line from "Runnin' Down a Dream," Tom Petty refers to Del Shannon and his 1961 No. 1 hit, "Runaway." While that oldies radio staple means that Shannon is often thought of as a one-hit wonder, there's a lot more to his story.
Born Charles Weedon Westover in Coopersville, Mich., on Dec. 30, 1934, Shannon grew up a fan of country and western music and picked up the guitar at an early age.  After a stint in the Army in the mid-'50s, which saw him play in a band called the Cool Flames, he settled in Battle Creek, where he sold carpets during the day and gigged at a local bar, the Hi-Lo Club, at night.
While auditioning other musicians, he met Max Crook, a keyboardist and electronics whiz who customized an electric organ called a clavioline into an early form of synthesizer, which he dubbed a "Musitron." The duo began writing songs and, on the strength of their demos, got signed to Bigtop Records in 1960. It was here that Westover became Del Shannon, taking his name from a Cadillac Coupe de Ville and Mark Shannon, which was the wrestling stage name of one of the regulars at the Hi-Lo.
After the initial sessions in New York, without Crook, yielded nothing worthwhile, a friend suggested they try one of the songs that wasn't recorded, called "Little Runaway." Shannon went back to New York, bringing Crook and his Musitron this time, and got what everybody was looking for.
Now called "Runaway," the song was released in February 1961. With its falsetto hook in the chorus and Musitron solo, it topped the charts by the end of April and stayed there for four weeks en route to becoming a global smash. Its follow-up, "Hats Off to Larry," was almost as successful, reaching No. 5.
Over the next few years, his singles met with mixed results. There would be the odd hit ("So Long, Baby," "Little Town Flirt") but more often than not they would peak in the lower half of Billboard's Hot 100.  Still, he was wildly popular in England, and while headlining the Royal Albert Hall on April 18, 1963, his ears perked up the newest single by the act that went on just before him and decided to record his own version. This made Shannon the first American act to cover the Beatles, even if "From Me to You" stalled at No. 77.
Listen to Del Shannon Perform 'Runaway'
Ironically, Shannon became one of the many acts whose careers suffered as a result of the Beatles' success – despite the fact that they were huge fans. (John Lennon, in fact, took the chords to "Runaway" and fashioned them into "I'll Be Back"') Shannon only had three more major hits in the '60s, "Handy Man" and "Keep Searchin' (We'll Follow the Sun)," both in 1964, and 1965's "Stranger in Town." He also cracked the Top 10 as a writer with Peter and Gordon's, "I Go to Pieces."
Along the way, Shannon became known as a keen talent-spotter. He produced Bob Seger's first demos, which helped lead to his first record deal, and discovered country singer Johnny Carver and an L.A. band called Smith, whose Shannon-produced cover of the Shirelles' "Baby, It's You" reached the Top 10 in 1969. Another Shannon production, Bryan Hyland's take on Curtis Mayfield's "Gypsy Woman," was a major hit a year later.
Unfortunately, he was unable to carry that momentum into the next decade, and much of his time in the '70s is an booze-fueled blur. Shannon "came from a long line of alcoholics," his first wife Shirley Westover told Hour Detroit. "A lot of it is genetic. But alcoholism is a lonely disease. He'd get so wired on stage, he could never sleep. He'd go down in the hotel bar or, if he wanted to get away from the fans, he'd drink in his room."
Shannon sobered up in 1978, and had a stroke of luck when he ran into Petty. "He was talking to me about producing a record. Would I be interested in that?" Petty recounted in the Runnin' Down a Dream documentary. "I was very interested. I had never produced a record for anyone except for us, so I took the job. I thought it would be fun, and it was." With the Heartbreakers as his backup band, Shannon's 1981 album, Drop Down and Get Me, sold respectably and led to his last Top 40 hit, a cover of "Sea of Love." But it came at a price.
Listen to Del Shannon Perform 'Sea of Love'
Heartbreakers' founding bassist, Ron Blair, had just quit and, needing someone for the record, Shannon recommended the guy from his touring band, Howie Epstein. Petty was impressed by Epstein's ability on bass, but mostly as a harmony singer, and offered him the job.
In the film, Petty recalled the phone call he got from Shannon. "[Del's] furious and says, 'Don't take Howie. You cannot take Howie. I count on him so much. You can have anybody you want, but don't take Howie. Why would you take my guy, we're friends?' I said, 'Del, I love you, but I'm taking Howie.'" Epstein remained in the Heartbreakers until his death in 2003.
Between royalties – mostly from "Runaway" – and oldies concerts, Shannon was able to maintain a comfortable, if modest, lifestyle. His career then got another brief boost a few years later when he recorded "Runaway," with new lyrics, for the opening credits of the NBC drama Crime Story, which was set in Las Vegas in the early '60s. The show was critically acclaimed, but struggled to find an audience and was canceled after two seasons.
Toward the end of the '80s, Shannon re-entered the studio with the Heartbreakers and Jeff Lynne, with whom Shannon briefly worked in 1973. But he never got to see it completed. Shannon had long suffered from depression and, on Feb. 8, 1990, he lost his battle. Shannon shot himself with a .22-caliber rifle in his California home. His body was discovered by his second wife and step-daughter. He was 55.
His final performance was five days earlier at a memorial concert for Buddy Holly, Richie Valens and J.P. "The Big Bopper" Richardson. The show was in Fargo, N.D., which was where their ill-fated plane was scheduled to have landed.
Lynne and Heartbreaker Mike Campbell worked to complete the tracks that Shannon left behind. The result, Rock On!, was released in 1991. Among its 10 songs was his own version of "I Go to Pieces." Shannon was inducted into the Rock and Roll of Fame in 1999.
The Best Albums From More Than 100 Acts
More From Ultimate Classic Rock