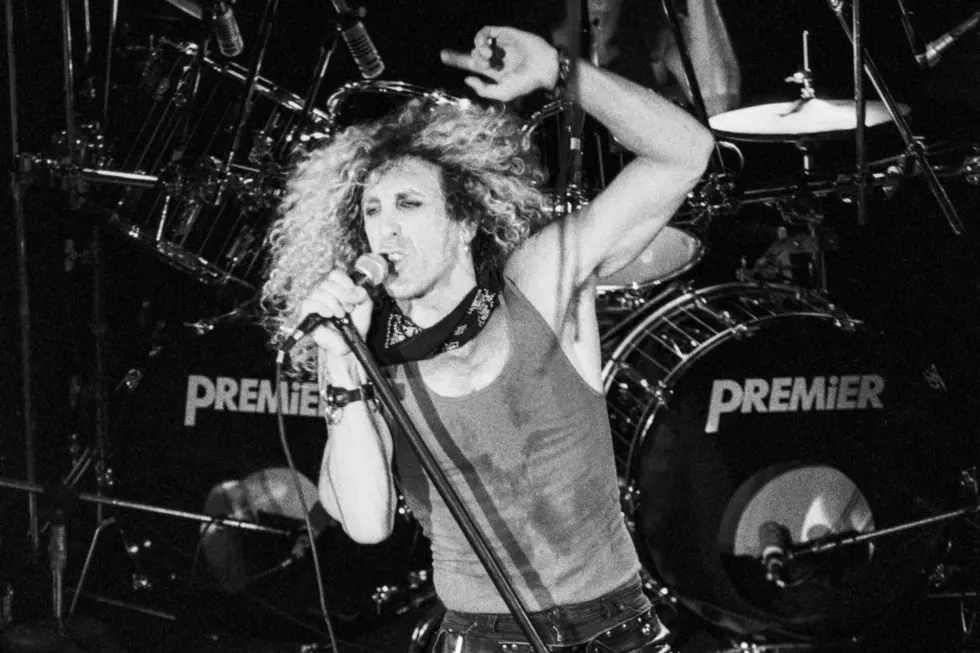 The 'Final, Final Nail' for Dee Snider's '90s Band, Widowmaker
Lisa Lake, Getty Images
In 1992, four years after the demise of Twisted Sister, things seemed to be going from bad to worse for vocalist Dee Snider. He'd initially formed a new band, Desperado, featuring ex Ozzy Osbourne guitarist Bernie Torme and former Iron Maiden drummer Clive Burr, but it had collapsed amid record label interference and the album Bloodied but Unbowed remained unreleased for years.
In his 2011 memoir Shut Up and Give Me the Mic, Snider recalled that life was not easy as a former rock star. Along with a need to "find ways to live more economically," he discovered that, even though hair metal bands were still doing good business, his own reputation was sunk. Producer Rik Wake completely failed to find a buyer for a new Snider project, so in an act of faith formed his own label, Esquire Records, to release the debut album by Widowmaker.
The formation hadn't been easy either – Torme was unable to join, officially as a result of a punctured lung. "Were we living under a black cloud or what?" Snider had wondered before recruiting Megadeth and Alice Cooper alumnus Al Pitrelli. Together with ex-Twisted Sister drummer Joey Franco and Desperado bassist Marc Russell, Widowmaker salvaged a few Desperado tracks, wrote more of their own and began anticipating the release of Blood and Bullets.
In a 1992 interview Snider was more forthcoming about his lineup issues. "When I started Desperado, it was a lucrative deal," he said. "I was coming out of Twisted; I was still a celebrity and had a certain stature. There were salaries, and it was a comfortable thing. Widowmaker was ground floor, starting over. I said, 'Guys, it's every man for himself. You gotta pay your own way. You're welcome to sleep on my couch. You're welcome to eat at my table.' It was really no frills. Marc is the only surviving member… He said, 'I'll sleep on your floor, Dee.'"
The next problem came with the album artwork, which Snider felt had been "better in concept than execution." He explained: "I was informed that due to the lyrical content of the CD, the complex cover design… would need to have a 'Parental Advisory' label on it. I couldn't believe it. 'I thought stickering your record was optional?' I said. 'It is, and our distributors label their records,' Ric Wake told me. 'Some stores won't carry an explicit record without a sticker.' One of my fears about these warning labels was coming true. Labeling your record wasn't exactly optional if stores wouldn't carry your record if you didn't. Even worse, some stores were using the label to segregate records or, even worse, not rack or even carry the record. And in a real catch-22 with some stores, if you didn't label your explicit record they wouldn't carry it, and if you did label it, they wouldn't carry it. That's not much of a fucking option, if you ask me!"
He found the idea of embedding the warning into the artwork, rather than applying a removable sticker, to be an idea that "boggles the mind" – but Wake told him it was the only way that distribution could proceed. Snider toyed with the idea of making the 'Parental Advisory' sticker the actual artwork, with the intended piece placed as a stick on top, as an ironic observation on the situation.
Blood and Bullets was released in July '92 – to, Snider admitted, "a literally unsuspecting public" due to lack of promotional budget. But within weeks it had done well enough to justify a Widowmaker tour. "I've always felt that the look of rock 'n' roll is important," he said that year. "Even though I want this band to be judged on the merits of the music and the quality of the playing, I also want it to be judged on its performance, its attitude, and the look it has. You don't have to be a 'pretty boy' – I certainly am not. But I have a look. I'm not wearing costumes or makeup anymore; I'm wearing jeans and boots. And I'm 25 pounds lighter than in Twisted, by the way! But it's important to me that a band look credible as well as play credibly."
Watch Widowmaker's 'The Widowmaker' Video
Snider also learned from previous mistakes. "The biggest one was when [Twisted Sister's] commercial success hit; I did what so many people before me have done – I stopped and analyzed it and tried to recreate it," he said. "I missed the fact that it was the genuineness and the lack of being contrived that had made it work in the first place. Even if I'd totally figured out the formula, it wouldn't have had the heart that Twisted had on the first three albums, and that's what made it work."
With help from successful shows across North America, Widowmaker's LP accrued sales of over 50,000, which was a very respectable result for an independent release. That, Snider said, was then "the final, final nail was driven into the coffin of my creative career and financial stability." The Canadian government, suspicious of the way in which Esquire Records operated, forced it to shut down; and that spelled the end of Widowmaker. "Just like that, I was finished and out of options," Snider lamented. "No more record-company or publishing-company advances (I was deep in the red), no more credit-card cash advances or charging (the cards were all maxed out), no more lines of credit or loans (I was a bad credit risk). I was 100 percent, absolutely, without a doubt, totally done. Check and fucking mate."
Snider didn't have much further to fall, but it was far enough. He'd soon find himself moving his family into the lowest-cost half-decent home he could afford, working as a secretary (while pretending to be writing a new project if anyone recognized him) and, finally, soon after his dog was killed by a car, wound up sitting in his beaten-up pickup in the rain, looking at flyers carrying his wife's name. "'HAIR & MAKEUP FOR WEDDINGS. CALL SUZETTE,' then our phone number. Simple, to the point, and a way for Suzette to make a hundred bucks for a couple of hours' work on a weekend.
"Nothing like pimping out your wife's talents. Loser. I pull the hood of my sweatshirt tightly over my head, not just to protect me better from the rain, but to keep people from recognizing me. Almost ten years after my heyday, and even with a hat and glasses on, people are still coming up to me every day and saying 'Hey, aren't you…?' Damn this face!"
Hear Widowmaker's 'Stand By for Pain'
Widowmaker managed to complete and release a second album, Stand By for Pain, in 1994; but in 2021 he told UCR that it was still a struggle to work out whether they owned the rights to re-release the debut title. "[W]e've got some great stuff," he said of a potential box set. "We've got a whole live show, a lot of behind-the-scenes footage; we've got some videos, things like that. … We really would love to [do it] because there's fans of that project. But right now, we're still stuck on that one thing."
Snider and his family had the energy to endure, and his career fully turned around once he moved away from music, he'd never forget another key moment when he sat with a debt consolidation officer. "[T]he examiner asked, 'What kind of entertainer were you?' 'A singer.' 'What kind of singing do you do?' 'Rock.' I wasn't giving away any more than I had to. 'In a band?' 'Yes,' I said, fighting the tide. I could see she was clearly getting tired of playing Twenty Questions. 'Mr. Snider, what band did you sing with?' 'Twisted Sister,' I mumbled. Thankfully, my caseworker was unimpressed. That was probably the only time I was happy someone didn't care."
Final Albums: 41 of Rock's Most Memorable Farewells
From 'Abbey Road' and 'Icky Thump' to 'Goodbye' and 'Everything Must Go.'
More From Ultimate Classic Rock