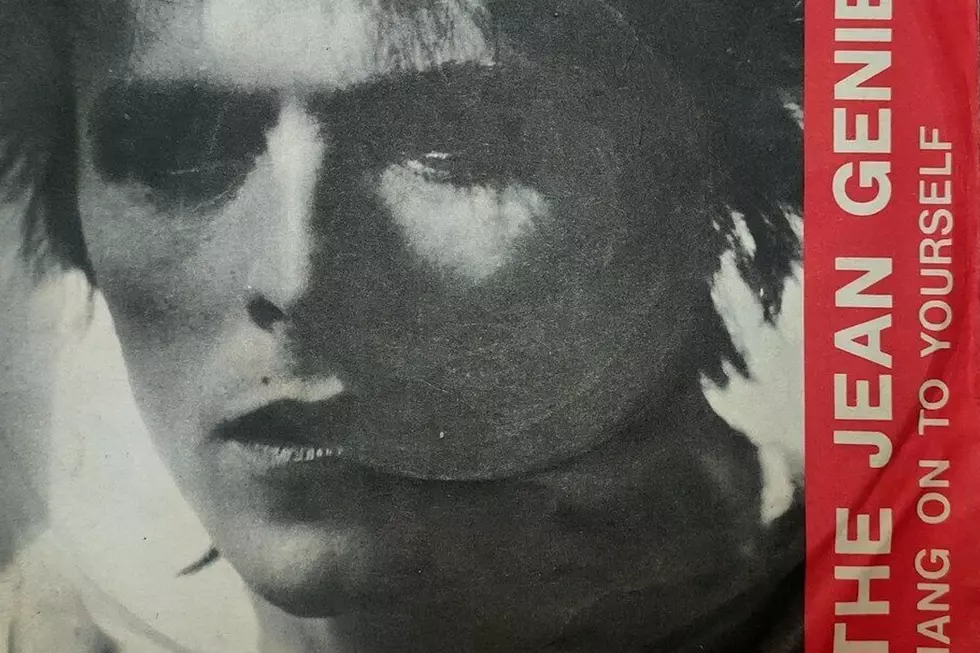 Why David Bowie Was Rushed Into Completing 'The Jean Genie'
RCA
Something clicked as Mick Ronson was idly riffing on the bus after he and David Bowie left the Cleveland opening date of the Ziggy Stardust Tour in September 1972. By the time they got to Memphis, "The Jean Genie" was beginning to take shape.
"The whole bus was singing 'We're bus, bussing, bussing along,' something banal like that, and it kind of summed up the general feeling," drummer Woody Woodmansey said in 2016's Spider From Mars: My Life With Bowie. "The melody and phrasing was not too dissimilar to the part of the chorus in 'The Jean Genie.'"
The tour kept going, and Bowie kept finding new inspiration. "All the situations that we were going through were duly noted down and all the remarks I had heard, real Americanisms that caught my ear," he later remembered. "Just the look of certain places like Detroit really caught my imagination because it was such a rough city and it almost looked like the kind of place that I was writing about. I thought, 'Christ, these places really exist and people live in them!'"
"The Jean Genie" was finished during a composing exercise with Andy Warhol acolyte Cyrinda Foxe, as Bowie reached New York City. "I wrote it for her amusement in her apartment," Bowie told Entertainment Weekly in 2002. "Sexy girl."
Going back to the moment in her 1996 autobiography Dream On, Foxe remembered Bowie saying, "'I want to write you a song. What do you want?' And I'm like, 'Gosh, no one has ever asked me that. I don't know. Something like the Yardbirds, I guess?'"
In a way, they did just that: Like so much of the early Yardbirds music, Ronson's original guitar figure was inspired by a former Chess Records star, specifically Bo Diddley. "We regarded it as a rip-off of 'I'm a Man,' which I'd played in bands when I was young," Spiders From Mars bassist Trevor Bolder noted.
Watch David Bowie's 'The Jean Genie' Video
But the lyrics – with an oblique title allusion to the French playwright Jean Genet – were pure Bowie. "'The Jean Genie' was an ode to Iggy [Pop], I guess," Bowie told the BBC in 2002, "or the 'Iggy-type' person, [meaning a] white trash, trailer-park kid thing – the closet intellectual who wouldn't want the world to know that he reads."
It all would provide much-needed initial inspiration for Bowie's follow-up to The Rise and Fall of Ziggy Stardust and the Spiders From Mars. The LP had come out only a few months before in June 1972, but RCA was already clamoring for a new record. Aladdin Sane was written on the road out of necessity.
"There was a lot of pressure because record companies back then demanded an album every six months," Ziggy Stardust co-producer Ken Scott later admitted. "And so Aladdin Sane had to be recorded and mixed in about three weeks."
Sessions for "The Jean Genie" were held in October 1972, and the Spiders From Mars made very quick work of things. "It was knocked out in an hour on the second or third take," Bolder confirmed. In the liner notes for Five Years (1969-1973), Scott marveled that "it can't get any simpler than this – just let the guys go!"
Still, working so quickly led to a notable mishap. "I love the famous fuck up in it where Trevor goes to the chorus too early," Woodmansey said in Spider From Mars: My Life With Bowie. "He pointed it out to Bowie at the time and Bowie said, 'Leave it in, I like it.'" In fact, "when we played that song live, Bowie told Trev to repeat the mistake."
A seminal music video was filmed later in the month, as Bowie reached San Francisco. Foxe returned, playing a Marilyn Monroe-type foil for Ziggy as they cavort in a Mars Hotel flophouse on Fourth Street. (Jerry Slick, the ex-husband of Jefferson Airplane's Grace Slick, worked as the cameraman.) Bowie's clip was rounded out with live-action scenes filmed during the Spiders From Mars shows at the Winterland Ballroom.
Listen to David Bowie Perform 'The Jean Genie' in Concert
Again, time was of the essence. Director Mick Rock took two days of film, processed it all overnight, then edited everything down in a single 10-hour session. "If you look at it now, there are no effects whatsoever," Rock said in the liner notes to the 30th-anniversary reissue of Aladdin Sane. "They're all cuts, but lots of the cuts were a matter of necessity because I had to chop it up a lot to keep everything in sync with his live performance – which was fairly close to the recorded version, as he'd only just recorded it. Necessity, as ever, is often the mother of interesting art, and it certainly was in this case."
The single was out by November, well in advance of the April 1973 arrival of Aladdin Sane. Scott remained largely unimpressed. "It's designed to be a big hit," he said in the reissue liner notes. "It's cute, but it's not one of my favorites."
Fans didn't agree, sending "The Jean Genie" to No. 2 on the U.K. chart – and apparently, Bowie didn't either. The track became a set list staple, appearing on every major tour save for those supporting Outside, Hours and Heathen. "I think it's a really good song and I actually enjoy playing it and singing it," Bowie told the BBC. "It's one of the few that I can keep going back to."
Meanwhile, the Ziggy Stardust tour kept going, and Bowie kept furiously writing. By the end, he'd created an LP that very much had a sense of place. Each track on Aladdin Sane was listed with the location that inspired it, including New York ("Watch That Man"), Los Angeles ("Cracked Actor") and New Orleans ("Time"), among others. But he'd eventually get caught in these fast-moving waters, as the pace of work, on-the-road debauchery and sheer boredom with the concept once more led Bowie to an entirely new era.
Final Albums: 41 of Rock's Most Memorable Farewells
From 'Abbey Road' and 'Icky Thump' to 'Goodbye' and 'Everything Must Go.'
More From Ultimate Classic Rock