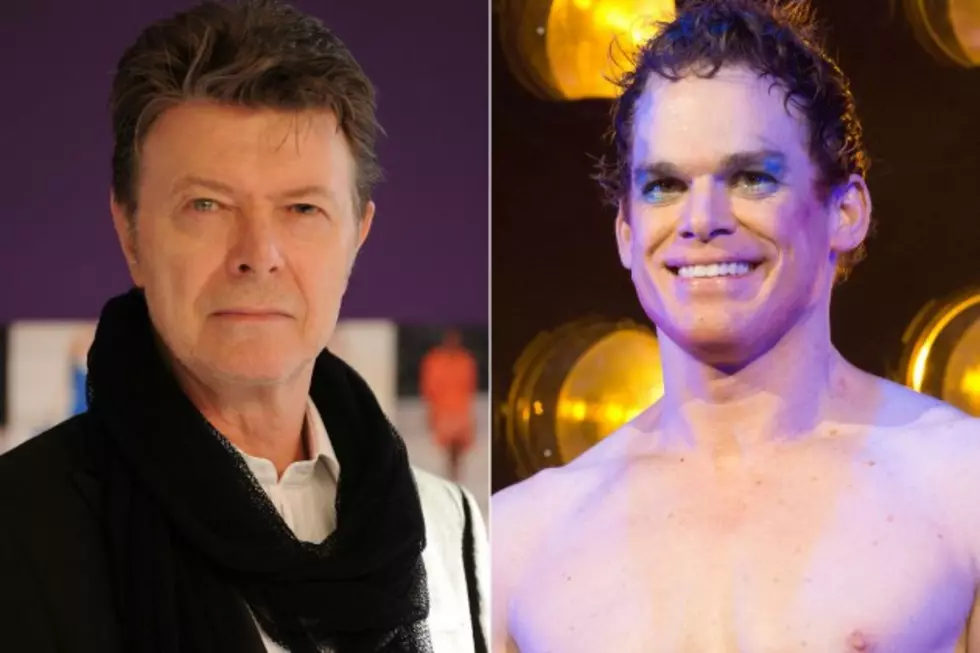 David Bowie Reportedly Taps 'Dexter' Star Michael C. Hall for New Stage Musical
Andrew H. Walker / Noam Galai, Getty Images
David Bowie's next project, a stage musical titled Lazarus that's based on Walter Tevis' 1963 novel The Man Who Fell to Earth, has found its leading man in Michael C. Hall, the former star of the long-running Showtime series Dexter.
The news comes courtesy of The Hollywood Reporter, whose sources say "It remains unclear whether Lazarus will be a full-fledged musical or a play with songs" but promise "the production will feature songs specially composed by Bowie as well as new arrangements of previously recorded tracks."
Lazarus, co-written by Bowie and Once playwright Enda Walsh, marks Bowie's second involvement with the character of Thomas Newton, whose Man Who Fell to Earth adventures begin when he crash-lands on our planet in search of water for his drought-plagued home world: He previously played Newton in 1976, when he starred in Nicolas Roeg's film adaptation of the story.
News of the stage production first surfaced in April, when word got out that Lazarus had been in development for years. "It's going to be a play with characters and songs," said New York Theatre Workshop artistic director James C. Nicola. "I'm calling it music theater, but I don't really know what it's going to be like, I just have incredible trust in their creative vision. I'm really excited about it. These are three very different sensibilities to be colliding."
According to the THR report, preview performances begin at the New York Theatre Workshop on Nov. 18 with the official Lazarus opening night scheduled for Dec. 7. For more information, visit the Workshop's official site.
See David Bowie and Other Rockers in the Top 100 Albums of the '70s
Criminally Underrated Rock Albums
More From Ultimate Classic Rock