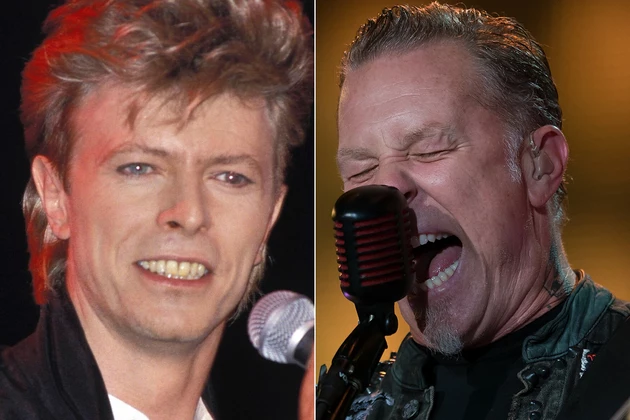 David Bowie Snubbed? Metallica Miscategorized? A Grammy Official Explains
Patrick Riviere / Buda Mendes, Getty Images)
David Bowie's surprising absence from the Album of the Year nominations for the 59th annual Grammy Awards was the result of voter preference – rather than any value judgment about Blackstar, a Recording Academy official explains.
"It really comes down to what voters vote for," Bill Freimuth, senior vice president of awards at the Recording Academy, tells Ultimate Classic Rock. "Obviously, it's a remarkable album, in many ways, and we're clearly devastated to not have Mr. Bowie among us anymore. But I guess there was something about it that did not resonate quite as much as the ones that did get in there."
That wasn't the only quirk in this year's just-announced list of honorees. Metallica appears in the Best Rock Song category, for instance, rather than in the perhaps more expected Best Metal Performance list.
"To me, it's a really good sign for metal – that they are having a wider appeal out of just the strictly metal community into the larger rock community," Freimuth said. "My take on that is they should be really happy that they are getting that broader recognition."
Freimuth also spoke at length about the appearance of Beyonce's "Don't Hurt Yourself" as a Best Rock Performance nominee. "It might raise some questions but, my God, that track rocks," Freimuth said.
The Best Rock Performance list, which also included Twenty One Pilots, speaks to the changing climate in music, he added. "Rock's in a very interesting place right now. We don't have – for lack of better word - replacement bands for the big stadium rockers," Freimuth said. "We don't see the next U2, or the next Bruce Springsteen, but there are still an awful lot of really good artists working in the genre."
At the same time, the definition of 'rock' is becoming more inclusive, he said. "A lot of the artists – and Beyonce is a perfect example – are feeling a lot more freedom with genre fluidity to just make the music they want to make, to do something different and take advantage – in her case – of her star power in order to continue to make the music they want to make," Freimuth said. "As a rock fan, I remain very hopeful that we'll continue to see a lot of great music in the genre."
10 Times the Grammys Got It Wrong
More From Ultimate Classic Rock