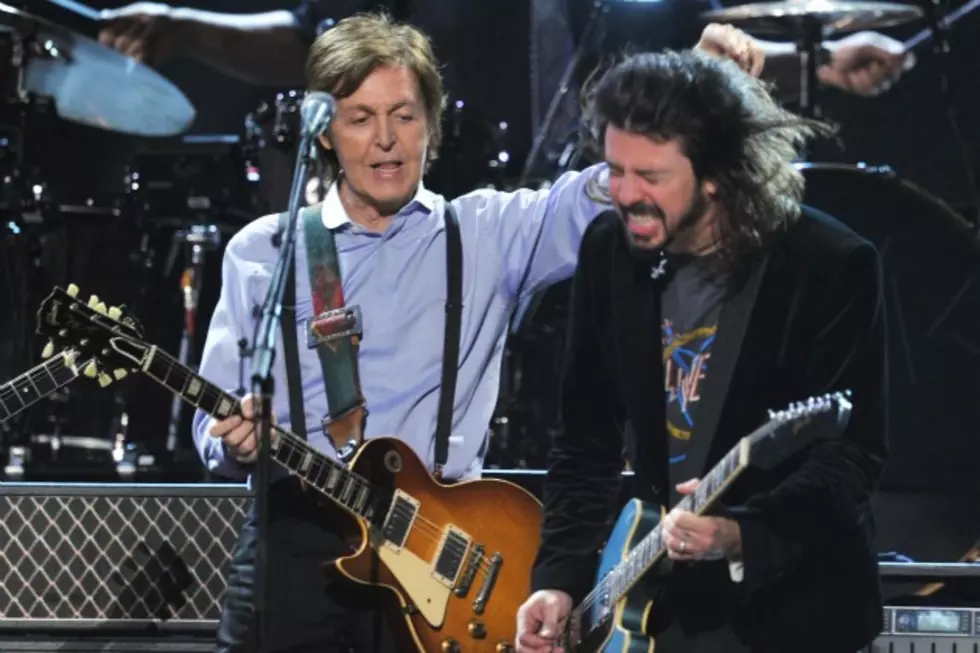 Dave Grohl on Paul McCartney Collaboration: 'It Just Came Out of Nowhere'
Kevin Winter, Getty Images
If it seemed to you like 'Cut Me Some Slack,' Paul McCartney's collaboration with the surviving members of Nirvana that was unveiled during the 12-12-12 benefit, came out of nowhere, don't feel like you're out of the loop -- according to Dave Grohl, that's really the way it happened.
Describing McCartney as "just the sweetest, nicest, most awesome person," Grohl delved into the story behind the song during a recent interview with KROQ (via the NME), saying it came together after the pair jammed for Grohl's upcoming 'Sound City' documentary.
"We walked in; we jammed the song. It just came out of nowhere. The best songs happen that way," said Grohl. "We recorded it live and put a vocal over it and that was it. It was three hours and it was perfect."
'Cut Me Some Slack' wouldn't make its public debut for another eight months, but Grohl was clearly still buzzing on the experience. "You have to understand, one of the great things about playing with Paul McCartney or playing with Neil Young is that that generation of musicians, they cherish and respect and value the practice of just going into a room and coming up with something and jamming and making it a song," he pointed out. "There's not like seven songwriters and seven producers and digital technology or whatever. It's like people getting in a room."
More From Ultimate Classic Rock