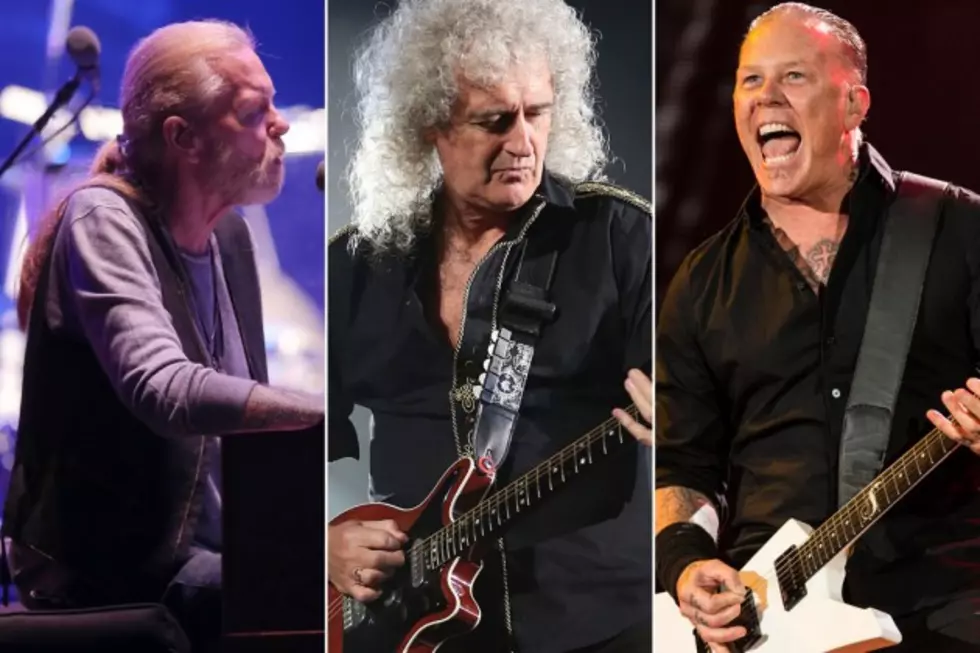 Classic Rock Awards Honor Gregg Allman, Queen, Metallica and More
Jemal Countess / Mark Metcalfe / Ian Gavan, Getty Images
Allman took home the Living Legend prize at the annual event sponsored by Classic Rock Magazine, telling attendees, "I am so very honored to be receiving this award. The magazine is one of my favorites, and they are always so generous to me and the Brothers." Also on hand were the members of Queen, who accepted Band of the Year honors; vocalist Adam Lambert, who stepped into the spot once held by original Queen vocalist Freddie Mercury as well as Paul Rodgers, described the learning curve of singing for one of the biggest bands on Earth by saying, "At first it freaked me the f--- out -- but then I started learning from them."
Also among the awards recipients was Ozzy Osbourne, whose 'Blizzard of Ozz' LP earned this year's Classic Album nod -- and inspired arguably the evening's most memorable anecdote, delivered by Def Leppard frontman Joe Elliott. "A guy once came into a theater where we were playing and asked us if we were OK -- then had a piss out the window," he told the crowd. "His name was Ozzy Osbourne. Ozzy, we will never forget how you looked after us."
Former Doors guitarist Robby Krieger accepted the band's Inspiration Award while looking forward to the release of the long-archived 1968 Doors documentary 'Feast of Friends,' saying it'll offer a more complete picture of singer Jim Morrison than the one presented by Oliver Stone's biopic on the band: "When people see this who have already seen 'The Doors' movie, and they think that's how Jim was, that he was a total idiot -- now they'll see him as a real person; how brilliant he is."
More From Ultimate Classic Rock