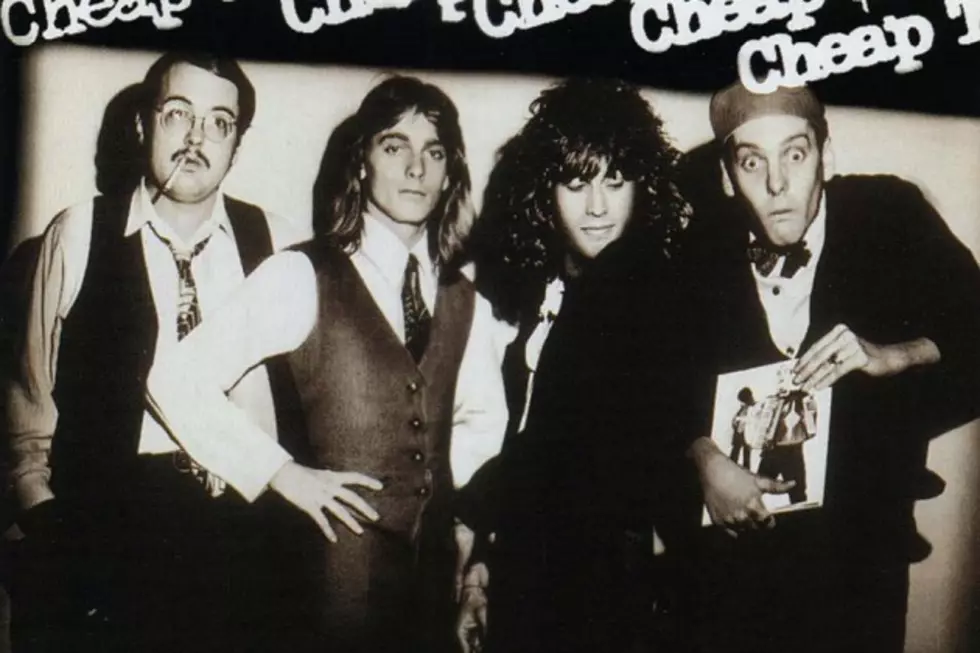 Cheap Trick's First Five Albums – Rock's Best Hot Streaks
Epic
Cheap Trick launched their recording career with one of the most impressive hot streaks in rock history. The Rockford, Ill. foursome firmly established themselves as the undisputed titans of power pop with four studio efforts -- and one very important live one -- that delivered endless hooks, fuzz, quirks and sing-along brilliance. This debut stretch is not only impressive for the material it produced (40-plus gems that continue to serve as the core of Cheap Trick's blistering live set) but also for the compressed time period in which it was released. Five great albums between the winter of 1977 and the summer of 1979 is a success rate of Beatlesque proportions.

Yet it took most of the world (you know, except Japan) three to four albums to catch on to Cheap Trick's greatness. Even then, only a select few were willing to rank the band with legends like the Beatles, the Who and other Trick-y inspirations. And why not? These albums are as good as, if not better than, any of the great ones' first five. Sure, they're derivative, but in the grand tradition of Led Zeppelin and the Rolling Stones, Cheap Trick built upon the music that had come before.

The four-piece blended British Invasion pop/rock with glam's inventive glee and just enough metallic power to punch through your sub-woofer. Guitarist and prime songwriter Rick Nielsen paired that blazing sound with strange little stories about obsession, prostitutes, suicide, pedophiles and ridiculous parents. As a result, the band maintains the strangest patchwork quilt of devotees -- from indie rock geeks and hard-living bikers to metalheads and Top 40 fanatics. Cheap Trick are like the American Kinks, without the nuisance of high-concept song cycles.

Part of the reason the band was so good right out the gate is because it took a while for Cheap Trick to get together, and then get discovered. Nielsen and bassist Tom Petersson had played in a couple of groups dating back to 1967 and eventually joined forces with drummer Brad Carlson - better known as Bun E. Carlos. Bun E. invited singer Robin Zander to front the band, but Zander was under contract as a performer in Wisconsin Dells. The band carried on with Randy "Xeno" Hogan until Zander's contract was up and he joined Cheap Trick by 1975.

If Hogan was the band's Pete Best, the bars and dives of the Midwest were their Hamburg. During the early-to-mid-'70s, the members of Cheap Trick honed their concert chops as Nielsen built an arsenal of killer songs. The momentum built until producer Jack Douglas (Aerosmith, John Lennon) witnessed their set at Sunset Bowl in Waukesha, Wisconsin, and demanded that Cheap Trick be signed to an Epic Records contract, which brings us to...

'Cheap Trick' (Feb. 1977)

The band's self-titled debut is a criminally underrated album. Produced by Douglas, the LP captures Cheap Trick's raw, muscular live sound (in contrast to the glossy sheen given to most of their studio albums through the '80s). 'ELO Kiddies' features the most emphatic drumbeat this side of '

Lust for Life

,' 'Hot Love' is a hot rod race between band members and 'He's a Whore' is a slice of melodic punk, straight from the blade of Nielsen's buzzsaw guitar.

Many of the album's songs (primarily written by Nielsen) were as edgy as Cheap Trick's sound. The mesmerizing 'Daddy Should Have Stayed in High School' is a grimy look at a pedophile ("I'm 30 but I feel like 16 / How would you like some candy?") sung by Zander through a permanently affixed sneer. Meanwhile 'The Ballad of T.V. Violence' was inspired by Chicago serial killer Richard Speck and 'Oh, Candy' (the album's single, which somehow flopped) is about suicide.

It sounds like an ugly album, but delivered with Cheap Trick's power pop enthusiasm, the 1977 debut couldn't be more exciting. Even the haunting ballad 'Mandocello' – the album's prettiest moment – includes a vicious bassline from Petersson that sounds as if he was plucking it out on power lines. Despite the band's confidence in their songs (the two sides were listed as "Side A" and "Side 1") and the fact that the album is now regarded as a gem by critics and fans, 'Cheap Trick' failed to make an impression on radio or the charts. The approach would be very different next time.

Listen to 'Daddy Should Have Stayed in High School'

'In Color' (Sept. 1977)

If 'Cheap Trick' was a bit heavier on power, 'In Color' leaned further in the direction of pop. Some felt that Tom Werman's production was too much of an overcorrection and prefer the live versions of the 'In Color' tracks. Even the members of Cheap Trick were somewhat displeased with the shine Werman applied to the record, which caused them to re-record rougher versions of the songs with Steve Albini in the '90s.

Regardless of the gloss, it's hard to argue with such winning melodies and another batch of Nieslen classics – delivered a mere seven months after the debut. 'Southern Girls' is a bouncy Beach Boys tribute by way of T.Rex, 'Big Eyes' is one of the most ominous songs about love and 'Hello There' remains the best concert opener in rock and roll. Although the record also features soon-to-be megahit 'I Want You to Want Me,' it might be all but unrecognizable to casual fans in this incarnation as a Fats Domino-type boogie-woogie, complete with … a piano solo? Despite the obvious play for pop acceptance, 'In Color' and its singles all failed to hit in America. Of course it was a different story across the Pacific, but we'll get to that in a moment.

'Heaven Tonight' (May 1978)

OK, so 'Cheap Trick' was too raw for the mainstream and 'In Color' was too clean for the band members, but 'Heaven Tonight' managed to put the sweet-and-sour sides of Cheap Trick into perfect balance. It remains the best album the band would ever record and was also the first to gain the group significant exposure in the U.S.. The reason for that was minor hit single – and anthem for indifference – 'Surrender,' with its whirling synths, growling guitars and zooming vocal from Zander, truly "the man of 1,000 voices."

'Heaven Tonight' is a fabulous showcase for everyone in the band, but Zander manages to soar above the candy-coated rock and roll, using every trick in his arsenal. There's his jet-propelled wail ("It costs lots of money, honey – oh noooo") on 'On Top of the World' and the breathy invitations ("Would you like to go to heaven tonight?") on the woozy title track and the murderous howl ("No hope!") he manages to produce at the most blood-curdling moments of 'Auf Wiedersehen.'

Meanwhile, Nielsen was still cranking out cool little character studies – with a hearty assist from Petersson and his 12-string (really) bass. 'Heaven Tonight' is about as perfect as albums get. Well, studio albums at least…

Listen to 'Auf Wiedersehen'

'Cheap Trick at Budokan' (Feb. 1979)

This is the big one – the record that made Cheap Trick superstars -- that turned 'I Want You to Want Me' into an enduring rock and roll sing-along and set the standard for all live albums to come. And yet, it almost wasn't even released to the masses.

Just before the release of 'Heaven Tonight,' Cheap Trick played a string of shows at Tokyo's Nippon Budokan (a sports venue where the Beatles had famously played more than a decade earlier). A live recording was created and released exclusively in Japan as a souvenir for the band's devoted fanbase in the country. Soon, American DJs started playing songs from the promotional version of the album and thousands of import copies were being sold in the U.S., so Epic went worldwide with 'At Budokan.'

It couldn't have been a bigger smash, introducing millions to Cheap Trick's intoxicating power pop. In the course of 10 cherry-picked tracks, the band frees the 'In Color' songs from the chains of overproduction. Bun E. Carlos stomps his way through a cover of 'Ain't That a Shame' and 'I Want You to Want Me' shakes and shimmies in all its concert glory. If 'Heaven Tonight' showcased the perfect balance of the band's talents in the studio, 'Budokan' illustrated how consistently they achieved that same balance on stage.

Listen to 'I Want You to Want Me'

'Dream Police' (Sept. 1979)

Cheap Trick had 'Dream Police' ready to go in the beginning of '79, but had to wait to allow the 'Budokan' hysteria to have its run. This means that, had the live album not proved successful, the band could have released all of this amazing material in less than two years – which is just insane. Although 'Dream Police' doesn't boast the absolute best collection of songs, it features some of Cheap Trick's boldest choices, from the Beatle-y pop glisten of 'Voices' to the Judas Priest-meets-Donna Summer epic 'Gonna Raise Hell.' Elsewhere, lead track, single and hit 'Dream Police' follows up the 'Surrender' formula with fantastic results, the thunderous 'I Know What I Want' allows Petersson a rare turn at the mic and the dreamy 'Need Your Love' lets Zander alternately scream and coo to close out the LP.

Listen to 'Gonna Raise Hell'

As the '80s dawned, Cheap Trick couldn't manage to keep up with the breakneck pace (or overabundant quality) of their early recording years. There was a record made with Beatles producer George Martin (who somehow proved a mismatch) and then Petersson left the group. Although the band would continue to make some pretty great singles ('She's Tight,' 'If You Want My Love,' 'I Can't Take It') the albums were never consistent. (We're conveniently skipping over 'The Flame,' a huge hit, but a song the band didn't write – and it shows.)

Petersson would eventually rejoin Cheap Trick (just in time for 'The Flame,' and the band returned to making fantastic records in the late '90s and '00s. They seemed to rediscover their edge and playful side on albums such as their second self-titled album (in 1997), 'Special One' (2003) and 'Rockford' (2006), which, pound for pound, delivered the same excitement of the early material. Of course, Cheap Trick remains a jaw-droppingly great live band -- one that, with its full sound and furious energy, still does justice to the great songs on its glorious first five albums.
More From Ultimate Classic Rock