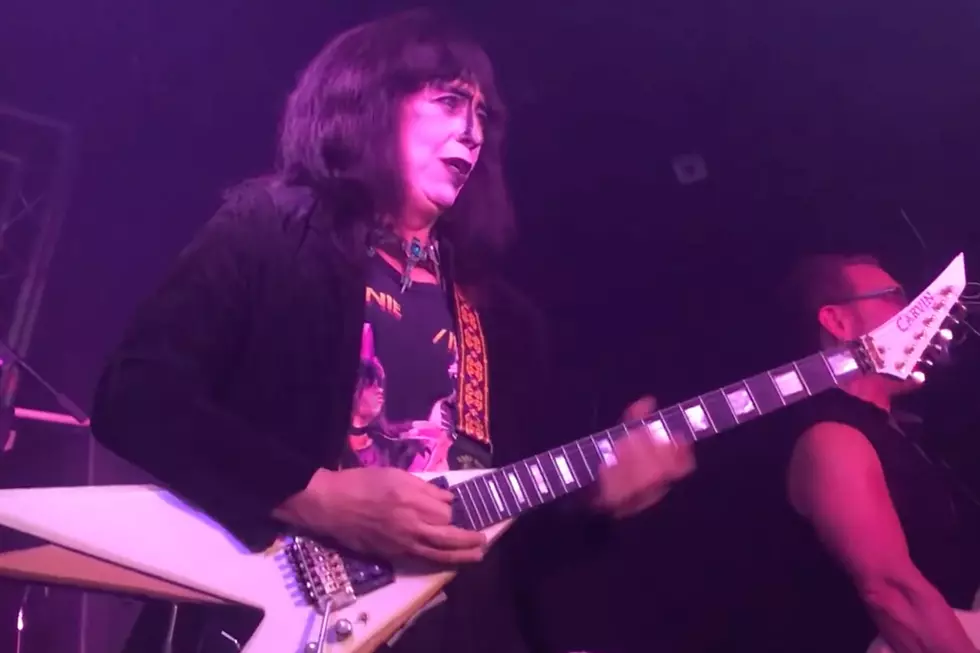 Carmine Appice Doesn't Think Vinnie Vincent Has Another Chance to Come Back
YouTube
Drummer Carmen Appice, who was set to play at Vinnie Vincent's now-canceled comeback shows, doesn't know if the former Kiss guitarist will have another shot. In a new interview, the veteran musician thinks Vincent may have lost too much good will in the court of public opinion.
"I always thought that if Vinnie messed this up, or whoever messed it up, I don't know if there'll be another chance," he said on WSOU in South Orange, N.J. (embedded below). "'Cause this is his comeback. He already canceled it once [before]. And if gets canceled again, nobody's gonna care anymore. [They'll say] 'I'm not gonna go even buy a ticket. He's not gonna show up. Or something's gonna happen.' But I was looking forward to it, because me and Tony Franklin — I love playing with Tony, and we were gonna play the Vinnie KISS songs, which would have been fun."
Vincent had originally intended to play two acoustic shows in Memphis, with Robert Fleischman on vocals, this past December. But they were pushed back to February and expanded into full-band performances, and eventually moved to Nashville. Then Fleischman dropped out because, as he said, "the promoter extremely low-balled me to the point of it being insulting" and the poster for the new dates put Fleischman's name "in tiny little letters which would take a microscope to read it."
Both dates were canceled outright earlier this week, with Vincent saying that a confidentiality clause in the contract prevented him from disclosing the reasons but that his lawyer has gotten involved. Appice added that he doesn't know any more than the rest of us.
"Something happened between Vinnie and the promoter," he said. "I know there was something going on. I talked to Vinnie a few times, and him and the promoter were not seeing eye to eye on a lot of stuff."
However, Appice noted that Vincent seemed different back in October when he performed with an electric guitar for the first time in 30 years, playing three Kiss songs with a group called Four by Fate prior to last year's Kiss Kruise.
"Vinnie played with me in a band before he was in Kiss called Carmine and the Rockers," he said, "and I know he's a great player and a great writer and a good singer and he's a good stage performer. But after I saw that [footage] ... Vinnie's always been like a showoff kind of guy, and he just stood there. He looked like he was scared to me. I asked him, 'Can you still play? You've been out 30 years.' He goes, 'Yeah. I've been playing in my house. Yeah, of course, I can still play.' I said, 'Okay. I believe you.' But I don't know what happened. All this other crazy stuff was going on with singers and this and that, and the promoter. It's too bad, 'cause it would have been fun."
Kiss Lineup Changes: A Complete Guide
More From Ultimate Classic Rock