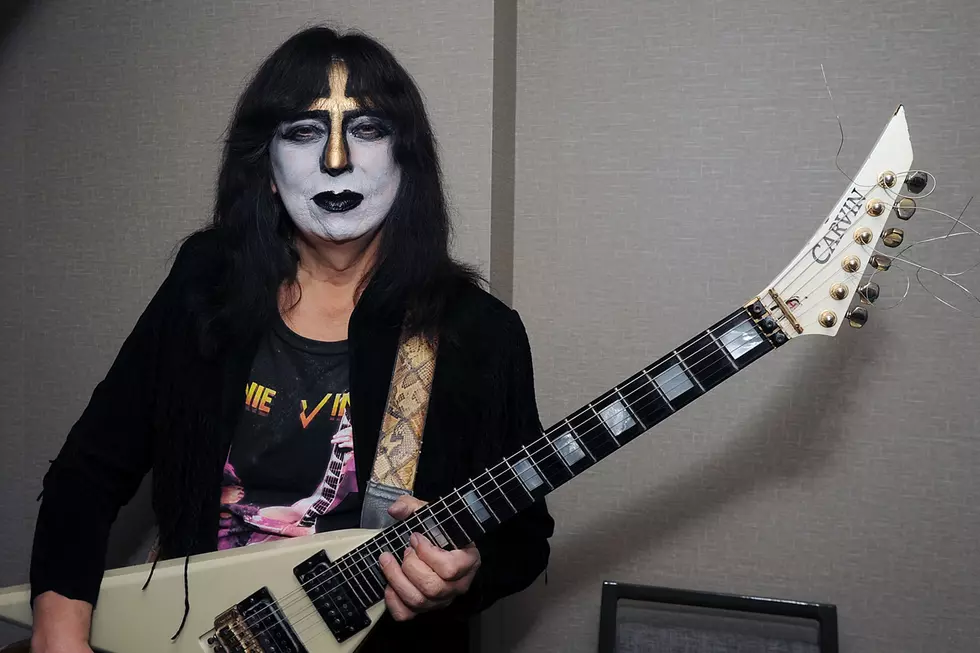 Vinnie Vincent Announces New 'Judgment Day' Album Listening Party
Bobby Bank, Getty Images
Vinnie Vincent will premiere his long-awaited new album Judgment Day (Guitarmageddon Pt. 1) at a listening party in Nashville on May 19 and 20.
For $500, fans will get to hear Judgment Day at Starstruck Entertainment Studio and are also invited to jam with the former Kiss guitarist. "We've spent the last months perfecting the mixes and it's time to rock," reads the announcement on Vincent's website. "This will be a birthday bash blast, rock 'n' roll party weekend rolled into one. There will be live performances, catered food, cocktails and the fanjamm. ... Anyone who wants to participate, drummers ... bass players ... singers who want to jam onstage with VV, sign up ASAP."
Vincent's 1996 Euphoria EP was intended to serve as a preview for an upcoming album named Guitarmageddon. But after releasing the instrumental Speedball Jamm CD in 2002, Vincent disappeared for more than two decades.
He then appeared at a Kiss fan expo in 2018 and has made a handful of other appearances over the past five years, including a brief performance with former bandmate Gene Simmons and a concert where he shared the stage with fellow Kiss alumni Bruce Kulick and Ace Frehley.
In May 2021 Vincent announced he had nearly completed work on the Guitarmageddon album and planned to release it "within the next 12 to 18 months." In March 2022 promoter Neil Davis posted a photo of Vincent at what was described as a private listening party for an early mix of Guitarmageddon.
No further information about Judgment Day (Guitarmageddon Pt. 1), including cover art, track listing or release date has been announced yet.
Kiss Lineup Changes: A Complete Guide
An in-depth guide to all of the personnel changes undergone by the "hottest band in the land," Kiss.
More From Ultimate Classic Rock