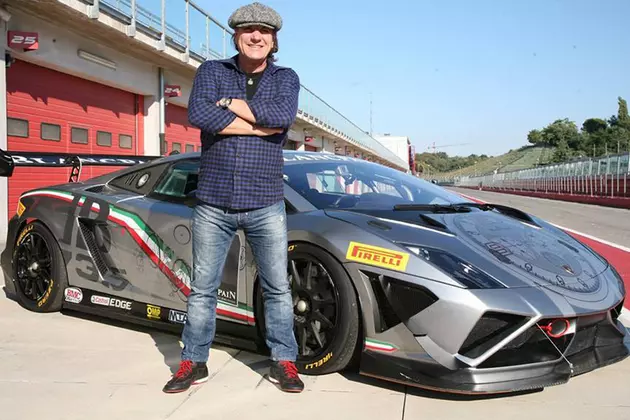 Brian Johnson Said Racing Cars, Not Music, Caused His Hearing Loss
Brian Johnson Racing
AC/DC frontman Brian Johnson has been openly discussing his hearing loss since at least 2014, when he told Howard Stern that rock 'n' roll wasn't entirely to blame.
"I've obviously had some hearing loss," Johnson told Stern. "I've got hearing loss in me left ear. I didn't get it from music. I got it from sitting in a race car too long without ear plugs. I heard my ear drum burst, because I forgot to put me plugs in under my helmet. That's how it happened. Music had nothing to do with it."
AC/DC have postponed the remaining dates of their U.S. tour after doctors pulled Johnson off the road, saying he risked total hearing loss if he continued to perform. The band has committed to making up those dates, mentioning the possible use of a replacement singer. Johnson has been the band's singer since 1980.
It's unclear when the racing mishap happened to Johnson. He noted that he got very dizzy because of the inner-ear damage, and when he removed his racing helmet, he found blood. "It's just like a tininess, like tinnitus or something," said Johnson, who said to Stern that it didn't slow him down. "You forget about it after a week."
AC/DC Albums Ranked Worst to Best
More From Ultimate Classic Rock