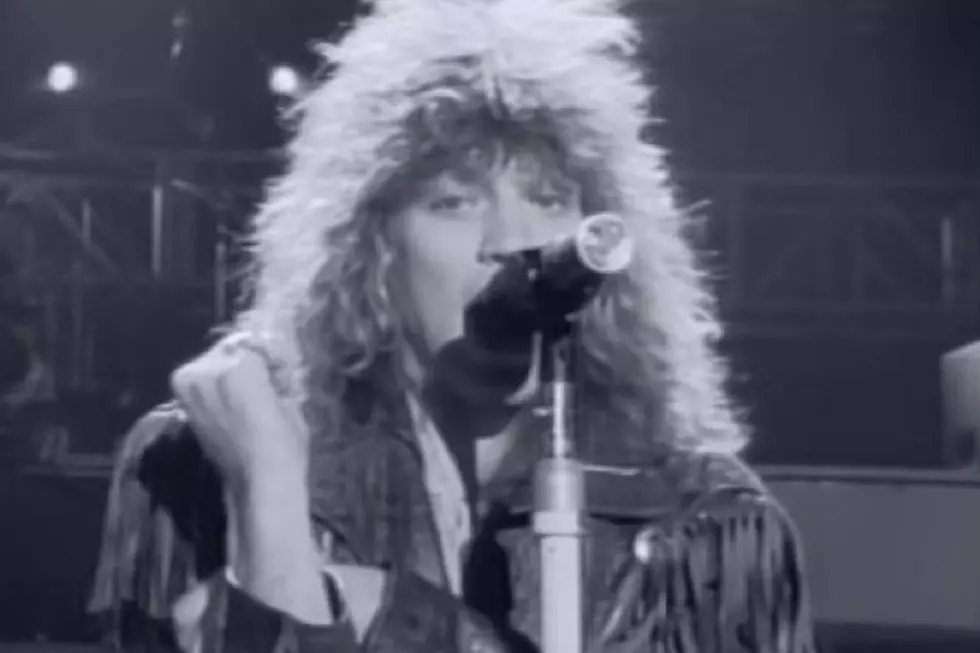 YouTube
Bon Jovi have consistently been one of the most successful record-selling and arena-filling rock acts of their generation. Starting with their roots in the glam and pop metal scene of the early-'80s, the band have kept on cranking out hits and selling out shows long after most bands of that genre have long since faded, due in part to the strength and diversity of their songwriting.
It helped that the Jersey rocker's face launched a thousand teen magazine covers back in the day. And the fact that Jon Bon Jovi is one of rock's savviest self-marketers – with a great voice and a way with a song hook – hasn't hurt the group, either. While the group's later work has veered away from their traditional sound to explore pop, adult contemporary  and even country music, our list of the Top 10 Bon Jovi Songs celebrates the classic-rock roots of the band.
10

"Born to Be My Baby"

From: 'New Jersey' (1988)

One of the main things that separated Bon Jovi from other '80s pop-metal bands were their working class anthems. "Born to Be My Baby" was certainly one of the best, with its simple message of undying love making life worth living among the stress of juggling jobs, bills and life in general. The strong hook and alluring arrangement of "Born to Be My Baby" make the track one of the Top 10 Bon Jovi Songs.

9

"Wild in the Streets"

From: 'Slippery When Wet' (1986)

Bon Jovi broke through to superstardom with Slippery When Wet, which featured three of their biggest hits. But "Wild in the Streets" is somewhat of a lost classic from that period, with its tale of youthful shenanigans that draws from the musicians' upbringing in New Jersey – like much of the band's best work. The track features a balance of keyboards and guitars in the main riff that heralds a subtle shift to pop, while Richie Sambora's guitar solo borrows from Chuck Berry.

8

"I'll Be There for You"

From: 'New Jersey' (1988)

By the time Bon Jovi achieved their commercial peak, it was practically a contractual obligation for rock bands to include at least one big power ballad on each album. Bon Jovi proved very effective with ballads, but none more-so than "I'll Be There for You," which became the group's fourth No. 1 single. The track also pointed the way toward the kind of softer sound that would dominate subsequent albums.

7

"In and Out of Love"

From: '7800 Fahrenheit' (1985)

Bon Jovi were on the cusp of rock stardom when they released 7800 Fahrenheit. The track "In and Out of Love" is an amalgam of some of their influences, with a guitar riff that hints at Kiss and a keyboard part reminiscent of Aldo Nova. The song is like a class in Pop Metal 101 with its screaming-to-be-heard vocal stacks and flashy guitar solo – not to mention the posing and hairstyles in the accompanying video.

6

"Lay Your Hands on Me"

From: 'New Jersey' (1988)

"Lay Your Hands On Me" saw Bon Jovi expanding their musical approach a bit, with a long drum-and-keyboard-based intro before the track launches into the main guitar riff. The fist-pumping chant of "Hey!" is a concert staple. The song was written around Sambora's guitar riff while the group were in the studio recording. Released as the fourth single from New Jersey, the song went to No. 7 in the Billboard chart.

5

"You Give Love a Bad Name"

From: 'Slippery When Wet' (1986)

Bon Jovi were teetering on the brink of mainstream stardom when "You Give Love a Bad Name" gave them the push they needed to become household names. Written with outside writer Desmond Child, the song starts out with the now-iconic a cappella chorus: "Shot through the heart, and you're to blame / You give love a bad name." The track centers around a heavy rock riff but definitely slants toward a pop arrangement, which helped to give Bon Jovi their first No. 1 hit and certainly qualifies as one of the the Top 10 Bon Jovi Songs.

4

"Bad Medicine"

From: 'New Jersey' (1988)

If Slippery When Wet made Bon Jovi into superstars, then New Jersey made them into rock icons. "Bad Medicine" was the lead single from the album, and it helped bridge the gap between the band's hard rock past and more melodic future with its strong pop chorus set to an insistent rock groove. Heavy enough to satisfy the group's rock fans and pop enough to win mainstream fans, the track landed at No. 1 in the Billboard chart.

3

"Runaway"

From: 'Bon Jovi' (1984)

The first Bon Jovi album was one of the heralds of a coming changing of the musical guard. Incorporating many of the hard rock elements of their '70s influences with a new emphasis on pop hooks and visual appeal, "Runaway" was a perfect alloy of hard rock and pop melody, highlighted by a strong vocal performance from Jon Bon Jovi that contained the now-iconic falsetto part at the end. The track actually hails from a batch of demos that featured a different group of players – most notably Rick Springfield guitarist Tim Pierce, whose inimitable style is unmistakable.

2

"Wanted Dead or Alive"

From: 'Slippery When Wet' (1986)

Few songs of the last 30 years are more iconic than "Wanted Dead or Alive." Though it's not one of Bon Jovi's No. 1 hits, its long shelf life at classic rock radio has ensured it a prime placement in the Top 10 Bon Jovi Songs. The track began Jon Bon Jovi's lyrical love affair with cowboy imagery, drawing an analogy between the life of an Old West outlaw and a touring rock musician. Sambora's acoustic riff, guitar solo and backing vocal are essential elements of the track.

1

"Livin' on a Prayer"

From: 'Slippery When Wet' (1986)

There are hits, and then there are career songs. "Livin' on a Prayer" is Bon Jovi's career song, telling the Everyman tale of Tommy and Gina – a hard-working pair of young lovers whose love transcends all of the challenges life throws their way. He's been on strike, and she "works the diner all day," but it doesn't matter, as long as they have each other. The track became Bon Jovi's second No. 1 hit and has since become their signature song, landing in the top spot of our Top 10 Bon Jovi Songs.
More From Ultimate Classic Rock